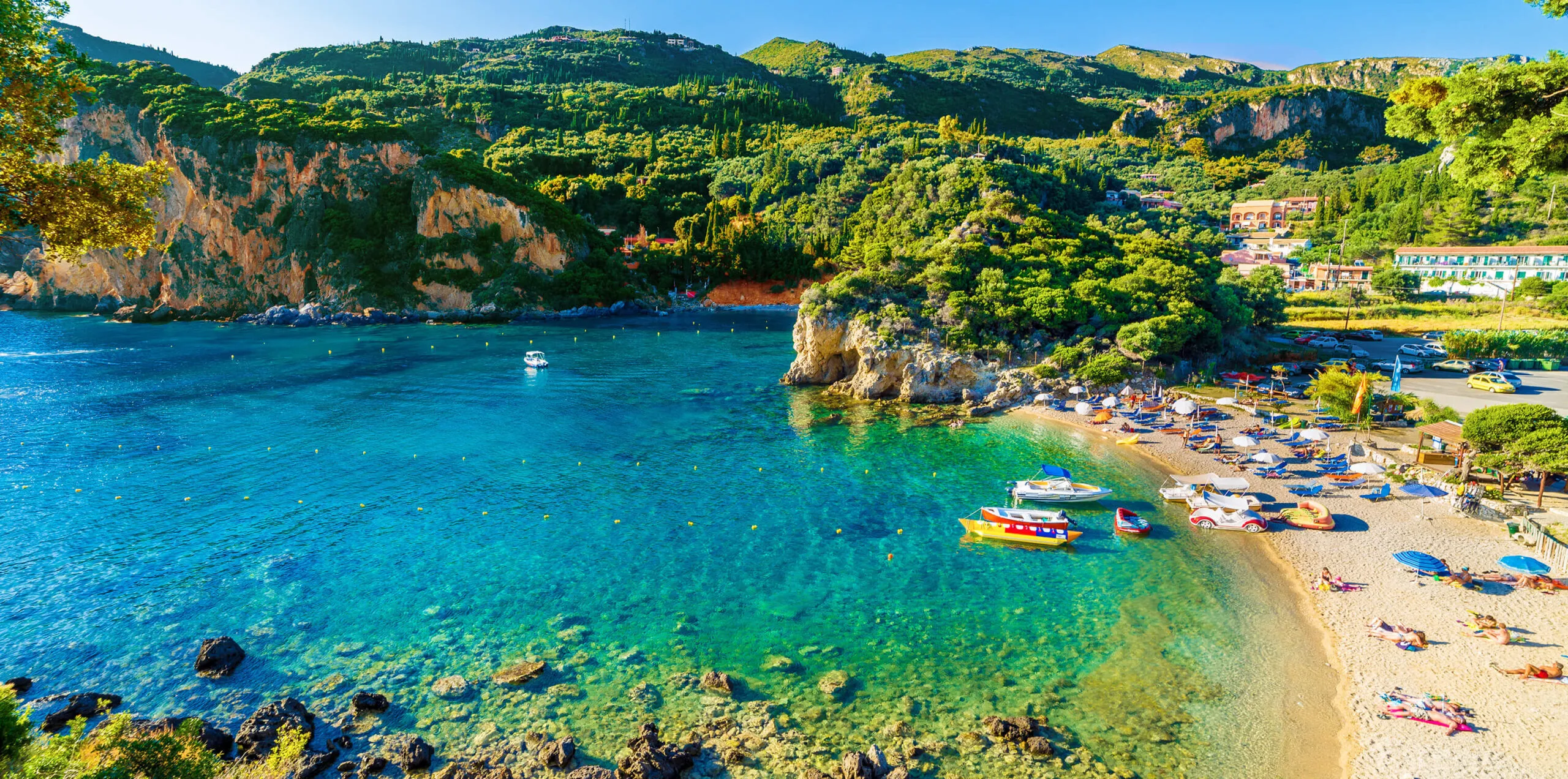 Corfu holidays how to: Your holidays step by step
Does organizing your Corfu holidays seems overwhelming? You don't have a clue what the basics of Corfu island are?
Don't worry! Because we know all the hot tips that will make your holidays in Corfu as smooth as possible!
The things to keep in mind when traveling to Corfu may be many, but here's our shortlist!
Are you ready to learn the basics of Corfu holidays?
Where is Corfu?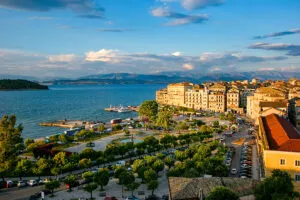 Let's start from the (very) basics!
Corfu is a Greek island that lies in the Ionian sea, on the west side of Greece. It belongs to the Eptanisa island group, along with other wildly popular Greek islands, such as Zakynthos, Kefalonia and Lefkada.
Not only Corfu, but also all the -super photogenic- Ionian islands are famous for their exotic ambiance and stunning beaches, so, they receive thousands of visitors every year!
How to get to Corfu?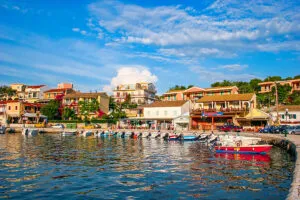 Getting to Corfu is as simple as it can be!
To start with, you can reach the island either by ferry to Corfu, or by flights to Corfu. Both ferry itineraries and flights are more frequent during the touristic period, i.e. from May to September.
Arriving at Corfu by ferry is the cheapest way to get to the popular Ionian island, but also the most delightful one, as you'll have the chance to marvel at beautiful sea views from the deck. Ferries to Corfu depart from Igoumenitsa port on western Greece. The ferry trip from Igoumenitsa to Corfu lasts for an hour and a half.
An alternative way to get to Corfu is by flights to Corfu. There are both international and regional flights to Corfu. There are many flights from European countries, such as the UK, Ukraine and Poland, while there are also regional flights to Corfu from Athens and other Greek cities.
What's the best season for Corfu holidays?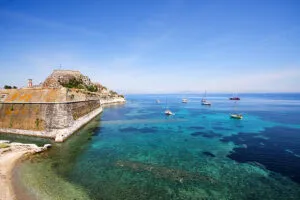 Flashing out the obvious, the best season for Corfu holidays is summer! This is because during the summer, you'll have the chance to take a dip in the beautiful Corfu beaches and do sightseeing in Corfu. But, what you might not know is that Easter in Corfu is a majestic experience! Joining the Easter festivities in Corfu is a unique chance to introduce yourself to the local traditions and customs. So, spring holidays in Corfu is a great and often cheaper alternative.
Where to stay in Corfu?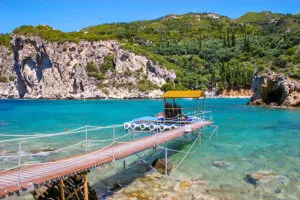 When it comes to Corfu accommodation, there's a variety of options, depending on your taste! If you want to be in the heart of Corfu's historical city center, then Corfu Town is a great place to stay, whereas if you crave holidays by the beach, then there are picturesque seaside Corfu villages galore!
Corfu Town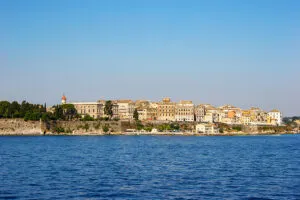 Corfu Town, the capital of Corfu island, is arguably one of the most elegant Greek islands' capitals! Strongly influenced by the Venetians, the French and the English, Corfu Town boasts a unique architecture. Noble mansions, statues, french gardens, elaborate fountains and narrow cobblestone alleys create a nostalgic atmosphere that never fails to seduce the visitors.
Agios Stefanos Corfu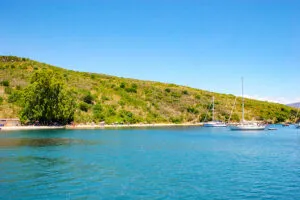 Agios Stefanos is a beautiful seaside resort, on the northwest coast of Corfu island. Located 35 km from Corfu Town, this picturesque village is the perfect place to relax and unwind in the heart of the island's nature. In Agios Stefanos, you'll find a great selection of seaside Corfu hotels for every taste. As for Agios Stefanos beach, it is a long sandy paradise with enticing emerald waters, ideal for swimming.
Paleokastritsa Corfu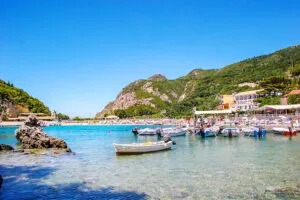 Paleokastritsa is one of the most popular resorts in Corfu! Nestled in a sandy coast which forms 6 sandy and shingle beaches, 25 km from Corfu Town, Paleokastritsa has and ideal location. Although this quaint resort has been touristically developed during the last years and is considered one of the most cosmopolitan villages in Corfu, it hasn't lost its traditional charm! In Paleokastritsa you'll find many Corfu hotels, Corfu restaurants, taverns, bars and amenities that will ensure a comfortable stay.
What are the best beaches in Corfu?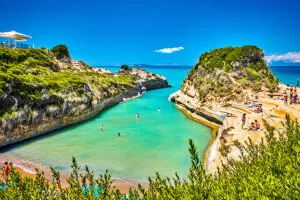 Corfu is famous worldwide for its exotic beaches and infinite bays! Boasting amazing natural surroundings and crystal clear emerald waters, Corfu beaches are one of a kind! The most popular beaches in Corfu are Agios Gordios, Canal d'Amour, Pelekas, Paleokastritsa and Glyfada. As for those who prefer remote beaches, the best options are Halikounas and Myrtiotissa. There's luscious swimming to be had at these beaches!
All in all, Corfu holidays takes brains, not brawn!
Now that you have learned the basics of Corfu holidays, it's time to book your trip and have an unforgettable experience in one of the most beautiful Ionian islands!
Are you ready?