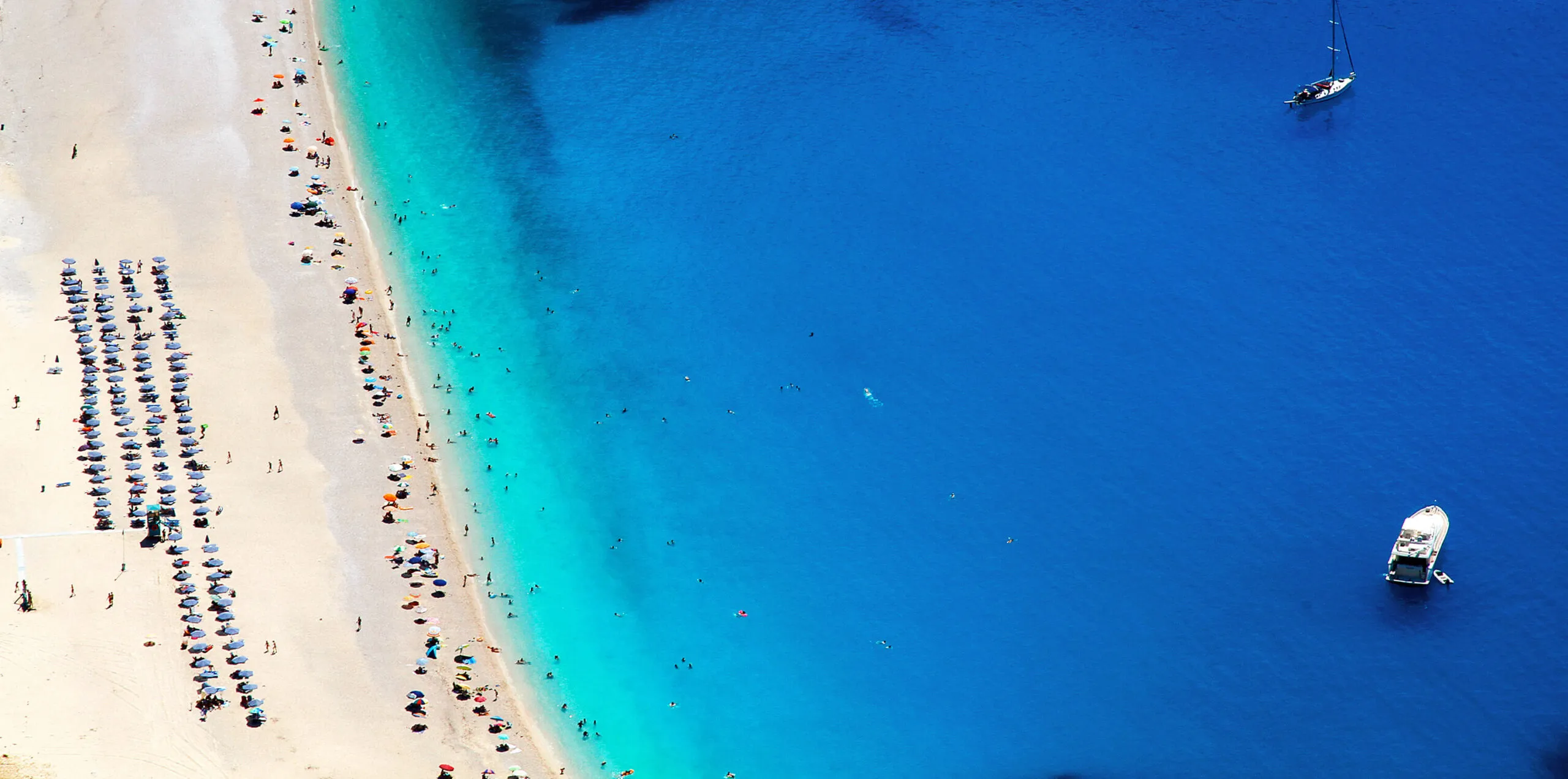 The 7 best Kefalonia beaches: Our all time favorites
There's no denying it: Kefalonia beaches are exotic paradises!
Of course, this is not a surprise, given that the Ionian islands are popular for a specific reason: Because they boast some of the most breathtaking beach settings in the world.
Long sandy coastlines, amazing turquoise waters, dramatic backdrops… Kefalonia beaches seem to have been made in heaven.
Are you ready for some "jaw to the floor" moments?
Let's explore the best beaches in Kefalonia!
1. Myrtos Kefalonia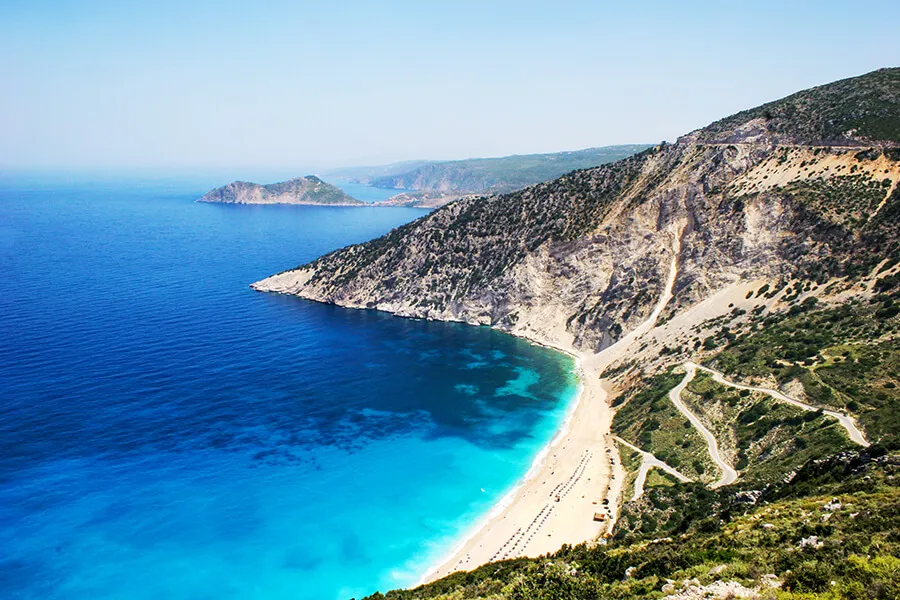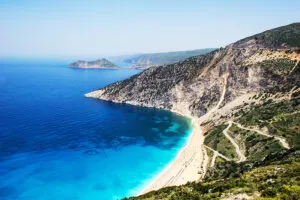 Well, this is, hands down, the most popular Kefalonia beach! Chances are you've already seen this epic beach on travel magazines and postcards, but, trust us, the reality is far better than photographs!
Myrtos is located in a beautiful verdant area, 30 km from Argostoli, the capital of Kefalonia. Insulated by lush vegetation and towering hills, this incredibly photogenic beach has a breathtaking natural landscape. Its turquoise waters and glistening white pebbles complete the heavenly scenery.
Pure magic!
2. Antisamos Kefalonia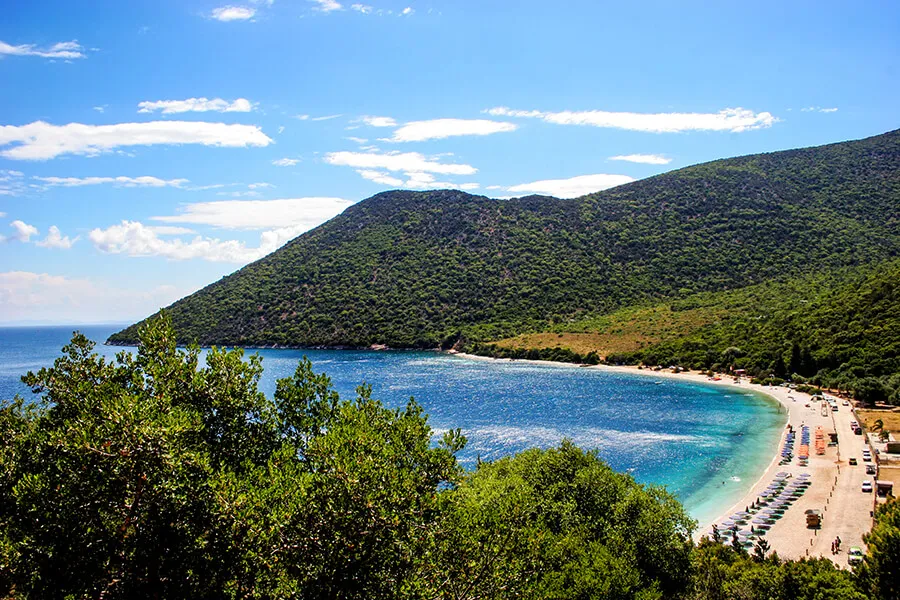 Antisamos is a wonderful beach located 27 km from Kefalonia, close to Sami port. This beach stands out for its verdant natural surroundings, crystal clear emerald waters and shiny white pebbles.
It is easily accessed and well organized with umbrellas and sunbeds, while it is considered one of the best beaches for swimming in Kefalonia!
Fact: This beach became particularly famous from the movie "Captain Corelli's mandolin", scenes of which were filmed there.
3. Skala Kefalonia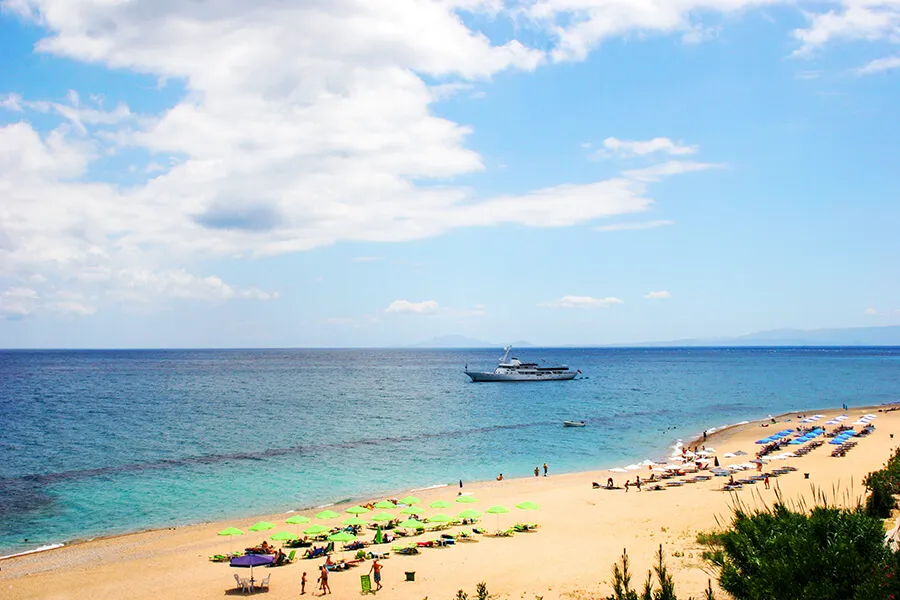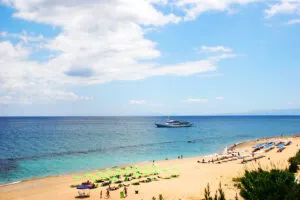 In Skala, you'll kill two birds with one stone, as there, you'll find both a picturesque village and a beautiful beach.
Talking about the latter, Skala beach is a long sandy beach surrounded by lush green and rocky hills, boasting an exotic setting. Although it often gets crowded during the summer, there are several more private spots, for those who like seclusion.
Tip: This beach has wonderful seabed, so it is a must for snorkeling enthusiasts!
4. Lourdas Kefalonia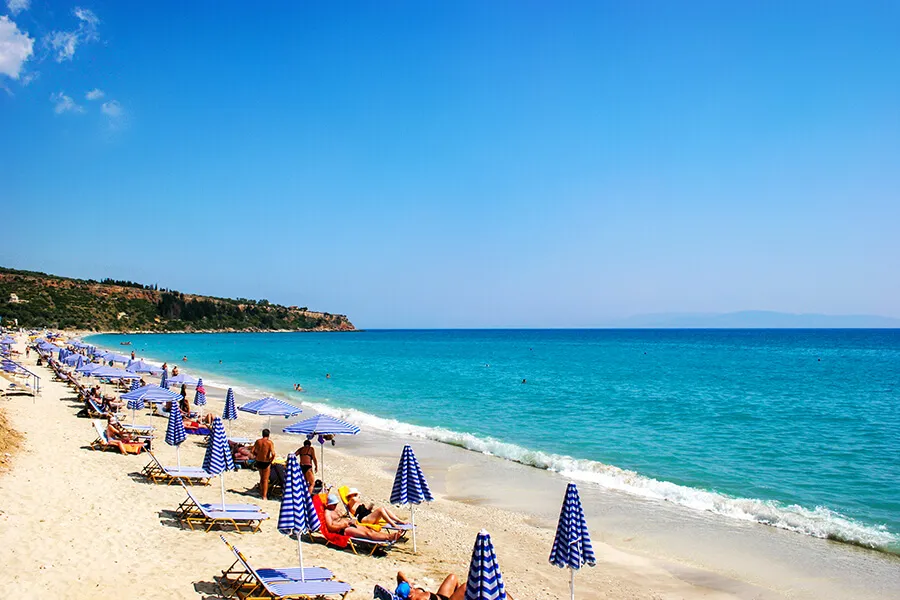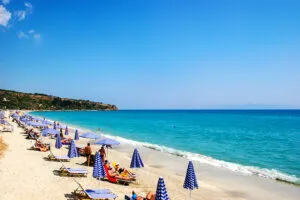 Lourdas beach lies in the quaint Lourdata village, in Kefalonia. Nestled in a sandy cove, insulated by lush vegetation and waterfalls, this beach stands out for its magical landscape.
Lourdas beach has fine white sand and crystal clear waters, which are deep in some spots. What's more, it is organized with umbrellas and sunbeds. At this beach, you'll also find many facilities, such as water sports facilities, restaurants, beach bars and a mini market.
Tip: Don't miss to visit Sissia monastery, which is very close to Lourdas beach!
5. Petani Kefalonia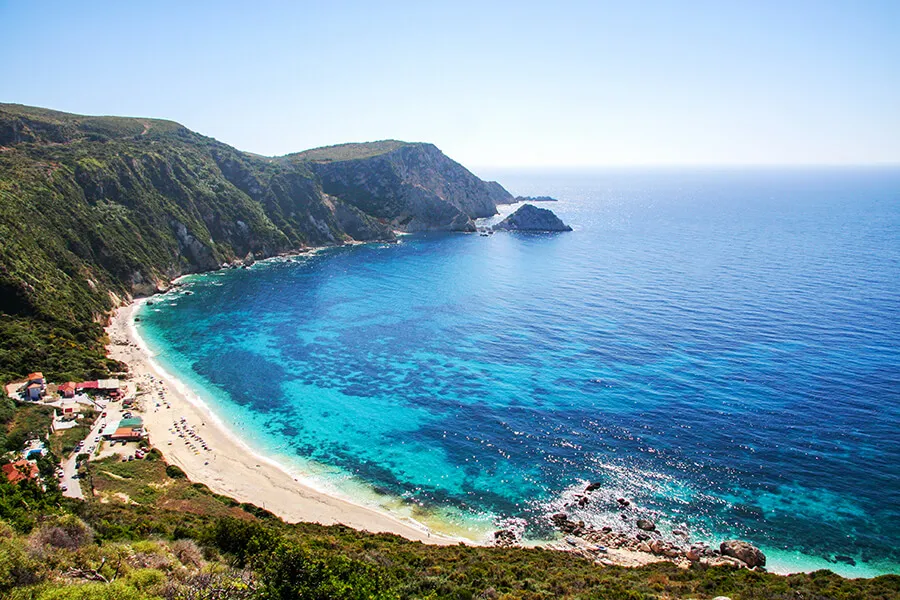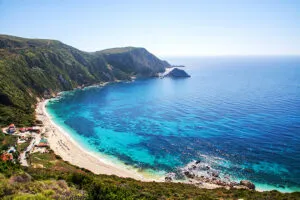 Stretching for about 850 meters and having a Blue Flag status, Petani beach in Kefalonia is one of the most impressive Kefalonia beaches! This beach is perched in Paliki peninsula and has crystal clear waters, white sand, pebbles and a heavenly verdant backdrop.
The color of its waters is out of this world: ranging from deep blue and cobalt, to emerald and light blue, the water is, hands down, the best part of its photo-worthy setting.
Given that Petani beach is partly organized, it's perfect both for those who prefer more secluded spots and for those who like amenities, such as umbrellas, sunbeds and taverns.
6. Xi Kefalonia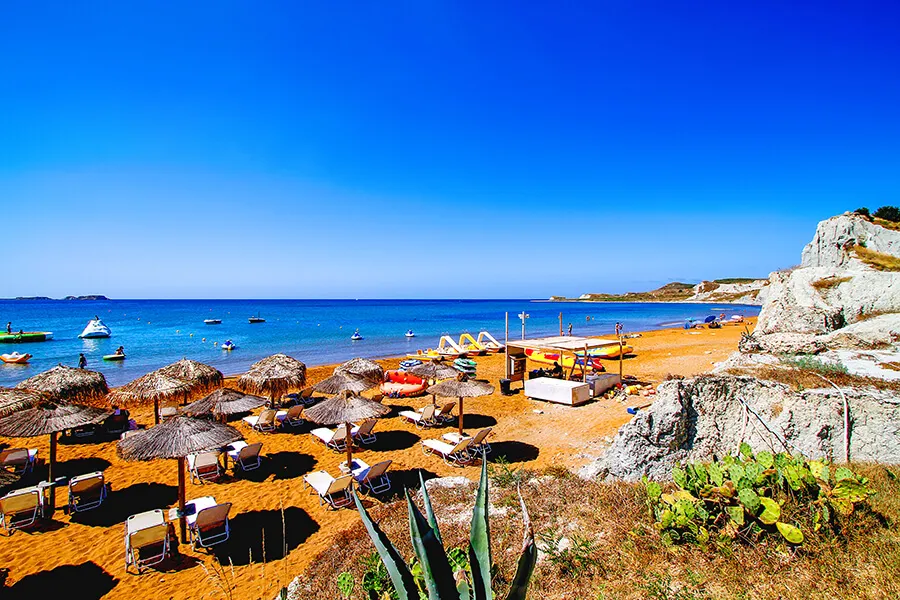 Xi beach is one of the most interesting beaches on the island! Having beautiful reddish sand, due to its clay content, and crystal waters, it boasts a different landscape from the rest of the island's beaches. Xi beach is organized with umbrellas and sunbeds, while it also has water sports facilities!
Tip: While in Xi beach Kefalonia, don't miss to give yourself a free natural spa treatment, using the red sand of the beach.
7. Makris Gialos Kefalonia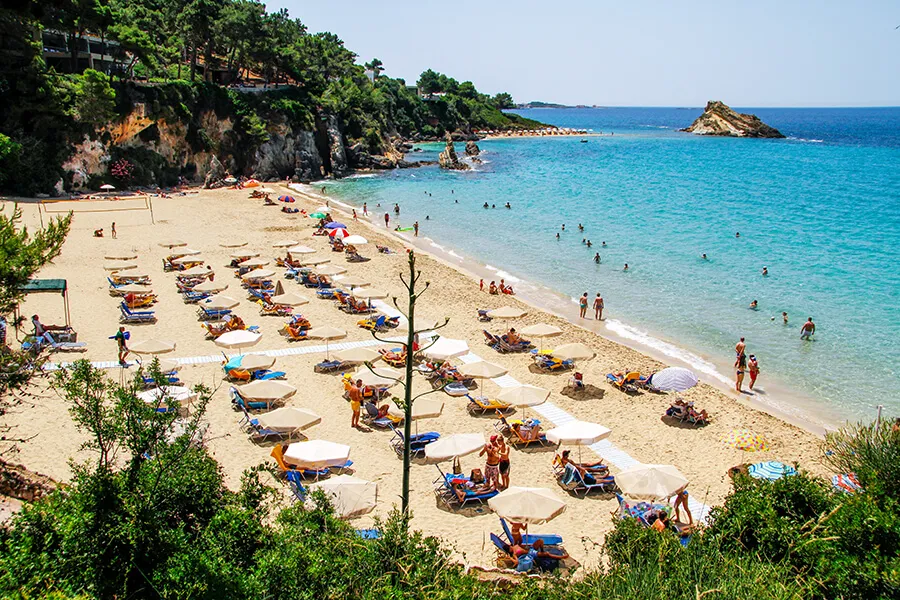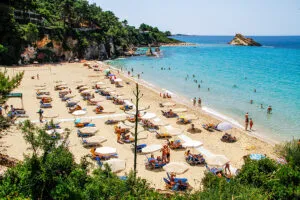 Being just 4 km from Argostoli, Makris Gialos beach is one of the closest to the capital Kefalonia beaches. Its glistening golden sand, azure waters and natural surrounding make this beach feel like it's a world away from the mainland! It also has many facilities, such as a beach volley court and water sports facilities.
Fact: Thanks to its proximity to Argostoli, Makris Gialos is easily accessible and an ideal choice for those who want to combine relaxation with entertainment.
8. Avithos Kefalonia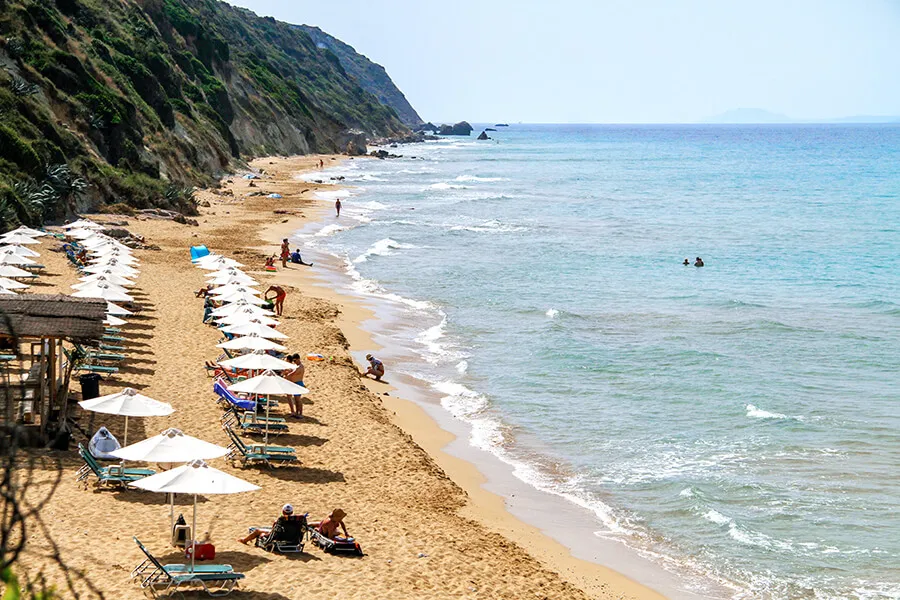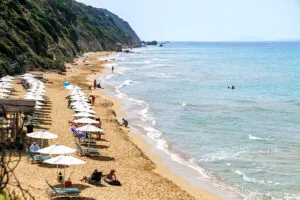 Avithos is a beautiful beach 12 km from Argostoli. It has an imposing mountain backdrop and lush green setting, like most of Kefalonia beaches, reddish sand and crystal clear shallow waters. Avithos beach also has a beautiful view of the islands of Zakynthos and Dias!
Fact: Thanks to its shallow waters, Avithos beach is ideal for kids, who can safely swim and play with the sand.
All in all, Kefalonia beaches, along with Corfu beaches are some of the most exotic beaches in the world! So, your best bet for the ultimate Ionian holidays experience is to combine your Corfu holidays with a getaway to Kefalonia!
But, don't take our word for it!
Book your holidays to Corfu and Kefalonia and let their mesmerizing beaches seduce you!