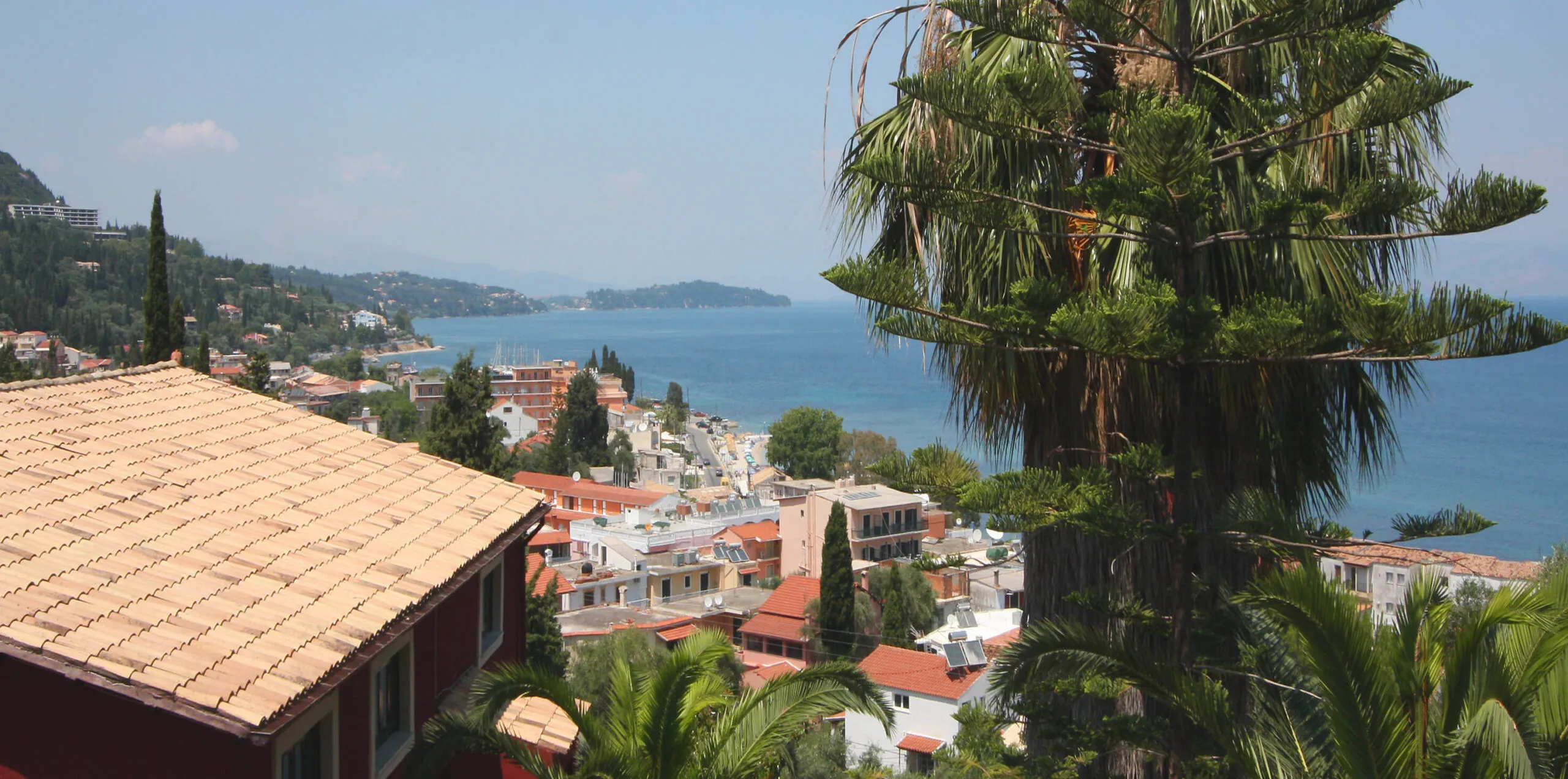 5 reasons why Benitses Corfu NEEDS to be in your travel wishlist
Are you a seeker of traditional little villages and picturesque resorts in Greece? Then, you'll fall in love with Benitses Corfu!
If you haven't already ticked this destination off your bucket list, it's time to do so.
Why?
Well, the reasons are many. However, we have put together a list of the top reasons why Benitses in Corfu just needs to be in your travel wishlist!
But, honestly?
It's not that hard to be convinced!
1.The cosmopolitan Benitses resort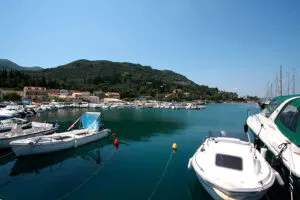 At first sight, Benitses appears to be just another small Greek fishing village. But don't be fooled!
Benitses has been transformed into a cosmopolitan resort during the last few years. But, what makes this resort unique is that is hasn't lost its traditional identity. Basically, it is a popular resort that retains the good old Greek village vibe. That's not something you hear very often, right?
So, close your eyes and imagine. Lush vegetation, tranquility, a cute little harbor and an amazing beach. This is the scenery you'll find at Benitses resort. In fact, lots of yachts and sailing boats arrive at the beautiful harbor of Benitses to have a taste of its breathtaking scenery.
As for facilities, they will exceed your expectations. Shops, apartments, Corfu hotels , Corfu restaurants and more, will make your stay comfortable!
2.The traditional Benitses village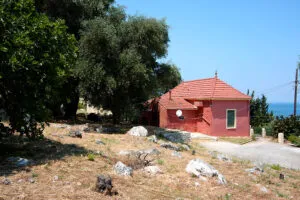 Who else loves those little traditional villages that have a long history?
We guess it's not just us!
Benitses village is one of these villages that remain untouched by touristic development. One of these rare villages, where time seems to have stopped in the past.
Located 12 km away from Corfu Town, Benitses village is surrounded by nature and has about 1,000 residents.
Do you think that facilities are hard to find in such a village?
You're deadly wrong! At the main street of the village you'll find all kinds of shops, such as supermarkets, car rentals, restaurants and cafes.
The best way to explore the natural surrounding of Benitses village is-what else-hiking! Among the trees and the lush greenery, you'll find some beautiful churches, hidden in the nature. Don't miss to visit Agia Paraskevi church and Agia Triada church.
Tip: During the summer, lots of traditional events and cultural happenings take place at Benitses. Make sure you'll join at least one!
3.The beautiful Benitses beaches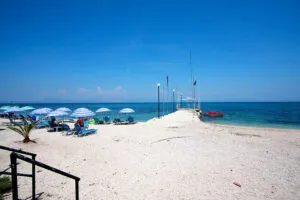 It goes without saying that stunning beaches is a huge plus on your summer holidays. Especially in Greece, right?
Benitses beaches are some of the best beaches in Corfu. So, they won't disappoint!
First of all, the beaches in Benitses are organized with sunbeds, umbrellas and watersports facilities. They are perfect for swimming, sailing and doing water sports! The best part, though, is their waters. They have crystal clear and clean waters, so they have been awarded a Blue Flag for their quality.
And now, we'll let you in on a little secret. Do you know the interesting reason behind the clean waters of Benitses sea?
We bet you don't! It's a sea plant, named Posidonia. This plant serves as a water filter for Benitses beach. Posidonia is a plant that looks like seaweed. It has green leaves that after a period of time turn black and separate from the plant. It filters toxic substances, heavy minerals and carbon dioxide, providing oxygen and clear water to the sea.  In general, Posidonia plant is a sign of clear water!
Tip: Benitses village is the perfect location to explore the stunning beaches of the west and south coast of Corfu.
4.Sightseeing in Benitses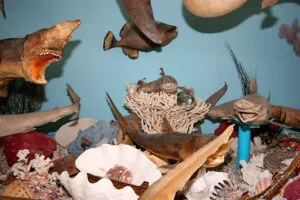 Like the rest of Corfu, Benitses has some pretty good places for sightseeing. So, when in Benitses area, don't miss to visit some cool sites!
Achillion Palace
To start with, near Benitses village, there is one of the most popular sites in Corfu, Achillion Palace, located at Gastouri village.
Achillion Palace used to belong to the famous princess Sissy, Empress of Austria. After falling in love with Corfu island, Sissy decided to build a palace in 1890, to be her summer residence. Because of her love for Ancient Greece, she named it Achillion, after her favorite ancient Greek hero, Achilles.
Achillion Palace has many classical and ancient Greek features, as well as a gorgeous tropical garden.
Corfu Shell Museum
How about visiting a shell museum?
Yeah, you read that right!
At Benitses village you'll find one of the biggest shell collections in Europe. Corfu Shell Museum is located at the lobby of Potamaki Hotel in Benitses. This museum was created by the diver and collector Napoleon Sagias, as a place to host the findings of his worldwide (and many times dangerous) adventures.
At the museum's exhibition, you'll find over 10,000 impressive sea treasures, collected from the Mediterranean Sea, the Indian Ocean and the Pacific Ocean. Such treasures are different kinds of shells, sponges, corals, tanned fish, lobsters, crabs, snakes, sharks, shark jaws and many more.
Laopetra
If one thing stands out to you the most, approaching Benitses village, is a big rock emerging from the sea. This rock is called Laopetra, which means the rock of the people in Greek.
Needless to say, Laopetra is the area's trademark. This site was formed when thousands of years ago, a rock from the mountains above, fell into the sea.
Tip: You'll have a view of this impressive natural site from the sandy coves around.
Roman Baths
Another cool monument you'll find at Benitses, is the ruins of the Roman Baths.
There is a large hall (Caldarium) at the east side of the ruins, while the walls are built with bricks, irregular stones and plaster. On the floor, there is a stunning multicolored mosaic with geometric shapes!
Tip: You'll find the remains of the Roman Baths at the land of Kapsokavvadis family.
5.Feasts and festivals in Benitses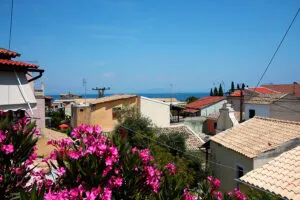 Be honest. You've always wanted to join a traditional Greek feast at a traditional village. Are we right?
You're not the only one. We love Greek feasts, too! And this is one of the reasons we have a crush on Benitses village. Every year, many traditional feasts and festivals take place at Benitses village. Two of the biggest ones are Agia Marina feast and Sardines festival.
Agia Marina Festival
Every summer on July 17th, the people of Benitses celebrate the protector saint of their village, Agia Marina. Perhaps unsurprisingly, this is the biggest feast in Benitses.
The feast takes place at the central square of Benitses, where several events take place. The best thing, though, is the music! Folk bands and singers play music until the first morning hours, while the audience dances all night long.
And of course, delicious food couldn't be missing. So, have you ever tasted traditional roasted lamb? This is your chance!
Sardine Festival
As you have probably already guessed, this festival is dedicated to sardine, a small fish, very popular in Greece.
Sounds weird?
Given that Benitses is a fishing village with lots of fishermen, it's not such a big surprise!
During the last decade, Sardine Festival is organized every August at Benitses village. The residents of the village cook big portions of grilled sardine, while music and dancing last all night long!
To sum up, Benitses is a wonderful cosmopolitan resort. What makes it stand out, though, is that it hasn't lost its traditional character. It just needs to be in your bucket list!
It's never too late to book your next trip to Corfu and visit one of the most popular places in the island: Benitses!