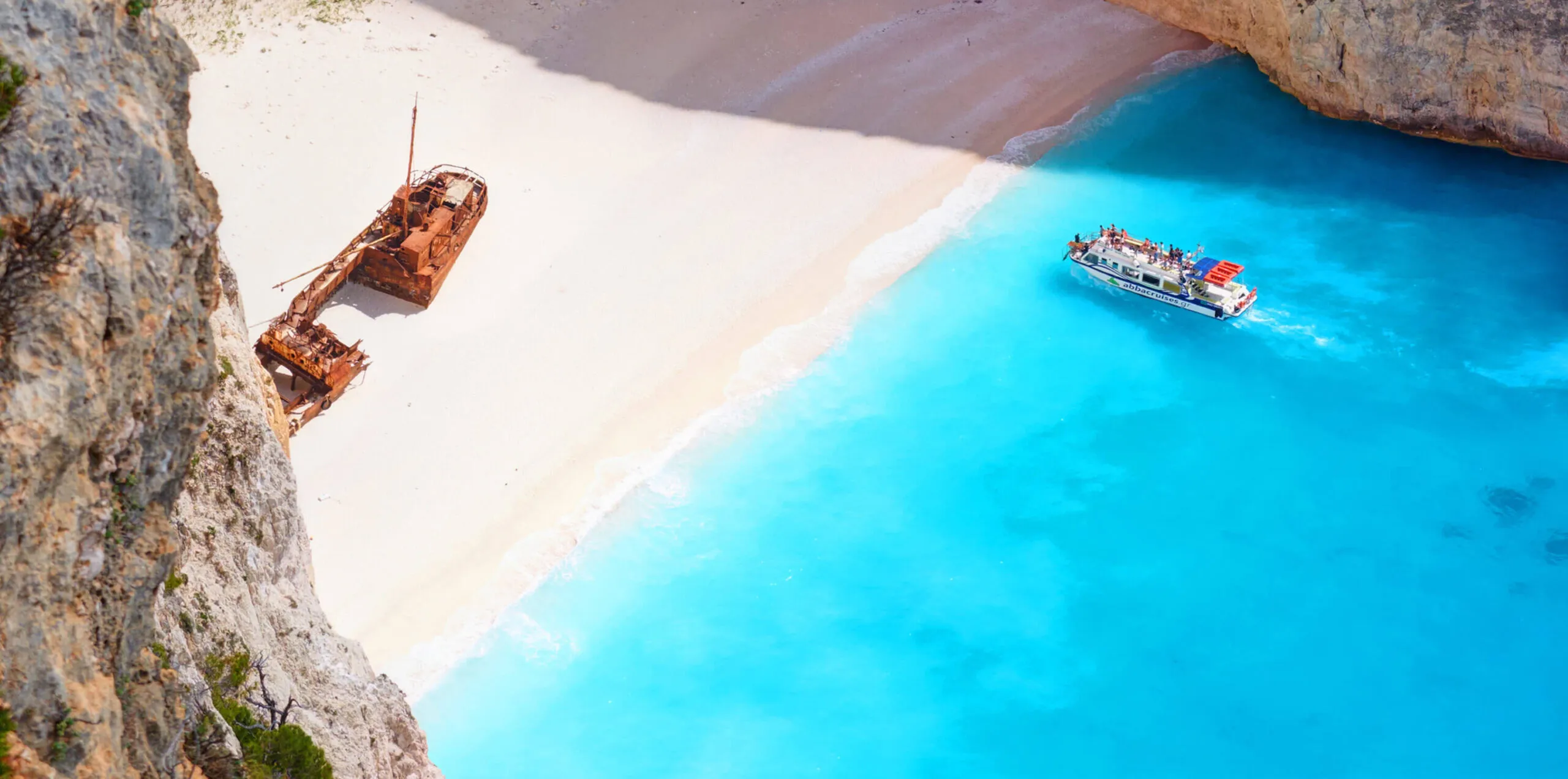 Top 10 beaches in Ionian: book your tickets to Greece
Come on, admit it!
When you think of beaches in Ionian islands, emerald waters and sandy coasts are the first things instantly coming in mind.
Are we right?
It's not a secret that Greece is famous worldwide for its amazing (and countless) beaches. Especially the beaches in Ionian islands, though, are one of a kind!
So, visiting as many beaches as you can during your stay in one (or several) of the Ionian islands is a total must.
But we know what you're thinking. How are you supposed to know what the best beaches in the Ionian islands are?
No sweat, we got you covered!
Keep reading to find the top 10 best Ionian beaches that will make your blue and emerald dreams come true.
1.Navagio (Shipwreck) beach Zakynthos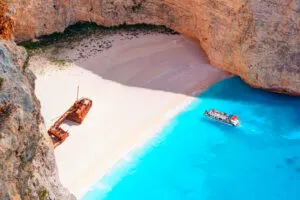 Starting with a famous one!
Navagio beach in Zakynthos is probably the most popular beach in Greece. You have probably already seen postcards picturing this paradise beach from above. The reality, though, will exceed your expectations! The combination of the white sand and the mesmerizing emerald waters is unreal.
How to get there: You'll find Navagio beach on the western side of Zakynthos, near Anafotiria village. Navagio beach can only be reached by boat. There are many companies in the island, offering boat tours to the beach.
But, do you want to marvel at the popular as-seen-on-postcards cliff top view to Navagio beach?
You can reach the cliff top either by car from the town or by joining one of the many beach tours organized.
2.Myrtos beach Kefalonia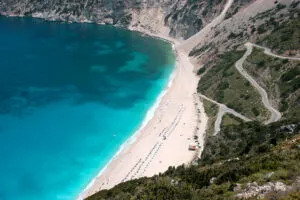 The multiple times awarded and insanely popular Myrtos beach in Kefalonia is a total must.
Just imagine emerald waters and white pebbles, framed by huge cliffs. The scenery is simply breathtaking!
Located 30 km away from Argostoli, Myrtos beach is an organized beach with umbrellas and sunbeds. But, if you prefer isolation, there is a small part of the beach remaining unorganized. The choice is yours!
How to get there: You can reach Myrtos beach by all means of transportation. On your way to the beach, you'll have the chance to enjoy some breathtaking views from above!
3.Porto Katsiki beach Lefkada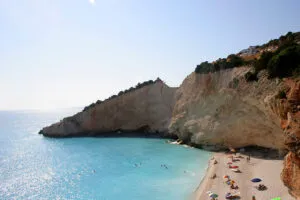 Do you want to know a secret?
Every year, Porto Katsiki makes it to the top of many "Top beaches in Europe" lists. And there's a good reason for that!
The natural beauty of Porto Katsiki beach is simply stunning. Clean emerald waters, surrounded by huge white cliffs, offer some dramatic views.
Located 45 km southwest of the main town of Lefkada, Porto Katsiki can be reached through 80 steps leading to the beach. Once you get there, you'll find many sunbeds and umbrellas.
Do you want to be more isolated?
You can choose a spot under the shade of the cliffs to spend a lazy day at the beach!
How to get there: You can reach Porto Katsiki beach by car, but keep in mind that traffic might be heavy during the summer months. Another option is to get there by water taxi departing from Vasiliki and Nidri villages.
4.Antisamos beach Kefalonia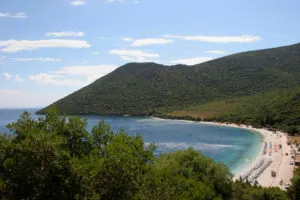 If you think the view to Antisamos beach from above is unbeatable, wait till you get down!
Just imagine a huge beach with white sand and emerald waters, surrounded by a breathtaking natural landscape. Trust us, it's just too good to miss!
Located 27 km east from Argostoli, Antisamos beach has been awarded a Blue Flag for its clean waters. This is something you'll have the chance to experience first hand, once you swim in its dreamy waters. What's more, it's an organized beach with sunbeds and umbrellas.
Trivia: Antisamos beach became famous thanks to the movie "Captain Corelli's Mandolin".
How to get there: You can reach Antisamos beach by car, following the coastal road in Sami.
5.Egremni beach Lefkada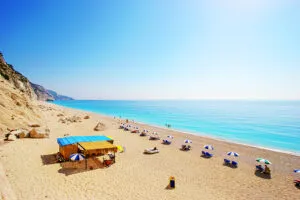 Get ready for an exotic beach experience!
Being among the most popular and beautiful beaches both in Greece and Europe, Egremni beach is one of the most photographed landscapes in Lefkada. It's a huge beach (2.5 km) with white sand and waters covering all the shades of blue. Big white cliffs covered with greenery create a dramatic backdrop, completing the unique natural landscape of the beach!
Egremni beach is organized with umbrellas and sunbeds, attracting thousands of tourists every year. The only way to reach it is by walking down about 347 steps, leading to the beach.
How to get there: Egremni beach is only accessible by car, as it is 40 km southwest of Lefkada town. After Athani village though, the road turns into a pathway. The best thing you can do is to park your car at the end of the road and walk down the steps to the beach.
6.Petani beach Kefalonia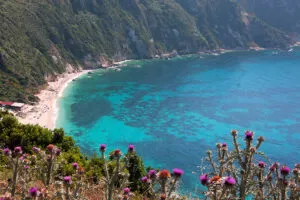 Another beach that needs to be on your travel list!
Petani beach is a truly amazing beach, perfect to marvel at some amazing sunsets. Located 20 km away from Argostoli, Petani is mainly a sandy beach, with some pebbles and clean emerald waters. It's partly organized with umbrellas and sunbeds and also has some traditional taverns nearby.
Keep in mind that Petani beach often gets wavy, so it may not be safe for little kids.
How to get there: You can reach Petani beach by car and park either on road or at the parking areas of the taverns.
7.Kathisma beach Lefkada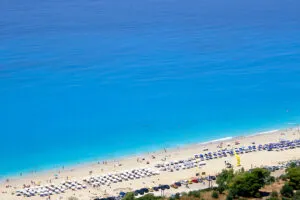 Caribbean waters, stunning mountain backdrop and fine white sand create the magical landscape of Kathisma beach.
Despite the fact that the beach gets crowded during the summer, you can still feel as if you are on an exotic island! You can try water sports, or you can simply relax on the sunbeds, marveling at the multi-colored waters.
Apart from water sports, umbrellas and sunbeds, at Kathisma beach you'll also find several taverns, bars and even swimming pools (!).
How to get there: You can reach Kathisma beach by a few minutes drive from Agios Nikitas village. The road leading to the beach is good and there's also a parking lot to park your car.
8.Agios Gordios beach Corfu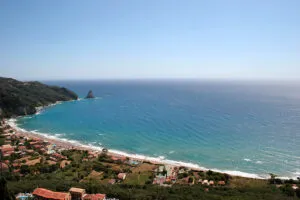 Do you want to hear something interesting about Agios Gordios beach?
It took its name from Agios Gordios church, which is located right in the middle of the beach.
Surrounded by olive trees and vineyards, this beach is famous for its natural landscape. What's more, it's a great option for those who love swimming and water sports.
The trademark of this beach, though, is the so-called "Ortholithi". This is an impressive big rock, emerging from the sea, making the landscape even more dramatic!
How to get there: You can get to Agios Gordios beach by car, driving through a beautiful road, full of olive trees and vineyards. Sounds dreamy, right?
9.Gerakas beach Zakynthos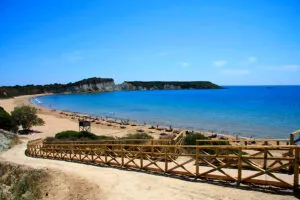 How do you imagine the perfect beach for swimming and sunbathing?
Probably big, sandy, with crystal clear emerald waters. Well, this is what you get at Gerakas beach in Zakynthos.
Located 13 km away from Zakynthos' main town, Gerakas beach is a protected area, as it provides shelter to the endangered "caretta-caretta" sea turtles.
Perhaps unsurprisingly, the natural landscape of this beach is beautiful. The rock formations all around the coast give the beach a wild beauty vibe!
How to get there: Gerakas beach is accessible by car, which you can park for free at the parking lot. Then, you can follow the path leading to the beach.
10. Agios Spyridon beach Corfu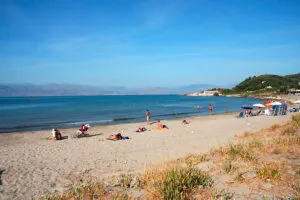 Wondering where you can find the most perfectly colored waters?
At the cosmopolitan Paleokastritsa resort in Corfu, you'll find Agios Spyridon beach. It's one of the best Corfu beaches and it's exactly what you're looking for!
Agios Spyridon beach is a sandy beach with emerald and deep blue waters, surrounded by lush green vegetation. Can you even imagine the natural beauty?
Tip: You can taste some yummy local dishes at the traditional taverns nearby.
How to get there: Agios Spyridon beach is located at the northwest coast of Corfu and it can be easily accessed by car. If you prefer hiking, you can follow the path starting from Antinioti lagoon.
All in all, it's not a secret that in Ionian islands, you'll find some of the most stunning beaches not only in Greece but in the whole world. Whether you're searching for Corfu accommodation or planning to stay in another Ionian island, make sure you visit as many beaches of this list as you can!
So, are you ready for your Ionian island trip?