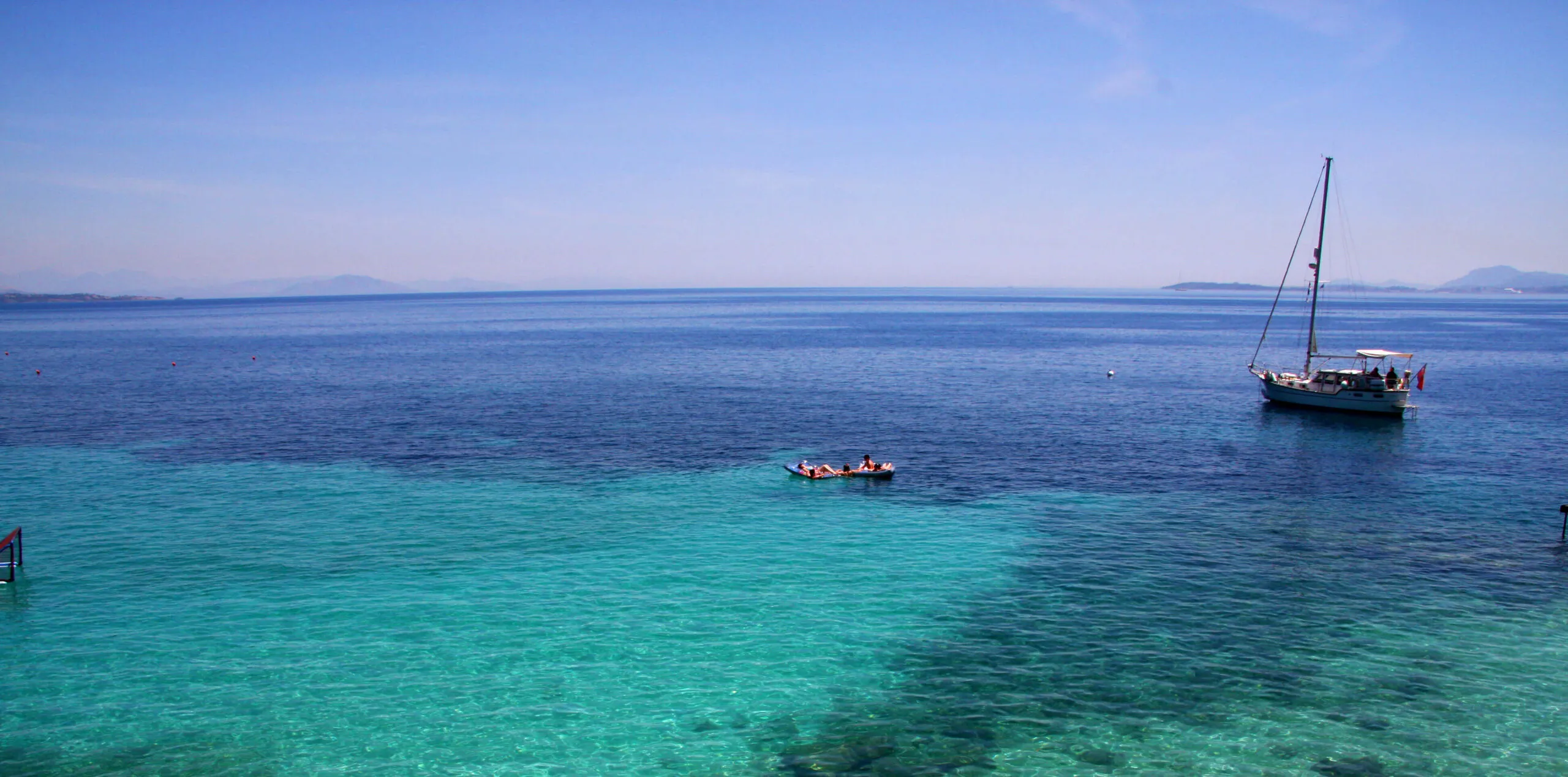 Top 10 awesome Corfu beaches (our ultimate favorites)
Let us take a wild guess!
You're planning your holidays in Corfu, you've already found the perfect Corfu hotel for your stay, BUT you have no clue what the beaches that will complete your dream holidays are.
Are we right?
Good news: You don't have to search any further!
Stick with us to find out everything about the best Corfu beaches.
So, let's get started!
Agios Stefanos Avliotes beach, for relaxing by the sea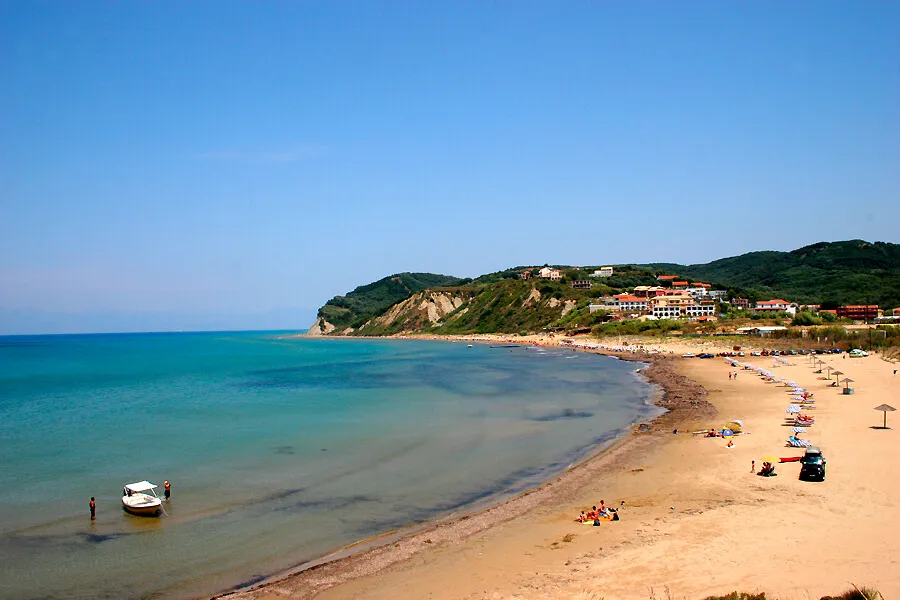 Warning: You'll fall in love with this place!
Why is that?
Agios Stefanos Avliotes is a traditional little fishing village, transformed into a touristic resort, without losing its identity. The picturesque harbor of Agios Stefanos, the traditional taverns serving all the local delicacies and the amazing natural environment will make you want to stay there forever!
But, wait, you can actually stay at the beautiful Agios Stefanos Corfu hotels!
As for Agios Stefanos beach, it is one of the best Corfu beaches. Imagine soft golden sand, crystal clear waters and trees all around.
Amazing, right?
Canal d' Amour beach Corfu, for romantic coves and canals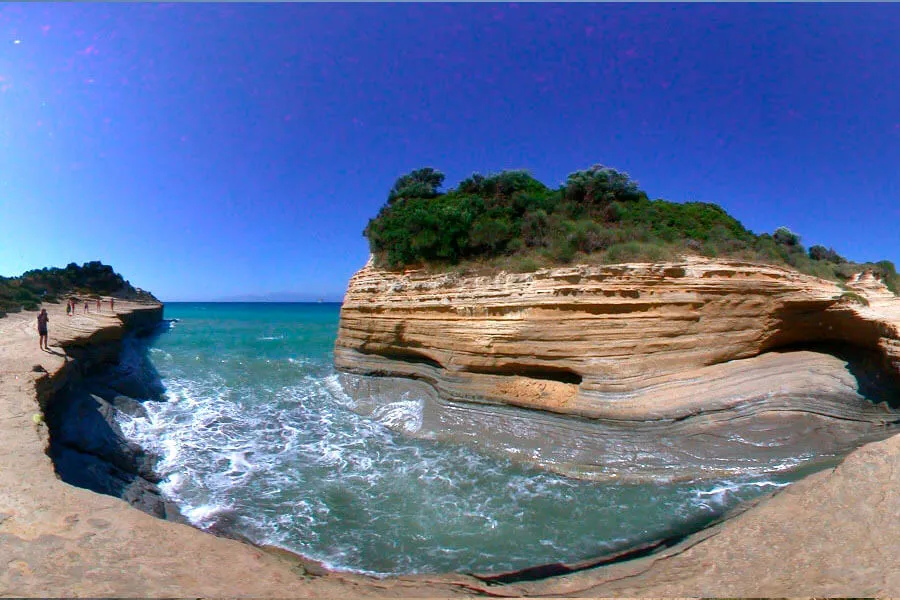 As you have probably already guessed, this is the ideal beach for couples.
And, guess what, the reason is not just its name!
According to the tradition, the couples that swim together through the narrow canal at Canal d'Amour (or Channel of Love), will get married soon.
Do you believe in such traditions? You only have to try it yourself to see if it works!
So, that is all?
Of course not!
Canal d' Amour is located near Sidari village in Corfu. This village is one of the most popular tourist resorts in Corfu, surrounded by charming landscape and beautiful green forests. The scenery you'll see at Canal d' Amour will impress you: coves, canals, rocks in different shades of yellow with lush greenery on the top…
Isn't it the perfect romantic location?
Agios Gordios beach Corfu, for idyllic location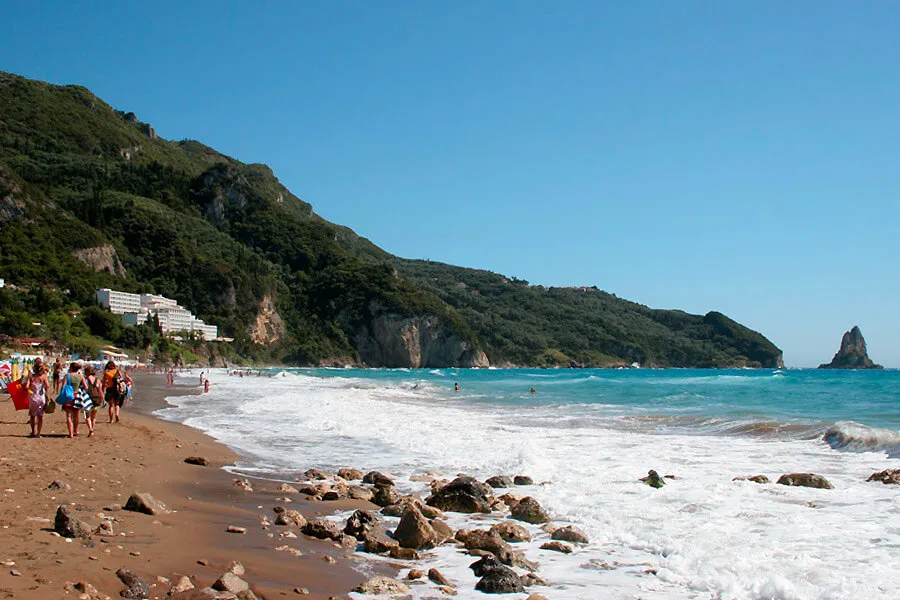 Imagine this: A Blue Flag awarded, 1 km long sandy Corfu beach with crystalline waters, surrounded by olive tree forests and vineyards.
Sounds like the perfect location?
Well, it is!
And the best part is, there is a church located literally in the middle of the sea, right at the center of the beach. What's more, there's a giant rock, known as "Ortholithi", rising from the sea at the southern part of the beach, making the landscape even more dramatic!
As for the facilities of this beach, there are umbrellas and sunbeds, as well as water activities, such as canoes, motor boats, peddle boats and banana boats.
We bet you'll have loads of fun at this beach!
Myrtiotissa beach Corfu for a sandy paradise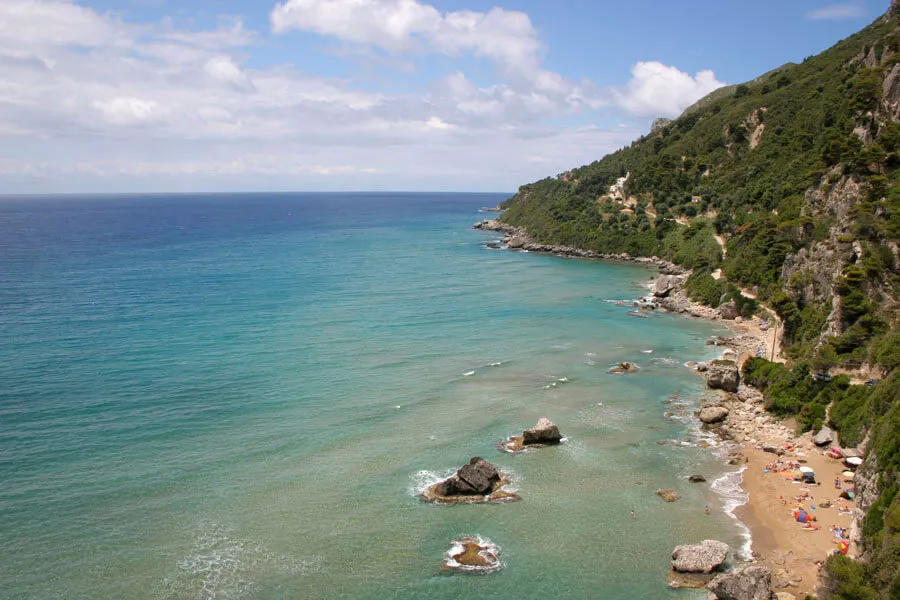 Want to learn a cool fact about Myrtiotissa beach?
The English writer Lawrence Darrell has characterized it as the most beautiful beach in the world!
What can we say? It seems we're not the only ones loving Myrtiotissa beach!
This beach will impress you with its unspoiled beauty, majestic landscape and crystal clear waters.
One of the best things about it is the traditional monastery of Myrtiotissa, located on the slopes of the lush green mountain, just a few meters above the sea.
Fact: Myrtiotissa beach is the official beach for nudists at Corfu. But the central part of the beach, divided by small cliffs from the other two parts, is populated by non-nudists.
So, feel free to follow the mood of the day!
Glyfada beach Corfu, for the younger travelers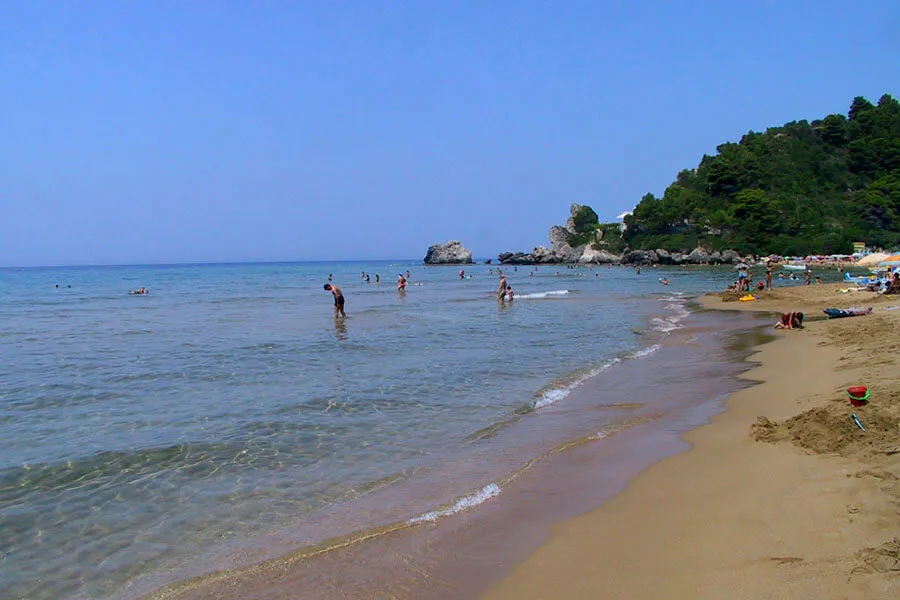 Who else wants to have some fun and party all day (and night) at the beach?
Chances are if you're a young traveler, this is already in your list!
Glyfada beach in Corfu is the place to be, as it's one of the most popular beaches in Corfu. During the day you can enjoy sunbathing, swimming and having lunch at one of the local taverns. But, when the sun goes down, the party starts at the beach bars!
Think that's all?
Hardly!
Glyfada beach is one of the best sandy beaches of the island and it has also been awarded a Blue Flag, for its clean waters. What's more, nothing beats its scenery: cliffs full of cypresses and olive trees lead to the long sandy beach and create an impressive natural landscape!
Nissaki beach Corfu, for breathtaking underwater landscape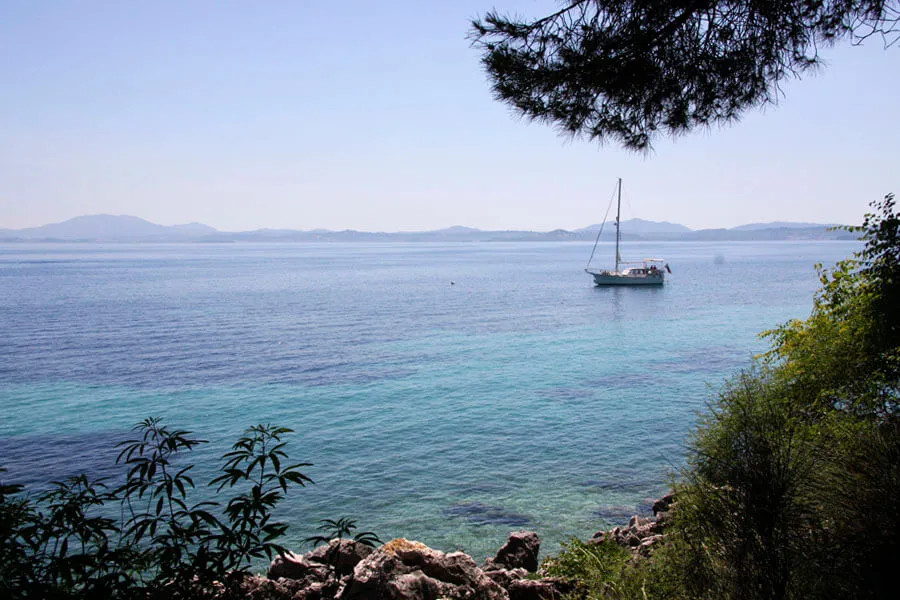 What's so special about Nissaki beach at Corfu?
Well, let's start from the bottom of the sea! This beach has a very rich underwater environment, making it the perfect choice for scuba diving. The water is so clean, you can actually see the marine life and the underwater landscape!
Moving upwards, the location of Nissaki beach is beautiful, as it is located 22 km away from Corfu town and has a magical scenery.
Just imagine a lovely sandy beach, surrounded by impressive rock formations, protected from the strong winds. Traditional taverns are also located by the sea, serving delicious seafood and local delicacies.
The ideal beach location, right?
Paleokastritsa beaches Corfu, for a cosmopolitan atmosphere
Are you ready to experience the famous cosmopolitan vibe of Corfu?
Well, there's no better place than Paleokastritsa resort in western Corfu!
At Paleokastritsa village, you'll find six beautiful sandy and pebbled beaches for every taste, as well as many traditional taverns by the sea to taste the local delicacies with a sea view. The best things about Paleokastritsa beaches are their cold waters, natural landscape and unbeatable sea views.
Honestly, can you think of something better?
Despite being considered as one of the most popular touristic resorts in Corfu, Paleokastritsa still manages to retain its traditional character. You'll get what we mean by visiting its picturesque little harbor!
Acharavi beach Corfu, for family moments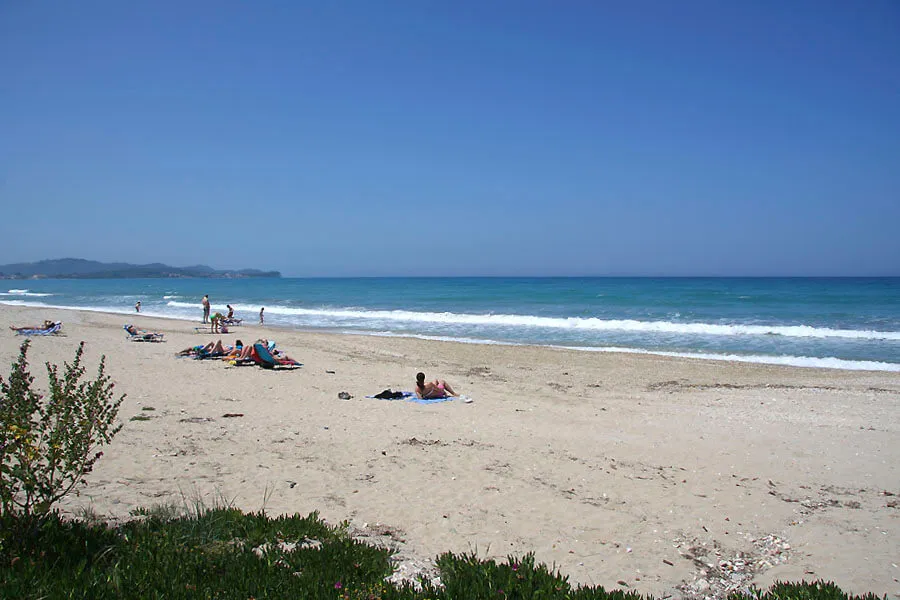 Don't you just hate it when you are on family holidays and you can't find a family-friendly beach?
We've all been there!
Acharavi beach in Corfu is a popular beach for families, as it provides a safe environment for the children.
This huge sandy, 3km long beach has shallow clear waters and is surrounded by lush greenery. In this amazing natural landscape, you can enjoy a relaxing day by the beach from morning till noon!
Fact: Acharavi beach in Corfu is located close to the main town of Acharavi, so you can have access to all amenities, such as supermarkets, banks and shops, anytime.
Ermones beach Corfu, for diving and experienced swimmers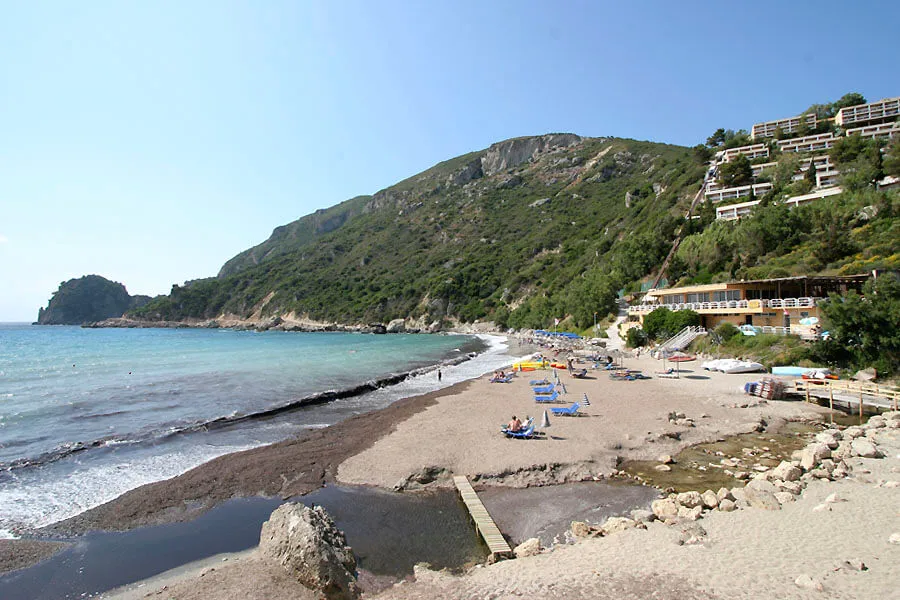 It's easier than you think to find the perfect beach for diving and snorkeling!
Do yourself a favor and visit Ermones beach in Corfu.
This beach is covered with pebbles and fine sand. It has crystal clear waters and its sea bottom has abrupt changes.
What does this mean?
It means that Ermones beach is a one-way destination for experienced swimmers and diving lovers!
The best part?
At this beach, there is a diving center which is the perfect starting point for excursions to the amazing seabed of Corfu.
Tip: One of the best things you can do at Ermones beach is to explore the many hidden coves of the area with a little boat or a peddle boat!
Dassia beach Corfu, for fun water activities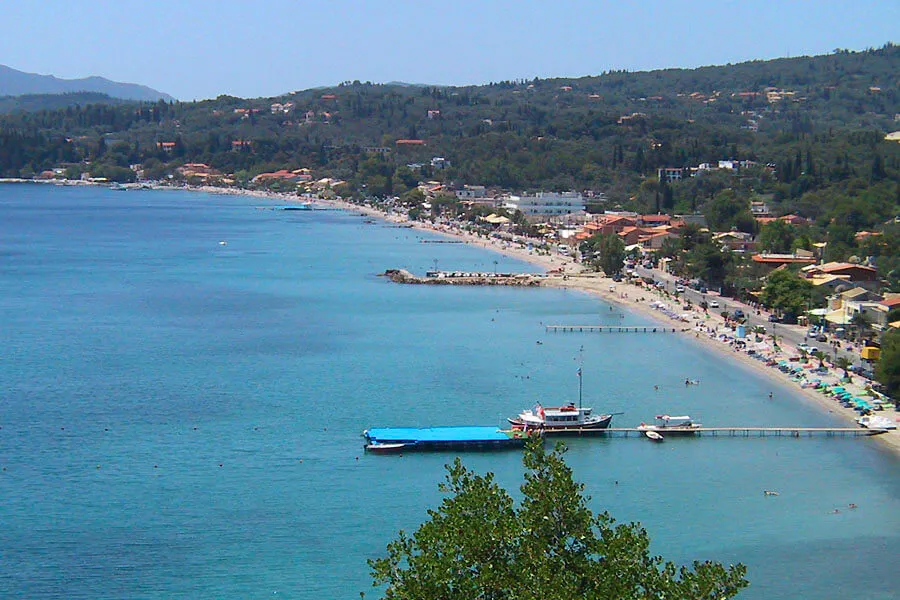 Sometimes you want to combine a relaxing day at the beach with water activities and endless fun in the water.
Does it sound like you?
Then, Dassia beach in Corfu is the place to be!
In Dassia beach, not only will you enjoy all day parties at some of the most popular Corfu beach bars, but you'll also enjoy water activities and watersports for every taste.
What's more, the shade of the trees, the crystal clear waters, the breathtaking view to the Albanian coasts and the island's surroundings create a unique natural environment.
The bottom line?
Dassia beach is an organized beach with sunbeds, umbrellas, cafeterias and taverns, meaning you can stay there all day and enjoy the vivid atmosphere.
Tip: Use the platform at the center of the beach for some amazing dives into the water!
So it all adds up to this: Corfu beaches are one of the kind and each beach is unique for a different reason.
So, trust us, in Corfu you'll have some of the best beach days! The best part? They're just a ferry away!
Here's to spending your next holidays in Corfu!