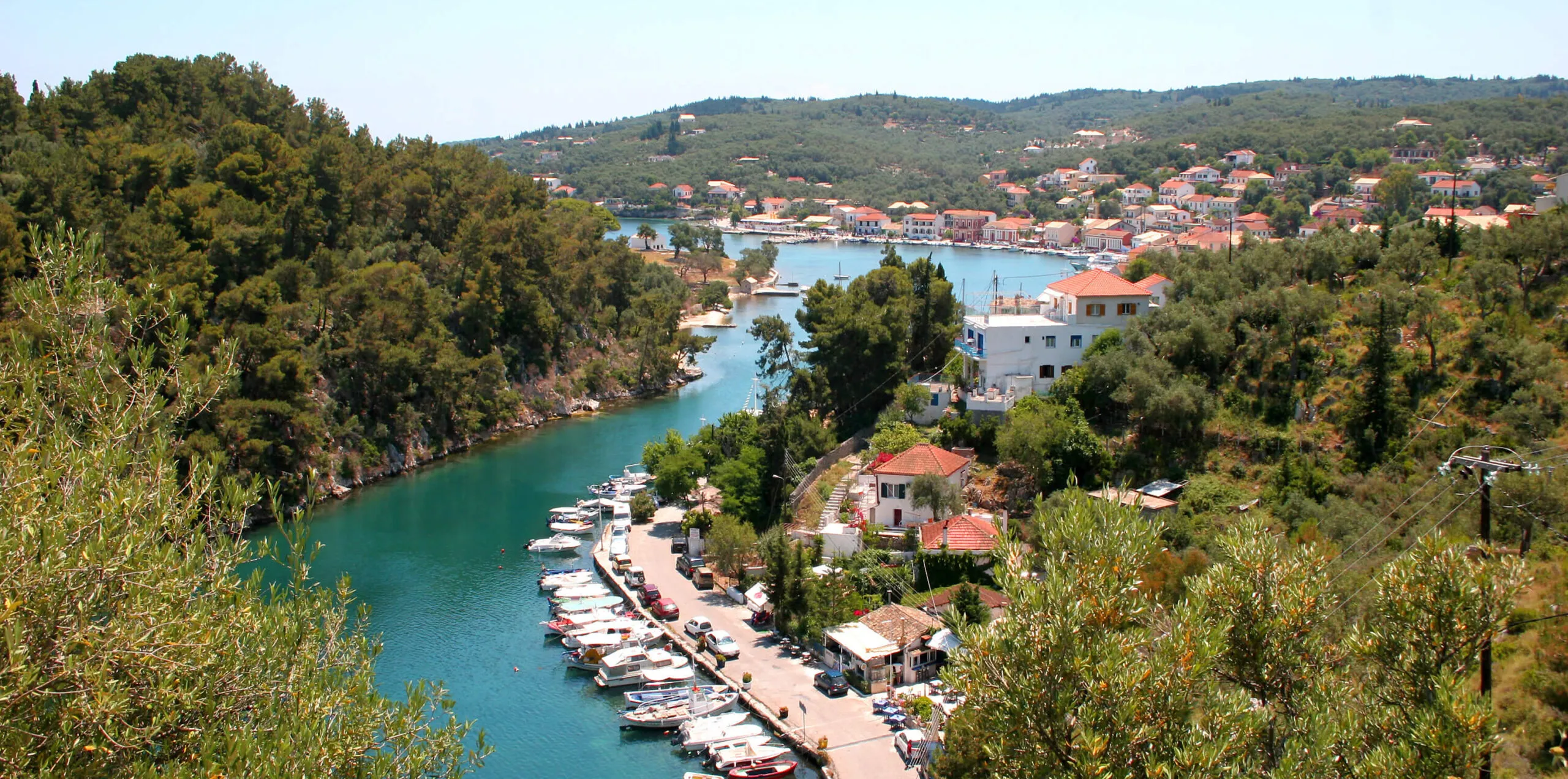 5 important facts you should know about Paxi (and nobody told you)
Want to know a secret? Paxi is one of the most beautiful islands in Greece!
But, how come you don't already know about it?
Well, it has probably done a good job staying off the radar. And that's good because exploring an island off the beaten tourist trail is an incomparable holiday experience, right?
In addition, Paxi island boasts an impressive natural landscape with lush vegetation, is dotted with beautiful shores and exotic beaches and has a rich culture! Combining cosmopolitan vibes with natural beauty, Paxi is a hidden Ionian gem that will surely make its way to your bucket list.
Keep reading to find out why, through 5 (really) important facts about the island!
1.Paxi port is like a painting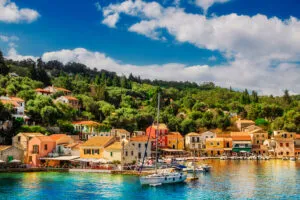 Gaios, the port of Paxi is beautifully nestled between two green islands, Paxi and Agios Nikolaos, shaping a natural fjord. Yeah, you read that right! This is an impressive first glimpse of Paxi!
Except for being the island's port, Gaios is also Paxi's capital. Having an architecture, influenced by Venetians, in this little town you'll find some beautiful buildings, such as the building of the English government and the church of Agioi Apostoloi.
Another thing about Gaios is its natural landscape, consisting of lush green olive groves. Its beautiful landscape, combined with its traditional character, makes this little town the perfect spot to start your exploration from!
Tip: When in Gaios, don't miss to visit the museum of Paxi and the many beautiful churches.
2.The beaches are exotic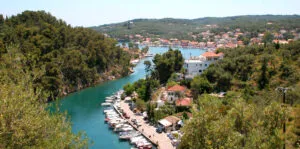 It's not a secret that Ionian islands are famous for their fantastic Ionian beaches. And since Paxi belongs to the Ionian Islands, expect nothing less than beautiful exotic beaches! Bright turquoise waters, fine white sand and shiny white pebbles are some things all Paxi beaches have in common. But what are the top Paxi beaches you need to visit?
Plakes beach Paxi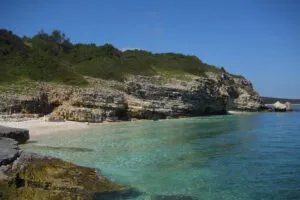 This is, hands down, the most famous beach in Paxi. Plakes is just 500 meters away from Gaios and has an impressive rocky landscape. This small pebbled beach can be reached by a path from the main road.
Levrechio beach Paxi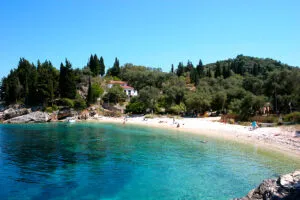 Deep blue waters, white pebbles and a beautiful natural landscape make this beach one of our favorites on the island. Surrounded by olive trees that offer enough shade, Levrechio is an ideal beach for swimming and sunbathing. What's more, it is also family and children friendly.
Pounda beach Paxi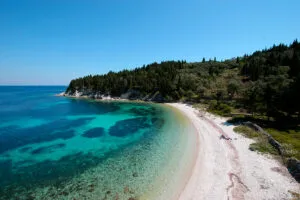 5 km away from Gaios, you'll find Pounda beach. Make sure you won't pass it by! This beach has waters in all the shades of blue and a green landscape. Given that it's not organized, it has a peaceful atmosphere, ideal for relaxation.
Marmari beach Paxi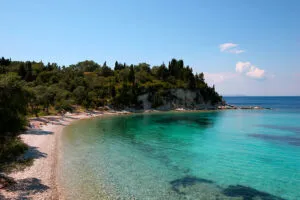 Just 5 minutes away from Levrehio beach, you'll find the peaceful Marmari beach. Like Levrechio, this beach also has olive trees and a beautiful landscape. Covered with shiny white pebbles, Maramari is perfect for sunbathing and swimming.
3.Did you know about the hot springs?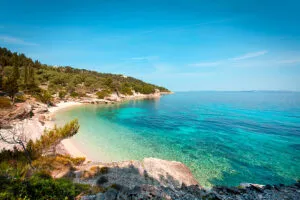 Famous since ancient times, the hot springs of Paxi are something you shouldn't miss during your visit! Flowing from the subsoil of the island, they are poured into the sea and have healing effects thanks to the sulfur they contain!
The best hot springs of the island are those of Ozia, Yianna and Glyfada.
4.Antipaxos is a paradise, just a breath away from Paxi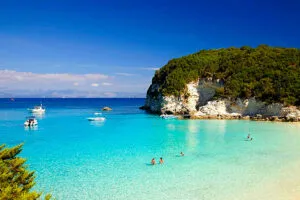 There are a few places in the world, where you feel like you've found paradise and Antipaxi is one of them! Located opposite to Paxi and very close to Corfu, Antipaxoi is easily reached from all the Ionian islands.
This tiny unspoiled island boasts one of the most impressive natural landscapes you've ever seen. If you're someone who loves isolation and relaxation, Antipaxi is the remote paradise you've been looking for!
Located just 3 km away from Paxi, Antipaxi is as tiny as 5 (!) square kilometers. The only way to reach the island is by boat, which arrives at the small port of Antipaxos, Agrapida. Once you set your foot on the island, you'll be impressed by its peaceful atmosphere. Natural beauty is the main characteristic of this island, which is full of olive groves and has a vineyard that produces delicious local wine!
The highlights of Antipaxos, though, are its beaches! Virgin, with transparent waters, Antipaxos beaches will blow your mind. The best beaches of the island are Vrika and Voutoumi.
Vrika is the first beach you come upon, arriving on the island. Covered with sugar fine white sand, it has the most dreamy emerald waters! The water at this beach is shallow, so it's a great choice for families with little kids. Apart from families, though, Vrika beach is ideal for those who love snorkeling. That's because on the north side of the beach, there is a cave, perfect for underwater exploration.
Voutoumi is another beautiful beach on the northeastern side of the island. You'll find this beach inside a large cove with turquoise waters, surrounded by huge rocks. (Wild natural beauty, or what?) The water on this beach is also shallow and perfect for snorkeling.
Tip: On the hill behind this beach you will find a tavern, where you can taste yummy local dishes.
5.Traditional villages are a thing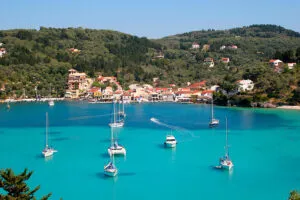 The island of Paxi manages to combine traditional with cosmopolitan vibes in a unique way! Except Gaios, the main town of the island, you'll also find two picturesque traditional villages in Paxi: Logos and Lakka.
Logos Paxi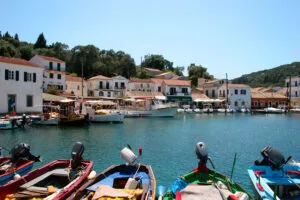 This small seaside village is one of the most beautiful villages in Paxi. Unlike cosmopolitan Gaios, Logos is a quiet place, ideal for families and couples. Around the village, there are several beaches, where you can swim, relax and eat at the traditional seaside taverns.
But, if you want the real deal, you should visit Logos at night, when the scenery is particularly charming. Stroll around its narrow streets and dine at one of the seaside taverns, which are lighted during the night.
Hot tip: International Music Festival and Spring Music Festival are organized in Logos. If you happen to be in Paxi during these events, don't miss to attend them!
Lakka Paxoi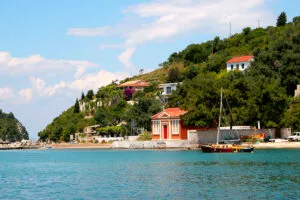 Lakka is a small fishing village, surrounded by lush green hills, located in the heart of a beautiful cove. This cove forms a beautiful port, where many yachts and boats arrive every year!
Stroll around the narrow paved streets of the village and make sure you capture the many instagramable stone-made houses, which are strongly influenced by the Venetians. Also, don't miss to visit the 36 meters tall vintage stone-made lighthouse of Lakka, which was built in 1832!
Bottom line: The nightlife in Lakka village. In Lakka, you'll find many bars that stay open till the first morning hours, as well as nice restaurants that combine Greek with Italian cuisine.
So, what does all this mean?
That your options are two: Either you book your tickets to Paxi, or you plan your trip to Paxi during your stay in Corfu. End of story.
It's up to you to choose the best option, but one thing is for sure: You'll have an unforgettable holiday experience!