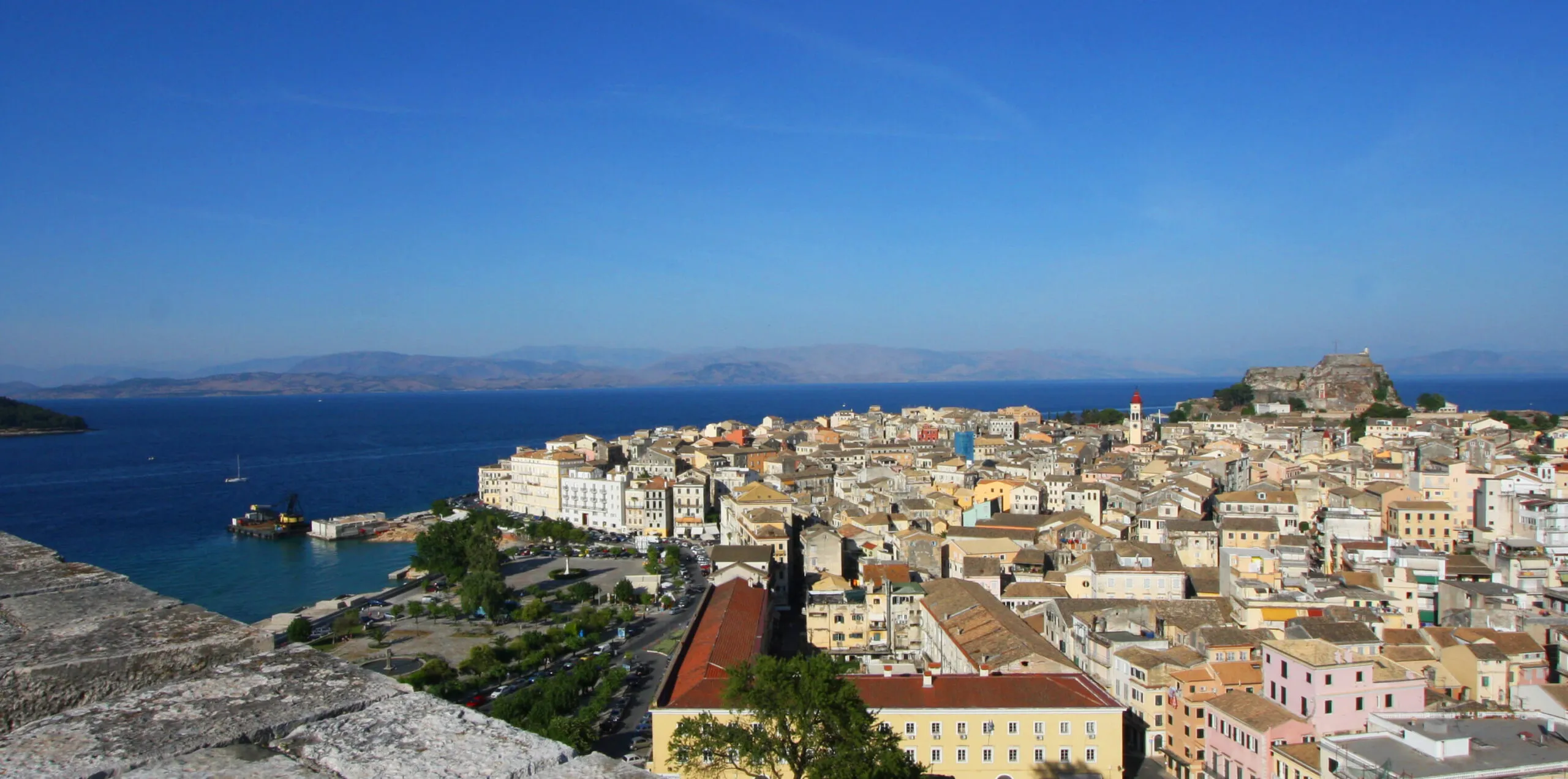 Yumminess overload: The best Corfu food and where to eat it
Blinding flash of the obvious, Corfu food is yummy. Very yummy. Delicious!
Like the rest of the Ionian islands, Corfu is famous for its traditional cuisine, which is strongly influenced by the island's 400 years long Venetian occupation. A wide variety of flavors, fresh local ingredients and talented chefs have as a result delicious dishes, which combine traditional with modern cuisine.
So, what are the most famous local dishes and where can you eat the best versions of them?
Keep reading cause we're going to tell you everything, meaning by the end of the article you'll be hungry. Sorry not sorry!
Why Corfu food is the best
If we had to put a finger on why we love Corfu, it would definitely be its food. Let's be honest here: Corfu is an oasis of yumminess!
Corfiot cuisine is known for its Mediterranean character and Venetian influence. These two sides are combined to create some of the most delicious dishes you've ever tasted. Based on spices, olive oil, legumes, vegetables, meat and pasta, Corfiot cuisine takes traditional Greek cuisine to another level!
Venetians brought with them previously unknown to Corfiots foods, such as corn, peppers, chocolate and tomato. It's because of the strong influence of the Venetians that most local dishes have Italian names!
So, let's see (and virtually taste) some of the most epic Corfiot dishes!
Warning: Drooling and hunger might be caused after reading this.
Sofrito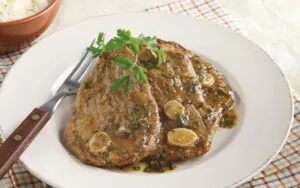 This is one of the trademark dishes of the island. It basically consists of fried thin slices of beef cooked with white sauce, garlic, pepper, white wine, vinegar and parsley. It is served with a side of mashed peas or potatoes.
Pastrokio eggplants
Fried eggplants with cheese, boiled eggs cut in slices, pork, salami, tomato sauce and basil, baked in the oven. Can you even imagine how delicious this is?
Pastitsada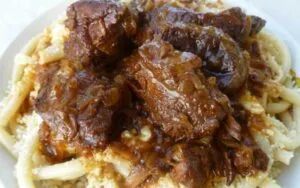 Well, this dish needs no introduction. The legendary pastitsada is the trademark dish of the island! Pastitsada is basically a meat cooking technique, used mainly for special occasions in the past. The meat is initially cooked with oil, spices, onion, garlic and red wine. After that, cinnamon, nutmeg, laurel, fresh tomato, tomato paste and sugar are added. It is served with pasta and grated cheese. Yum!
Stoufado
Another meat dish! Stoufado is made using pieces of beef marinated with wine and cooked with garlic, carrot, onion, rosemary, sage, salt and pepper. It is, then, cooked with pork, olive oil and a little bit of sugar.
Bourdeto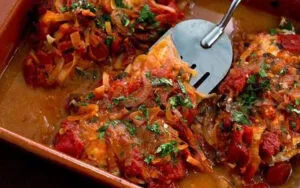 Bourdeto is another typical Corfiot dish. It can be made using different types of fishes, but the recipe remains the same. The fish is cooked with onion, red pepper and lemon juice. The result? A delicious fish dish!
Pastitsio Dolce
This is a kind of pie stuffed with a mix of different meats (pork, beef, bacon, chicken, sausage), pasta, cheese and dill. If you are a meat lover, don't miss to try it!
Bianco fish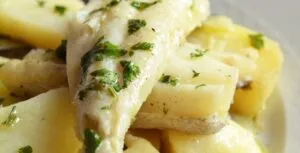 This is another delicious fish dish! The fish is cooked with garlic, parsley, onion, lemon juice, and potatoes in a pot. Extra tip: Eat it along with bread, which pairs perfectly with the fish's broth.
Fogatsa
Let's add some sweet taste in this list! Fogatsa is a kind of sweet brioche, made in Corfu, especially during Easter time. It's usually round, fluffy and smells amazing. You can find it in every bakery of the island, so don't miss to bring some back home with you!
Pasta Flora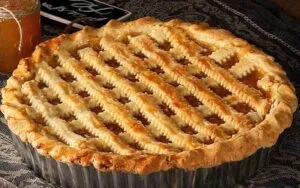 Another sweet temptation! Pasta Flora is basically a pie with homemade jam, decorated with slices of dough.
Stakofisi (Stock fish)
We're sure you've already guessed what this one is about, haven't you? Stakofisi is stockfish cooked with onion, red pepper, tomato sauce, leek and a little bit of sugar. Trivia: Stakofisi used to be the rich people's version of Bourdeto.
Gialetia
Corfu has its own pancakes! Gialetia (from the word "giallo", meaning yellow in Italian), are basically corn pancakes. They are cooked as regular pancakes and served with sugar, cinnamon and honey. Perfection!
The best places to enjoy Corfu food
Now that you have gotten familiar with the Corfiot delicacies, you probably can't wait to try them, right?
But, we know what you're thinking the problem is: You don't know where.
No sweat, we got you covered!
That's why we made a shortlist with our favorite Corfu restaurants to taste the yummiest traditional dishes in Corfu. Keep reading and you can thank us later!
Rex, Corfu Town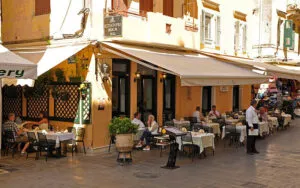 Rex is one of Corfu's legendary restaurants. Located in the heart of Corfu town, behind Liston paved avenue, Rex is a place loved by Corfiots since 1932. The best sitting option is the tables outside the restaurant, where you can feel the local vibes of Corfu. And the food is, of course, amazing! This is one of the best restaurants in Corfu not only to try local specialties, such as pastitsada, sofrito, bourdeto, but also modern dishes! If you're in a mood of eating something that combines traditional with modern cuisine, try the chicken with kumquat sauce, the pasta with salmon and the squid with ouzo and saffron.
Rouvas, Corfu Town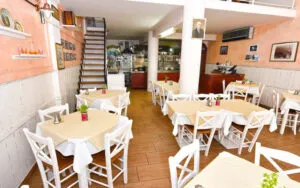 Going to the historical Rouvas restaurant is one of the best things to do in Corfu! It has been serving traditional Greek dishes since 1937 and it's one of the most popular restaurants in Corfu. No wonder why it has loyal customers during the last 10 years! One thing is for sure: Its warm and welcoming environment will make you feel like a local. And this applies to the food, too! Rouvas is where you can taste traditional dishes not only from Corfu, but also from the whole Greece. To name a few, mousaka, gemista, pastitsio, Greek salad, fresh fish, sofrito and bianco fish are some of this restaurant's specialties you definitely need to taste!
Klimataria (Stou Bellou), Benitses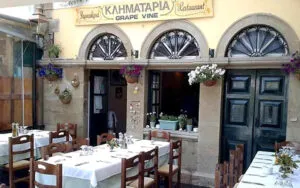 This small fish tavern has been operating since 1997 in the little village of Benitses. Nikos, its owner, has transformed his traditional family house into Klimataria tavern, so the atmosphere is unique. Since Klimataria is small, we recommend you make a reservation beforehand, you won't regret it! Here, you'll find the most fresh fish, seafood and, of course, a selection of Corfiot specialties. Definitely try the bianco fish, shrimps, bourdeto and their desserts!
Toula's Gastronomy Restaurant, Agni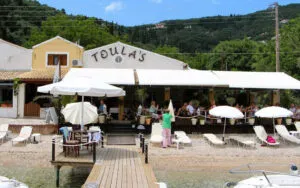 Saving the best for last! At this restaurant, you'll probably taste some of the best Greek dishes you've ever had. Located by the sea, in Agni beach, apart from beautiful views, Toula's also offers yummy food! Its menu is a combination of Mediterranean, Corfiot and Fusion cuisine, specializing in fish and seafood dishes. Its highlights are the spicy shrimps, the pasta with lobsters, the shrimp mille-feuille and the savory (!) cheesecake. Also, don't miss to try Toula's epic desserts!
Let us guess, you're already feeling hungry, right?
Well, we don't blame you!
All in all, the truth is that Corfiot cuisine will make you redefine deliciousness. But if you want the real deal you should eat the original Corfiot food in the island's best restaurants, which you now know (Blink). So, don't miss any time!
Book your stay in Corfu and explored the islands gastronomy first hand!