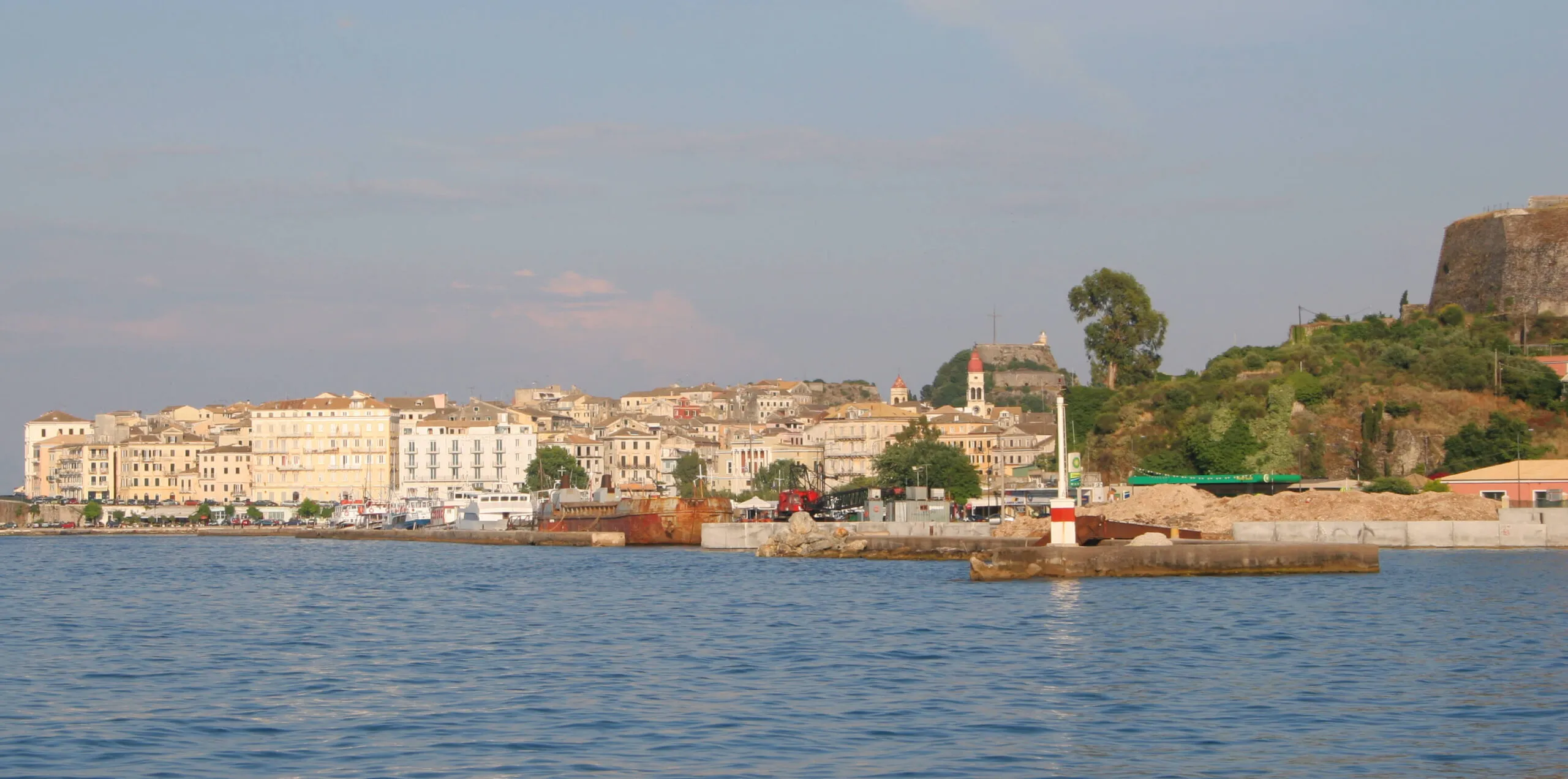 Must things to do in Corfu: The only list you'll ever need
Let us get this straight: The must things to do in Corfu could fill a lifetime of holidays!
Ok. We might be exaggerating a little bit.
The things to do in Corfu, though, are so many you'll definitely need some kind of checklist!
No worries!
You only have to find the perfect Corfu accommodation. Leave the rest to us!
We have gathered all the must things to do during your holidays in Corfu.
Want to know what these things are?
Keep reading and take notes!
Why Corfu?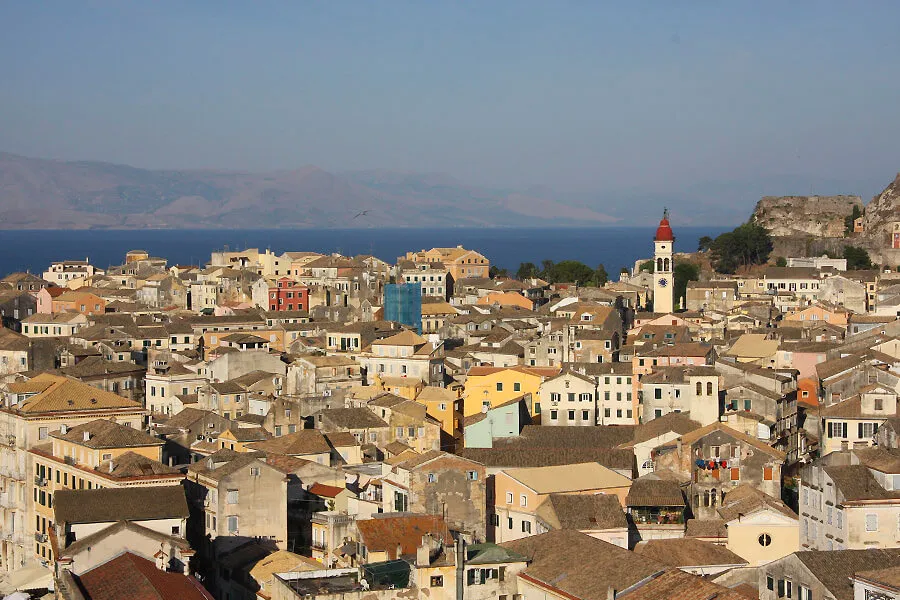 No wonder why you should choose Corfu island for your holidays!
It is hands down, one of the most beautiful Greek islands, having rich historical past and amazing places to visit.
The incomparable natural beauty of the island, its breathtaking landscapes and neoclassical architecture will capture you! From the magical Corfu Old town to its idyllic beaches, everything will tell you to stay there forever!
But, is it possible to discover all the sides of Corfu during a single trip to Corfu?
Hardly.
If you do all the things in our list, though, you'll feel like a real Corfiot!
1.Get lost in Corfu Old Town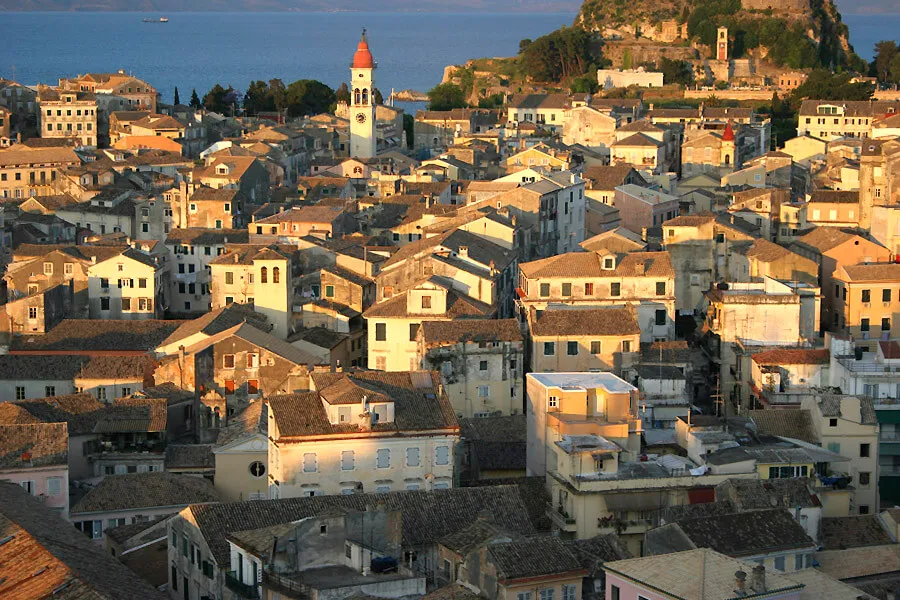 Starting with a highlight!
You don't have to be a travel junkie to know that Corfu Old Town is a must place to visit.
Corfu Old Town is a UNESCO listed monument and there's a reason for that!
Narrow paved streets (aka "kantounia"), neoclassical houses, elegant Corfu hotels, traditional churches and lots of museums are just some of the reasons to visit Old Town.
Actually, Corfu Old Town is divided in two areas. One is the Old Fortress at the northeastern side of the town. The other is the New Fortress, at the southern side of the town. Both of them will travel you back in Byzantine and Venetian times.
All the streets of Corfu Old Town, though, lead to Spianada Square.
2.Stroll around Spianada Square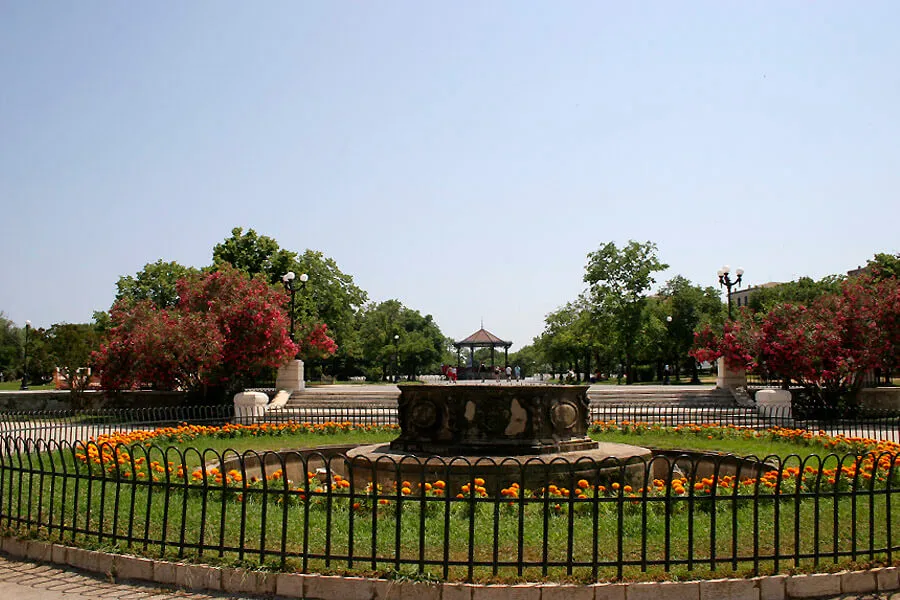 Want to learn something interesting about Spianada Square?
It is the biggest square in Greece and, probably, of the Balkans!
At Spianada Square, there are some of the most significant sites of Corfu. Such places are the Palace of St. Michael and St. George, the Maitland Rotunda and Liston promenade.
As you walk down the square you'll find "General Viktoras Dousmanis" street. This little street divides Spianada Square in two parts. These parts are Kato (Down) Square and Pano (Upper) Square. At this point, you'll see a gorgeous kiosk, which is also used as a stage. At this kiosk, many concerts take place all year round. If you're lucky, you'll have the chance to experience one!
Trivia: At Spianada Square there is the Cricket Court of Corfu. This court was created during the time Corfu was under English occupation.
3.Walk down Liston Promenade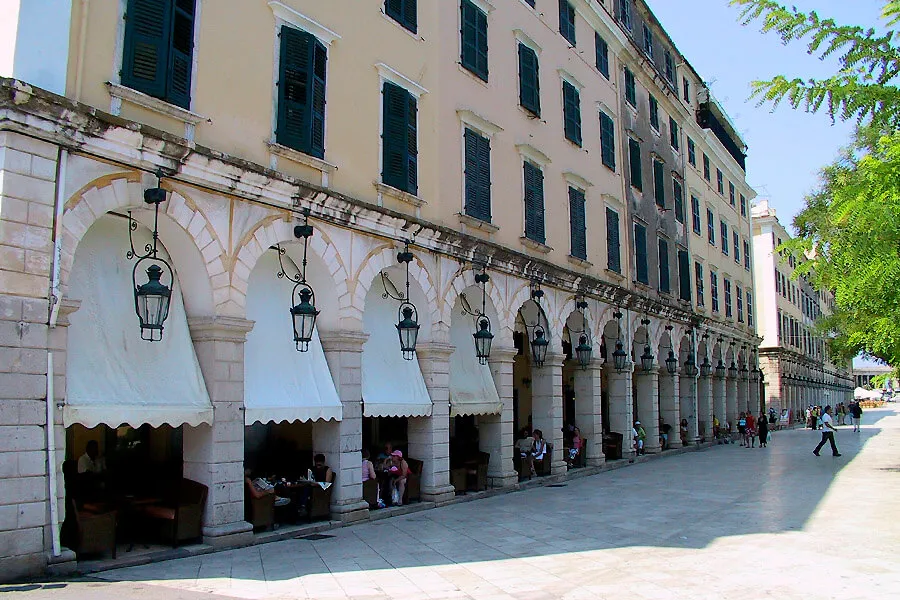 Liston promenade is another must!
Liston marks the center of Corfu town. It is located at the western side of Spianada Square, so it's a good idea to visit them both during your stroll!
What's more, Liston promenade is a meeting point for the locals and a popular place for tourists. Having a coffee at one of the elegant coffee places at Liston promenade is an absolute must!
Tip: If you happen to be at Corfu during the Greek Easter, you should definitely visit Liston promenade. This is your chance to witness some traditional Corfiot customs!
4.Experience the glory of Achillion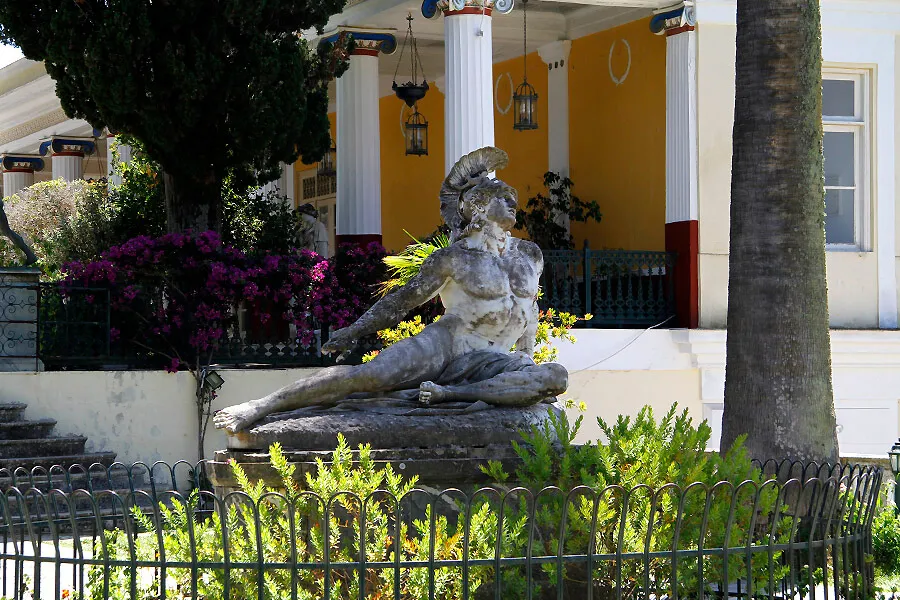 One thing is for sure.
You can't leave Corfu without visiting Achillion!
Are you curious about why Achillion is one of the most popular places to visit in Corfu? Keep reading to learn everything about it!
To start with, Achillion was actually the palace of Empress Sissy! How cool is that?
It was built in 1890, in order to help empress Sissy recover in Corfu, during a period in which her health was weak. Achillion took its name from Sissy's favorite ancient Greek hero, Achilles. What's more, impressive statues of Achilles are placed around the palace.
Inside this palace, you'll find the most wonderful things! Statues, paintings, Sissy's furniture and many more exhibits will make you feel as if you're living in a fairytale!
Outside the palace, you'll find the most colorful surrounding. Exotic plants, palm trees, fountains and many kinds of flowers are blooming all over the place. What's more, at this magnificent garden you can enjoy a breathtaking view of Corfu town!
5.Swim at the gorgeous Corfu beaches
When it comes to beaches, Corfu has a great variety!
From sandy to pebbled and from isolated to crowded, Corfu has it all!
But, let's take a closer look at some of the best Corfu beaches.
Agios Stefanos beach Corfu
Agios Stefanos Corfu beach is one of the best sandy beaches of the island. It is a long sandy beach, surrounded by lush greenery. What's more, it is ideal for families, as it is the perfect place to relax and let the kids play!
Tip: At the traditional taverns of the area you can taste delicious fresh fish and local delicacies.
Agios Gordios beach
Agios Gordios is situated at Corfu's west coast, which is famous for its amazing beaches!
Just imagine a sandy beach surrounded by olive trees, vines and stunning rock formations.
This is exactly what Agios Gordios beach looks like!
One of the best things about this beach is its shallow waters. This means it is the perfect beach for swimming!
The true highlight of this beach, though, is the so-called "Ortholithi". This is a huge rock emerging from the water, right in the middle of the beach.
Canal d'Amour beach Corfu
Canal d'Amour is one of the most popular Corfu beaches. But, it is also the most romantic one!
Also known as the Channel of Love, Canal d'Amour beach is a truly idyllic beach. Just imagine impressive rock formations, caves and canals, surrounded by the most beautiful natural landscape!
Trivia: According to tradition, if you swim through the narrow canal of Canal d'Amour beach, you'll get married soon!
Acharavi beach Corfu
This is a huge beach on the north side of Corfu island, located at the popular Acharavi resort.
Do you think that's all?
Nope!
Picture this. Golden sand, unbelievable natural beauty and shallow waters creating the perfect scenery!
And the best part is, Acharavi beach is close to Acharavi main town. This means you don't have to get too far to find all the necessary amenities.
6.Explore Corfu nature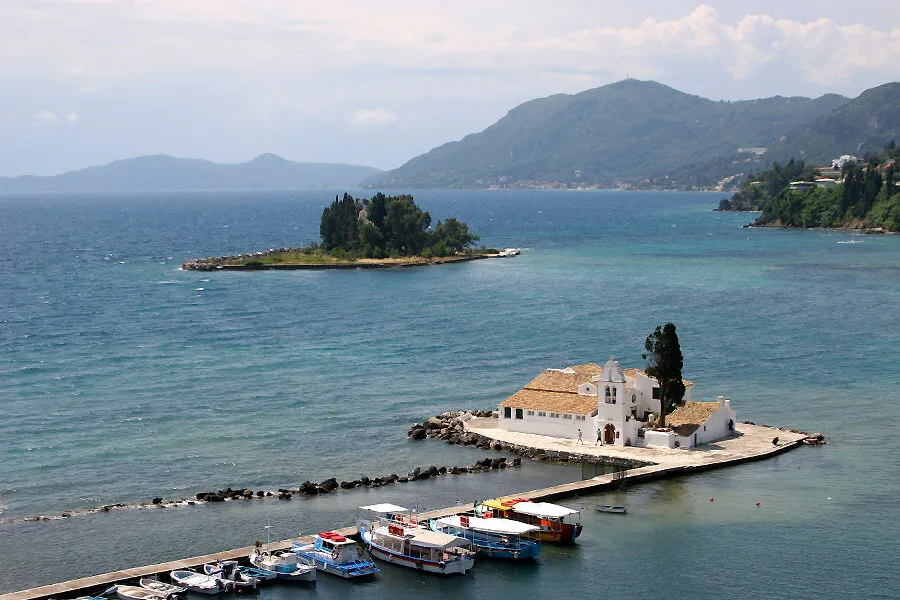 Are you a nature lover?
Then, Corfu will be one of your favorite destinations ever!
Corfu is famous for its natural beauty, amazing landscapes and hiking routes. If you love hiking, the best way to explore Corfu's natural beauty is Corfu Trail. This is a 220 km route, covering the whole island. During this long-distance walking route, you'll find amazing beaches, breathtaking gorges, areas covered with olive trees and many more!
But, there's a lot more than that!
Erimitis Path Corfu
Erimitis Path is one of the best hiking paths in Corfu. The route starts from Agios Stefanos Sinion and ends at Avlaki beach, lasting about an hour.
Wondering what you'll see, walking at Erimitis Path?
A great variety of landscapes. Secluded beaches, capes, small lakes, wetlands and shelters of rare bird species. In fact, at this path, you'll find 6 beaches and 3 different lakes!
Lazaretto islet Corfu
Visiting Lazaretto islet when in Corfu is a must!
This islet is located at the north-east part of the island and it is an example of Corfu's natural beauty!
This little islet has a rich history! It used to serve as a quarantine, given that a leper hospital was located there. Later, during World War II, it turned into a concentration camp for prisoners.
Pontikonisi Islet Corfu
Do you want to learn something interesting about Pontikonisi islet?
Its name actually means "Mouse Island", because of its small size and mouse-like shape!
Pontikonisi is one of the most popular and most photographed sites in Corfu. This picturesque little islet is covered with cypress trees and can be reached with a small boat at Easter and during the touristic period.
Trivia: The only building at the islet is the beautiful Byzantine monastery "Metamorfosis of Sotiros"!
All in all, Corfu is not only one of the most popular and beautiful Greek islands. It also has a bunch of things to do! To discover them, book your stay in Corfu and let the island exploration begin!
So, now it's all in your pitch! Will you make Corfu your next holiday destination?