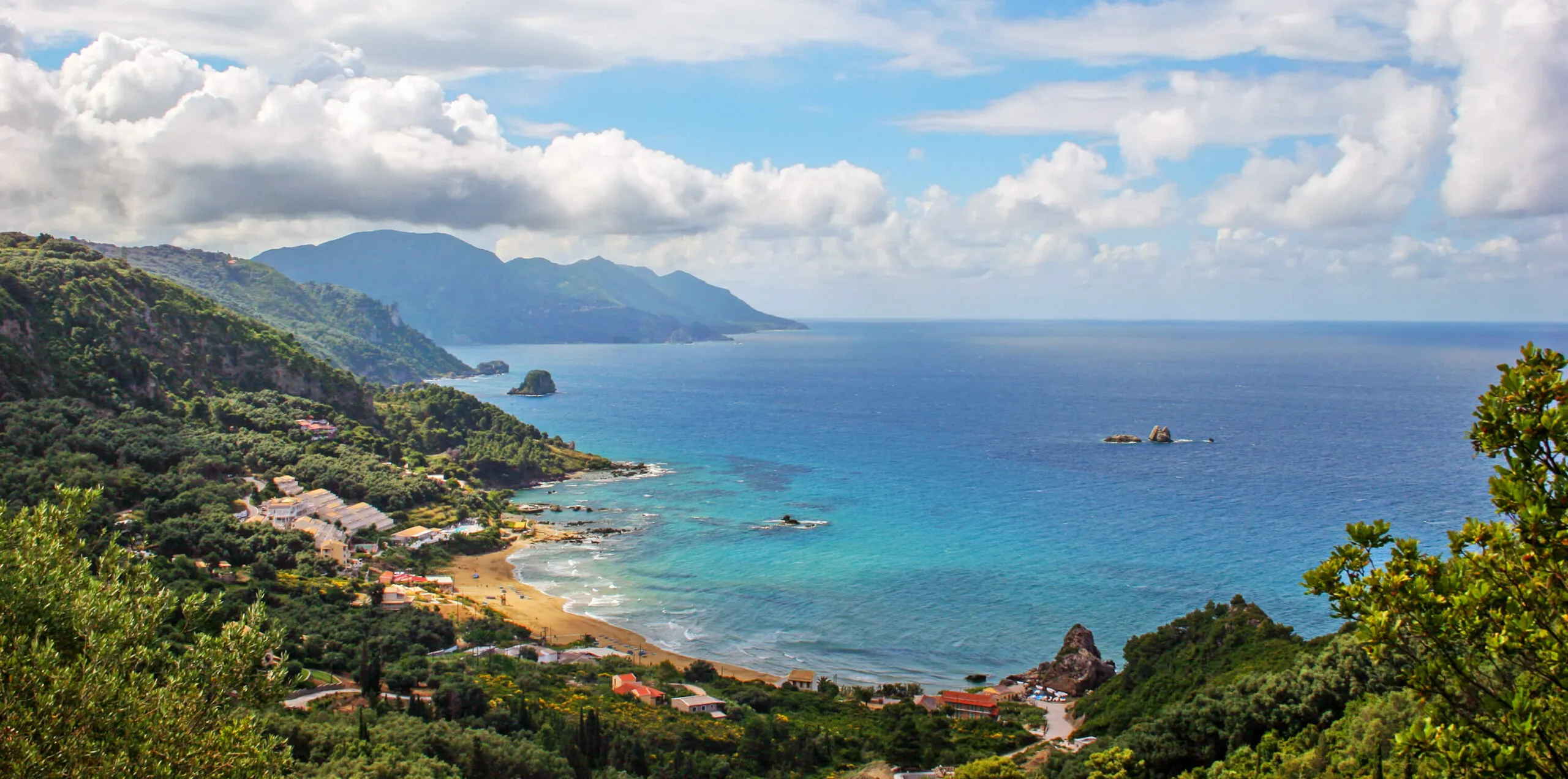 Corfu family holidays: guide for fun vacations with kids
Want to know a secret? Corfu family holidays is the best decision you can make for your family this year!
Why?
Because Corfu family holidays is the perfect chance for you to switch off and relax and for the kids to have the time of their lives. It's a win-win situation! Besides, what's better than combining relaxation with happy family moments?
Thanks to its big size and huge coastline, Corfu is not only the perfect destination for various family activities, but also an amazing place to put your feet up and immerse yourself in relaxation.
Activities such as water sports, nature exploration and waterpark adventures will excite both kids and parents, while they will also be a great way to reinvent quality time with your family!
Now, we're not strangers to the fact that kids do get bored easily. That's why we selected a variety of activities that will keep them entertained!
So, what are the best things to do during your Corfu family holidays?
Here's our list!
Do water sports in Corfu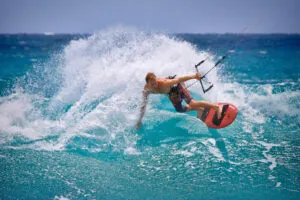 Are you and your family adventure lovers?
Then, water sports in Corfu is a must activity!
Thanks to the island's abundance of organized beaches, water sports are very popular in Corfu! Paragliding, wakeboarding, waterskiing, banana, inflatable rides, snorkeling, surfing, kitesurfing…you name it, Corfu has it!
You'll find the most water sports centers in villages such as Kavos, Dassia, Agios Stefanos, Sidari and Kalami. As for the best Corfu beaches for water sports enthusiasts, Glyfada, Agios Gordios, Ipsos and Messonghi are some of the top choices for water adventures!
For those who love diving, Ermones and Liapades reefs are must spots for underwater exploration. On the other side, if you prefer windsurfing and kitesurfing, then Issos, Kassiopi and Agios Stefanos are go-to destinations!
Do Corfu island hopping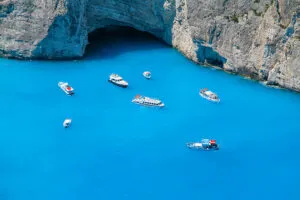 Sitting in the heart of the Ionian sea, Corfu belongs to the Ionian islands group.
Do you know what this means?
That Corfu is a breath (aka a ferry ride) away from some of the most beautiful islands near Corfu, such as Kefalonia, Lefkada and Zakynthos.
Can you think of a better chance to explore the Ionian islands as a family?
Island hopping to Kefalonia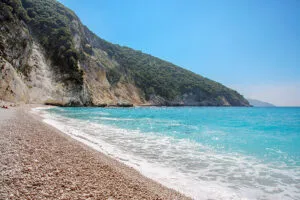 Kefalonia is an island that stands out for its natural beauty, exotic ambiance and amazing beaches. Myrtos beach, Antisamos beach and Lourdas beach are some of the best beaches not only in Kefalonia, but also in the whole Greece. Swim in the turquoise waters of the Ionian sea, explore picturesque fishing villages, such as Fircardo, Assos and Skala with your family, taste the local delicacies and immerse yourself in the unspoiled charm of Kefalonia!
Island hopping to Lefkada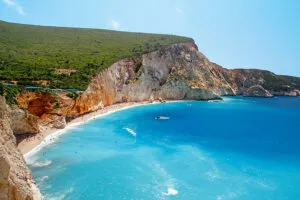 Known as the "Caribbean of Greece", Lefkada is famous for its exotic beaches and emerald waters. Lefkada is perfect for families, thanks to its large size and the variety of activities for every taste. Having world-famous beaches, such as Porto Katsiki, Egremni and Kathisma, Lefkada is a wonderful destination for those who love swimming. What's more, its endless sandy bays are ideal for sun castle-building all day long!
Island hopping to Zakynthos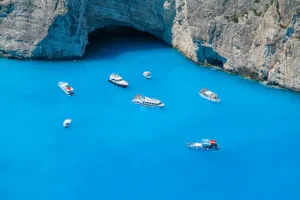 Zakynthos is probably the most famous of the Ionian islands! Located south of Kefalonia, Zakynthos shares the same exotic landscape with the nearby Ionian islands. Home to the popular Navagio beach (or Shipwreck beach), Zakynthos is one of those islands that look even better in real life, than they do on pictures. Visiting Navagio with your family and exploring this exotic bay is a bucket list experience!
Visit Corfu museums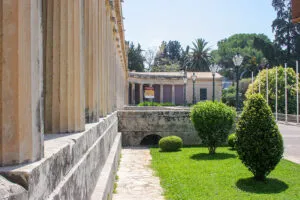 Well, you might think that all this museum visiting thing is boring, especially for little kids, but the variety of interesting Corfu museums would definitely change your mind! Besides, visiting Corfu museums is a great learning experience to have with your family. Here are some of the best and most fun museums to visit.
The Museum of Asian Art, Corfu Town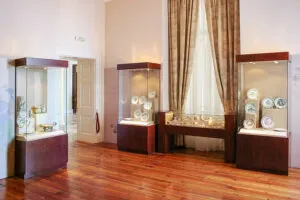 Housed in the imposing palace of Saint Michael and Saint George, at the center of Spianada square in Corfu town, the Museum of Asian Art is one of the most important Corfu museums. Its permanent exhibition includes items from countries such as China, India, Japan, Korea, Nepal, Tibet, Cambodia and more. From Samurai armor to Asian ceramics, you'll have the chance to see many amazing items here. It's also a great chance for your little ones to get to know the Asian Culture.
The Sea Shell Museum, Benitses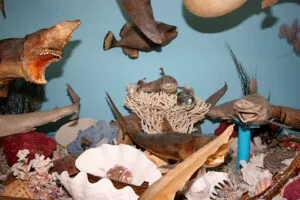 The Sea Shell Museum in Benitses Corfu will definitely be one of your children's favorites! As its name indicates, this museum hosts an exhibition of shells and fish fossils that the diver and collector Napoleon Sagias collected from his adventures all around the world. In the Sea Shell Museum, you'll find sea shells, sea sponges, stuffed fish, sharks, lobsters, crabs and many more sea creatures.
Casa Parlante Museum, Corfu Town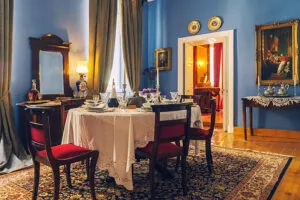 This is undoubtedly one of the most interesting museums in Corfu! Located in the heart of Corfu town, near Liston Promenade and Spianada Square, Casa Parlante Museum is housed in a 19th-century mansion and demonstrates the daily life of a noble 19th-century family. Yes, you read that right! Animated figures and vintage furniture bring the everyday life of a cont, a countess, their children and the other people "living" in the house, into life. Children won't believe in their eyes!
Have fun in Aqualand Corfu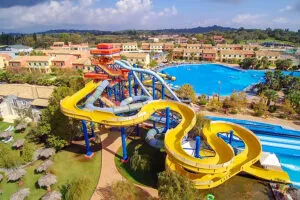 Aqualand waterpark is the ultimate place to have fun with your family!
Located in a verdant 12,000 sq. meters area, Aqualand Corfu is equipped with many kinds of water attractions, a huge range of water activities and facilities such as showers, changing rooms and food outlets.
Aqualand is the biggest and most popular waterpark in Corfu. Water slides, lazy rivers, 15 swimming pools and many facilities guarantee that you and your family will have the ultimate water adventure experience!
Whatever the age of your children might be, there are amazing water attractions for everyone. There is a children's area for kids 4 to 8 years old, a family area for children 8 + years old and an extreme games area for children 12 + years old. Themed zones, such as the Fantasy Island and the Caribbean Pirate Adventure Pool are designed to please everyone!
Cool, right?
Explore Corfu villages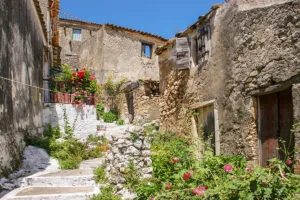 From small mountain villages to traditional settlements, Corfu has a variety of villages worth exploring! And what's better than some family exploration?
So, here are some of the most picturesque Corfu villages to explore with your family!
Palia Perithia village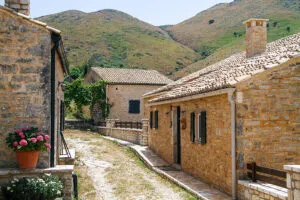 Perched on the slopes of Pantokrator mountain, Palia Perithia is one of the most beautiful traditional settlements in Corfu. Houses made of stone, influenced by the Venetian architecture, cobblestone alleys and a breathtaking wild natural landscape, make this village a must destination for a getaway in nature with your loved ones.
P.S. Don't be surprised if you feel like you've traveled in time!
Pelekas village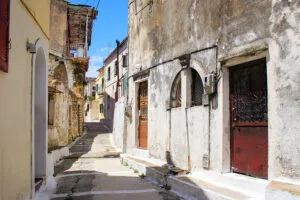 Situated on a beautiful hill, 13 km from Corfu Town, Pelekas village oozes a unique traditional charm! Its proximity to some of the best Corfu beaches and its panoramic views make it popular to tourists, who chose it for its beautiful ambiance. The best thing about Pelekas village, though, is its sunset! Climb at the hill known as the "Kaiser's throne" and watch the sun sinking in the horizon, painting the sky with golden shades. This site will definitely steal your breath!
Vatos village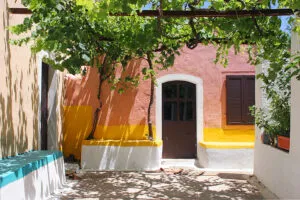 Vatos village is a little picturesque village, 12 km from Corfu town. Nestled in the heart of the verdant Ropa valley and boasting a lush green landscape, Vatos village is the perfect place for nature exploration with your family! Imagine green meadows, olive groves and vineyards all around… It's the absolute nature lover's paradise!
Fact: The area around Vatos village is also an important natural reserve for many animal species.
All in all, Corfu has what it takes to offer you heavenly family holidays!
From amazing places for exploration to exciting activities, Corfu guarantees that you and your family will have the time of your lives.
So, don't lose any time. Book now your Corfu family holidays and let the adventure begin!
Trust us, your family will thank you for this!