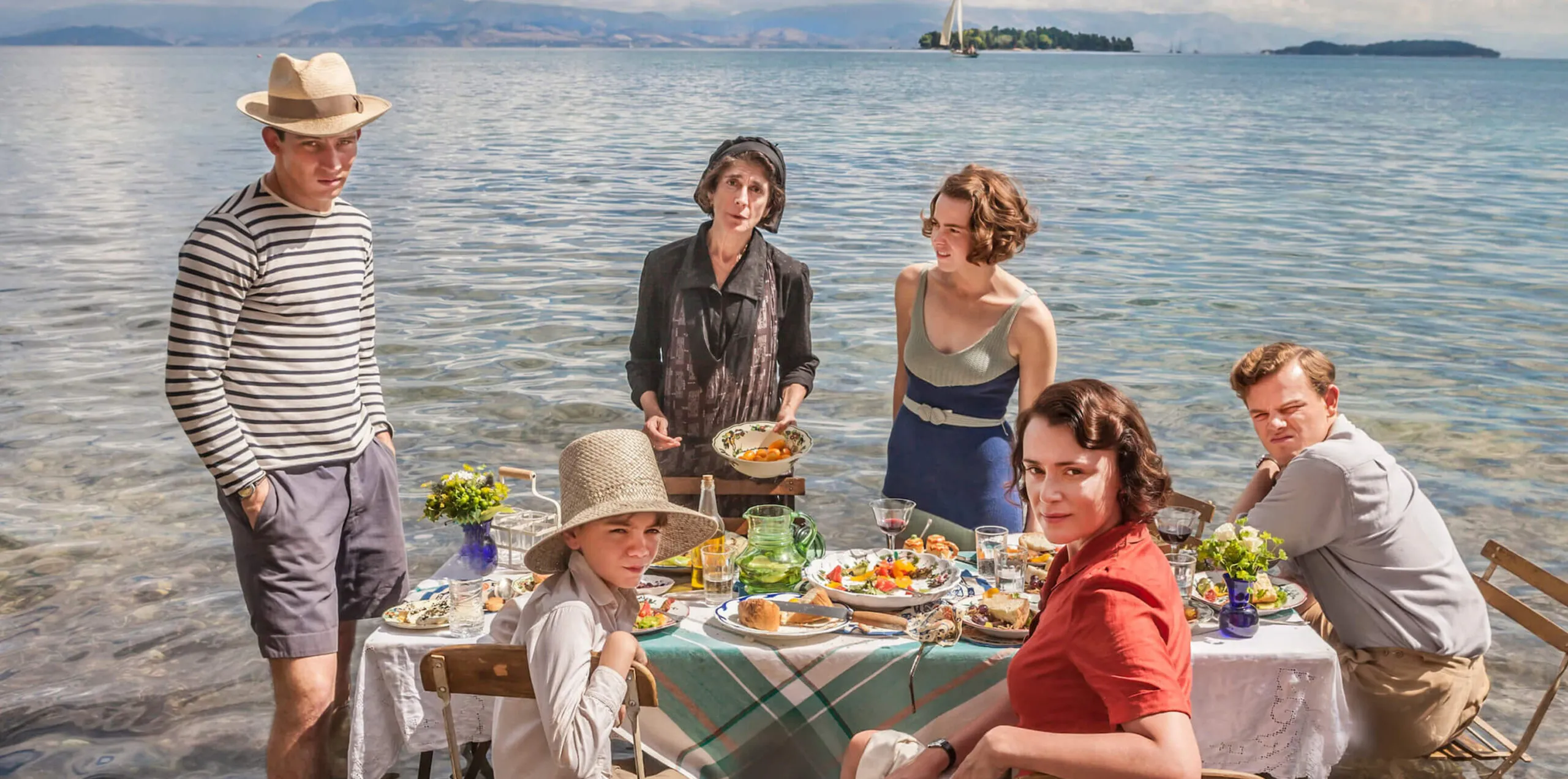 These are the best places in Corfu, according to the Durrells
So, you want to know more about the divine locations in Corfu, where the famous TV show the Durrells was filmed?
Search no more, we know everything!
Widely loved by both tourists and locals, Corfu is a top Greece holidays destination. Deep blue sea, dramatic cliffs, lush nature, neoclassical buildings and Venetian architecture…There's no doubt that Corfu boasts some breathtaking landscapes!
The truth is that Corfu Town is the most popular place in Corfu, leaving the villages relatively unknown. The hit ITV series, though, has put on the map some of the secret villages of Corfu!
If you are a Durrells enthusiast, chances are you yearn to follow the itinerary of the locations, where the series was filmed and the real-life Durrells had lived. So, we have prepared for you a complete list of the dreamy places where the adventures of the lovely family took place!
Read on and take notes!
Danilia village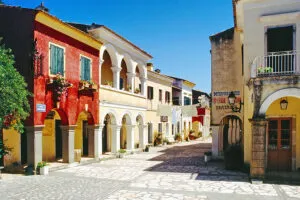 Time seems to have stopped in Danilia village… Folklore museums, stone paved roads and medieval houses create a unique scenery of traditional charm!
Danilia village is basically a theme park, which was built in the 80s. Since then, it is loved by tourists who come to experience the magic vibe of this place. In Danilia village you'll find beautiful stone made Venetian houses, little traditional shops, a museum, as well as an old-fashioned coffee shop.
It's not the first time that Danilia village is used as a filming location. James Bond movie "For your eyes only", starring Roger Moore was also filmed in Danilia village!
Perama village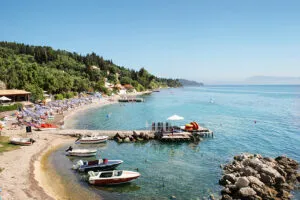 Located on the east side of Corfu island, Perama village is opposite to the famous Mouse island (Pontikonisi)!
This seaside village has been a popular touristic resort since the 80s and has many Corfu hotels and breathtaking Corfu beaches. The natural landscape of Perama village is also wonderful, as it is surrounded by olive groves…
One of the best things about Perama village is its view! Thanks to its proximity to Pontikonisi, it has an amazing view to it and so do most of the hotels and restaurants in Perama.
What's more, there's a beautiful natural path from Perama village to Gastouri village, where the famous palace of Princess Sissy, Achilleion is located. Ideal for hiking lovers!
And did you know that Gerald Durrell, the author of the book "My family and other animals", on which the Durrells series was based, used to live in the area? There's no better chance to see with your own eyes how the author was inspired by the wild nature of Corfu!
Kalami bay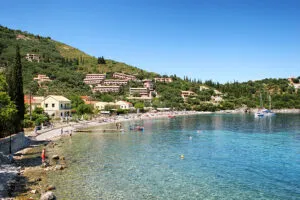 Are you a super fan of the Durrells? Then, there's no way you haven't marveled at the breathtaking sea view from the family's house.
It's no other than Kalami bay, at Kalami village!
Kalami village is one of the most picturesque villages in Corfu, boasting an amazing natural landscape. Located at northeastern Corfu, just 30 km away from Corfu town, Kalami is where the signature white villa of the famous writer Lawrence Durrell is located. This is also where the real Durrells family used to live during their stay in Corfu. How cool is this?
The white villa operates as a hotel and a restaurant now, so you'll have the chance to see where the Durrells had spent their time in Corfu.
As for Kalami bay, it is a divine beach with white pebbles and crystal clear waters. What's more, it has many water sports facilities, so if you crave some water adventure, this beach is a one-way destination. Other than that, Kalami bay is a serene place, ideal for those who don't like crowded places and for families.
So, if you're dreaming of serene Corfu holidays, skip the crowds and relax surrounded by little villages and verdant hills with a view to the vast Ionian sea, in Kalami.
Antiniotissa lake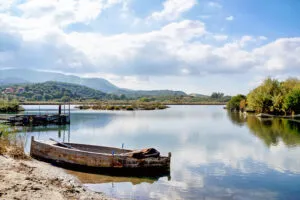 This is a beautiful lake and one of the real-life Durrells' favorite picnic spots!
Antiniotissa lake is not only one of the most impressive natural landscapes in Corfu, but also a huge ecosystem.
Located at the northeastern side of the island, this beautiful lake is 400 acres big and forms a natural reserve for many bird and plant species, as well as for the otters lutra-lutra!
If you're someone who likes nature exploration, just like Gerald Durrell, you'll love Antiniotissa lake! Stroll around, do a picnic, test your skills in bird watching and capture the beauty of the verdant nature… Let the explorer in you have fun!
Mon Repos palace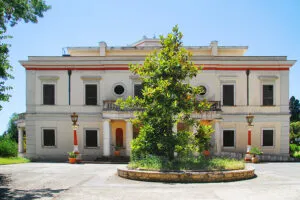 Mon Repos palace is the residence of Countess Mavroudakis in the series and the place where Prince Philip, the husband of Queen Elizabeth II, was born, in real life.
Located just 3 km away from Corfu town, Mon Repos is an imposing neoclassical palace in the heart of a lush green property. Mon Repos was built by the English commissioner Frederick Adam in 1831, as a gift to his Corfiot wife, Nina Palatianou. Later, it was ceded to the King George I, but now it belongs to the state of Greece and it's open to the public. Today, Mon Repos Palace is one of the must places for sightseeing in Corfu!
The interior of Mon Repos palace operates as a museum, displaying, among other things, old Corfu photos. What's more, there are many ancient Greek remains in the property where Mon Repos is built, as it is located where the ancient town of Palaiopolis used to be!
Agni bay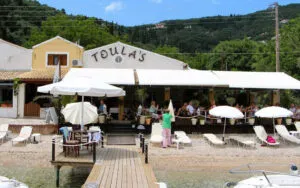 Remember when Margo Durrell sunbathed under a shrine, to the surprise and aversion of the young priest? She was sunbathing in Agni bay!
Agni bay is located at north Corfu and is considered as one of the best beaches in Europe by Sunday Times. So, it's not a surprise that it was chosen as a filming location for the Durrells series!
Agni bay has both pebbles, sand, crystalline waters and breathtaking view to the Albanian coast! The serene atmosphere of Agni bay is ideal for those who want to have a relaxing day at the beach, away from the noisy crowds.
Bottom line: In Agni bay, you'll find one of the best restaurants in Corfu, Toula's, which is famous for creating traditional Corfiot dishes with a modern twist. Trust us, you need to visit it!
Laze by the beach, taste seafood delicacies and enjoy life!
Corfu Town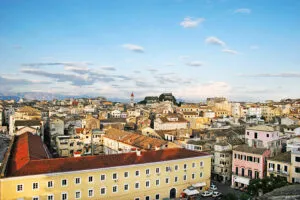 Well, this is a classic. How could you go to Corfu without seeing the capital?
Corfu Town is one of the biggest and most populated towns of the Ionian islands. Strongly influenced by its conquerors, such as the Venetians and the French, it boasts a unique architecture. Neoclassical buildings, imposing palaces, picturesque squares and stone narrow alleys (kantounia) create a fairy-tale-like atmosphere that will absolutely capture you!
Strolling around the town and especially at Liston paved street, you'll feel like you've traveled back in time! Corfu has a relaxed charm and a low key luxury that fills the atmosphere and captures the visitor.
The British occupation has left its mark in Corfu. One of the signs of the British influence can be found in Spianada square and it's no other than…a cricket pitch. Many cricket matches take place in this pitch, as Corfiots love the British sport, so chances are you'll come across one!
Kontokali village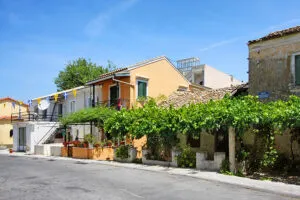 Kontokali is a picturesque touristic resort on the east side of the island, just 6 km away from Corfu Town, close to Gouvia village. In Kontokali village you'll find many Corfu hotels and rooms to let, as well as many Corfu restaurants and taverns. It's the definition of the traditional, yet touristic Corfu village!
Kontokali beach is beautiful and easily accessible, thanks to its close distance from Corfu Town. Sandy, with azure waters and very clean, this beach has been awarded a Blue Flag! What's more, it's fully organized with umbrellas and seabeds.
Perfect for lazy days by the beach!
So, are you ready to follow the steps of both real life and TV series' Durrells in Corfu?
Corfu is a particularly popular holiday destination, but there are so many less known spots of the island to be explored by travelers. And the truth is that the ITV hit series has put some less known Corfu areas in the spotlight.
Will you be the one to discover the secrets of Corfu's pristine nature, just like the Durrells once did?
Book your Greece holidays to Corfu and let the adventure begin!