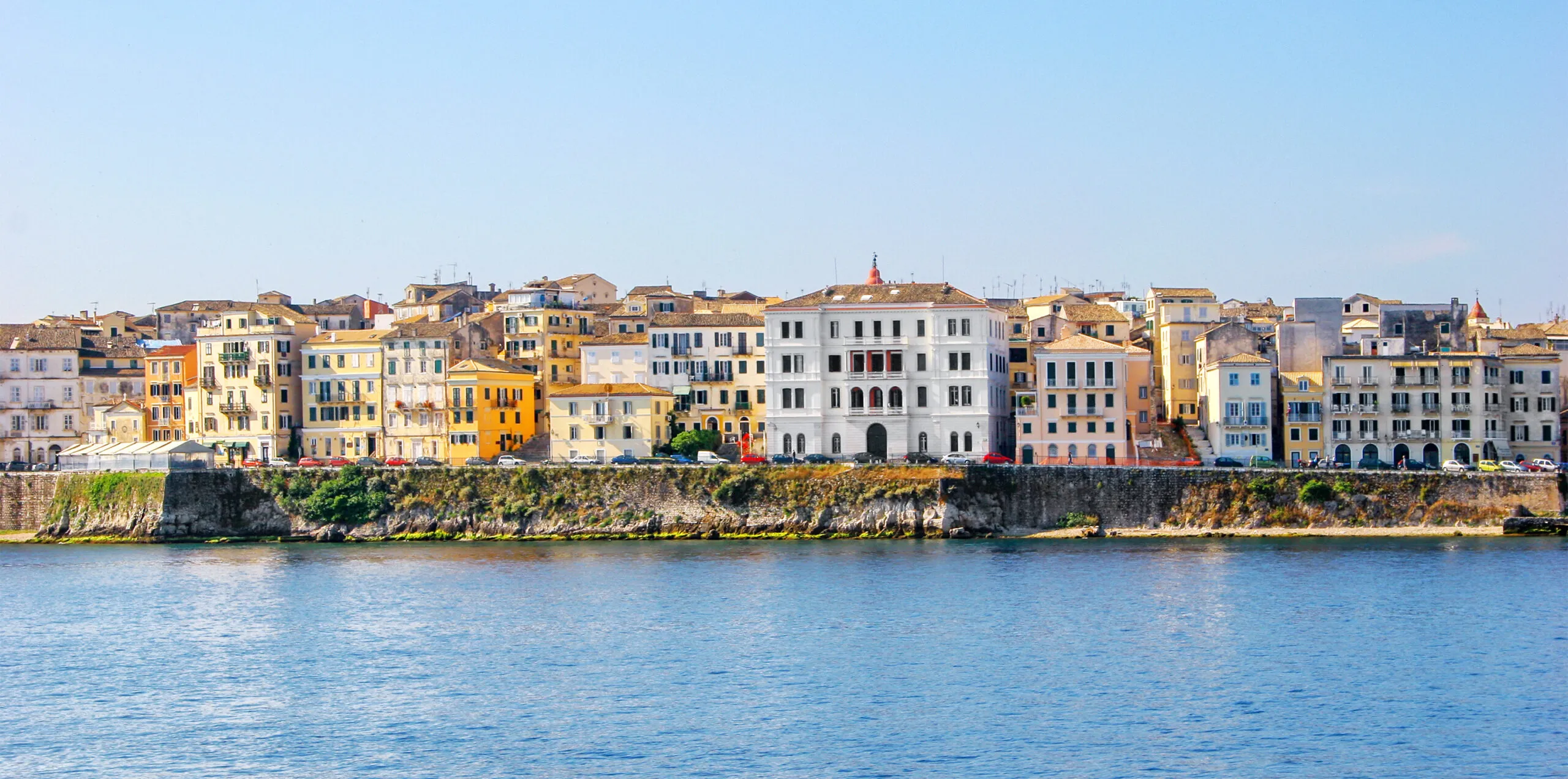 Cheap holidays to Corfu: The best things to do in Corfu for free!
Do you think that cheap holidays to Corfu is an impossible mission? That if you're not willing to spend a fortune on your Corfu holidays, you can't have a good time?
You're deadly wrong!
The truth is that cheap holidays to Corfu are far easier than you have probably imagined. Let alone, the best things to do in Corfu are free!
From traditional villages' exploration to visiting the best Corfu beaches and from free sightseeing, to celebrating Corfu Easter, there are many exciting things to do during your cheap holidays to Corfu!
Shall we start?
Visit the best Corfu beaches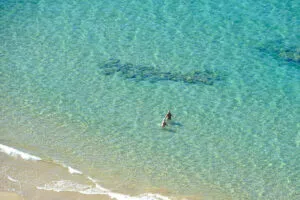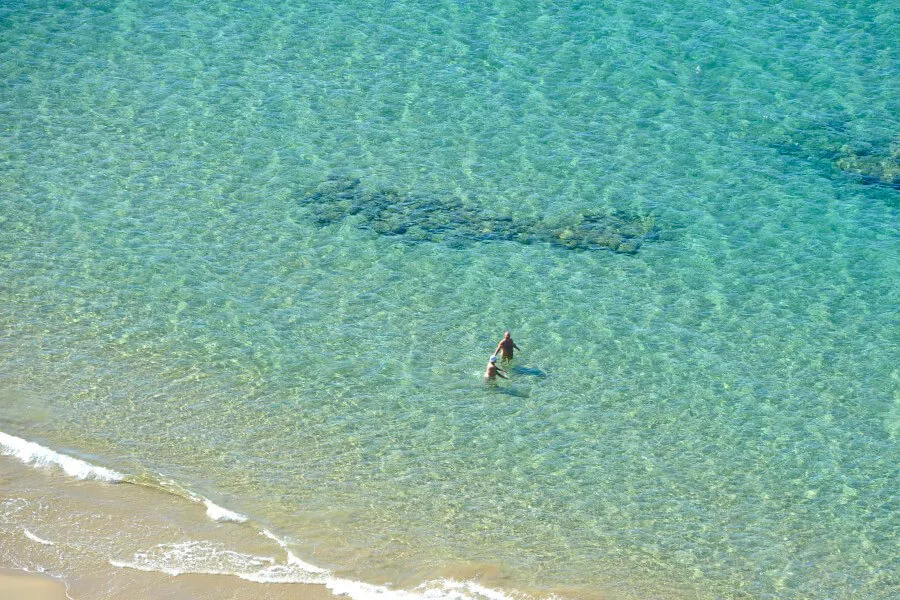 There's no denying it.
Swimming and sunbathing are some of the best free things to do during your summer holidays! With more than 100 beaches nestled in the island's coastline, there's no way you won't find the best beaches to spend your days, for free! Here are some of the best Corfu beaches:
Canal d'Amour beach Corfu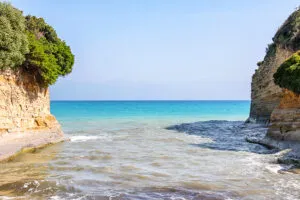 Probably the most popular and special beach in Corfu, Canal d'Amour, is a true natural miracle! Situated in Sidari village, this beach stands out for its impressive rock formations, shaped by the water and the wind, as well as its majestic turquoise waters. Fact: There is a romantic legend about Canal d'Amour beach, according to which, the couples that swim in its waters will stay forever in love!
Glyfada beach Corfu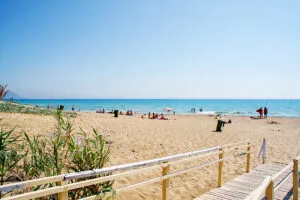 Glyfada beach is famous for its natural landscape! Located 16 km from Corfu Town, it is surrounded by verdant cliffs and has golden sand and crystal clear shallow waters, safe for the children. Although this beach is organized and rather crowded during the summer months, its southernmost part is unorganized and more secluded, ideal for those who seek privacy.
Agios Stefanos beach Corfu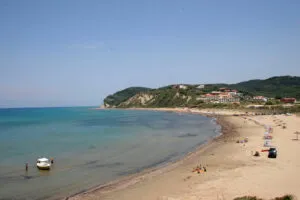 Agios Stefanos beach is a huge, 2 km long, sandy beach located at Agios Stefanos village, on the west side of the island. Thanks to its big size, this beach is a great option for those who want to embrace the sense of total freedom! Even if it gets crowded, you won't feel limited. Endless and safe for kids, Agios Stefanos beach is an ideal choice if you are on family vacations!
Issos beach Corfu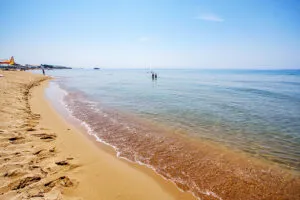 Issos beach in Corfu is the absolute sandy paradise! Just imagine endless golden sand and big sand dunes as far as the eye can see… Besides, that's why it is called "The Sahara of Corfu"! Crystal clear water, verdant cedar forest and a lake complete the scenery, creating a unique natural setting. Tip: Issos is an amazing spot to enjoy the sunset from the beach's huge sand dunes!
Acharavi beach Corfu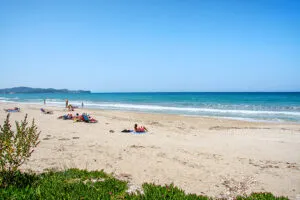 Acharavi beach is one of the largest Corfu beaches, stretching for 3 km. It is located between Almyros beach and Roda beach, 36 km from Corfu town. This is a pebbly beach with shallow, safe for the children, waters and many facilities. Even though this beach has some pretty busy spots, there are equally as many secluded spots for those who seek privacy.
Explore traditional Corfu villages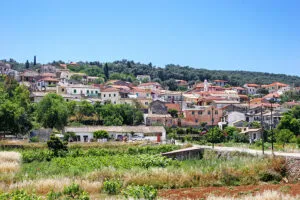 Corfu has more than 20 picturesque villages! The best ones to explore, though, are the traditional Corfu settlements and fishing villages that seem to remain untouched by the mass tourism and the passage of time.
Kassiopi village Corfu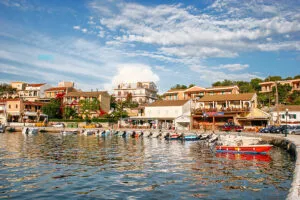 Kassiopi is a picturesque fishing village, located on the northern side of Corfu, opposite to the Albanian coast. In this beautiful seaside village, the atmosphere is very relaxed! Stroll around its narrow streets and walk by the little port, visit the Byzantine Kassiopi castle, the church of Kassiopotra, take in the magical scenery… An excursion to Kassiopi village is a unique experience!
Liapades village Corfu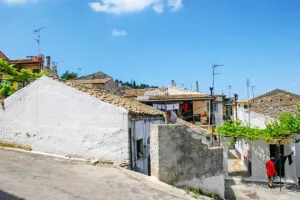 Liapades village is located on the western side of Corfu, 20 km from Corfu town. This village boasts a beautiful natural landscape, retaining its traditional character, despite the touristic development. Being the third biggest and one of the oldest villages in Corfu, Liapades has many hidden treasures to explore!
Lakones village Corfu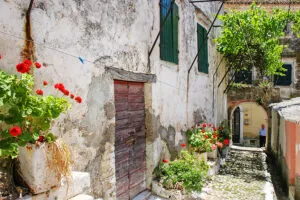 Lakones is a great village to explore if you are a nature lover. Located on the slopes of a lush green hill, it boasts a breathtaking natural landscape. What's more, Lakones village is ideal for hiking, as there are several hiking paths that lead to Paleokastritsa village. Fact: In Lakones, time seems to have stopped, so chances are you'll see women still wearing traditional costumes in their everyday life!
Benitses village Corfu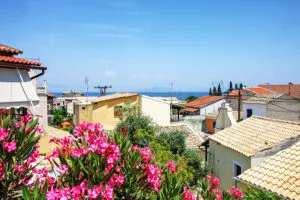 Benitses village is located on the southern part of Corfu, 14 km from Corfu town and is considered one of the most beautiful Corfu villages. Even though Benitses has been transformed into a cosmopolitan resort in the last few years, it hasn't lost its traditional character. Its narrow paved streets, traditional ambiance and proximity to many Corfu beaches, put Benitses on the top of the best Corfu villages list!
Pelekas village Corfu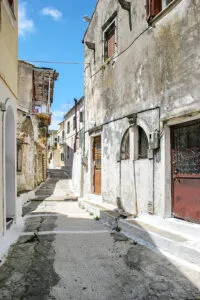 Pelekas village is perfect for a quick excursion, as it is just 13 km from Corfu town. This little Corfu village is built on a verdant hill, at a 270 meters altitude, offering breathtaking panoramic views in abundance! It also offers easy access to both Pelekas beach and other nearby beaches. Tip: At a hill in Pelekas village, known as "the Kaiser's Throne", you can marvel at amazing sunset views!
Live the Corfu Easter experience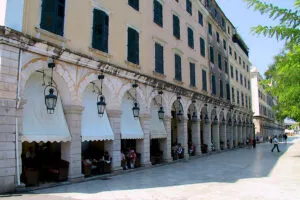 If you want to get deeper in Corfu's tradition, then joining Corfu Easter celebration is a must!
Considered to have the most glorious Easter celebrations in Greece, Corfu Easter has it all: music, concerts, theatrical performances, local traditions and amazing food.
Easter is also called "Lambri" in Corfu, which means glory, brightness. And this what Easter in Corfu is all about! Many free events, such as the revival of traditional customs and live performances by Corfu's philharmonic bands take place throughout the Holy Week.
The center of festivities is Corfu town!
From Palm Sunday till Good Friday, the streets of Corfu town are filled by people who take part in religious customs, such as the epitaphs' processions. At the same time, people from all around Corfu gather at Corfu town's churches to chant gospels.
The glorious festivities peak on Good Saturday, when Christ's resurrection is celebrated in every church of the island, at midnight. The atmosphere is magical, people are celebrating together, fireworks light up the sky and the island's philharmonics play festive marches. Corfu Easter is too good to miss!
It's really worth it to plan your trip around Corfu Easter. Besides, it's a great opportunity to visit Corfu in spring!
Do free sightseeing in Corfu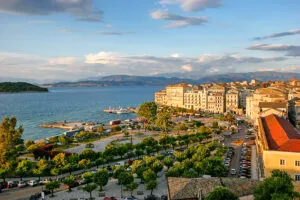 Who said that you have to pay for Corfu sightseeing? On the contrary, some of the best Corfu attractions are ticket-free!
Corfu Old Town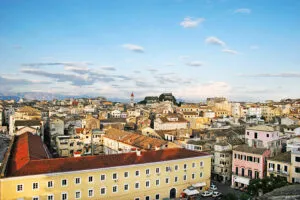 Boasting an architecture strongly influenced by its conquerors, Corfu Old Town is an attraction on its own! Narrow paved streets, imposing Venetian mansions, French-style squares filled with flowers… Strolling around Corfu Old Town feels like time traveling. One day won't be enough to discover its magic!
Saint Spyridonas church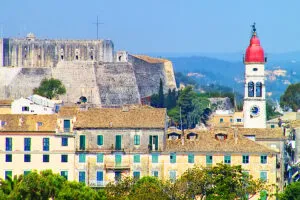 Located in the heart of Corfu Town, Saint Spyridonas church really stands out, thanks to its height! It was built in 1589 and is one of the most important churches of the island. Judging by its simple exterior, you'd never imagine its interior's elaborate decoration! Golden frames, chandeliers, holy icons, a temple made of Parian marble and a breathtaking rooftop mural will surprise you with their glory!
Panagia Vlahernon monastery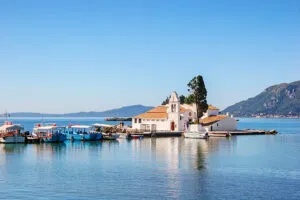 Panagia Vlahernon monastery is, hands down, Corfu's trademark! Located on a tiny islet at Kanoni area, this picturesque whitewashed monastery can be reached by a narrow 300m passage that connects the islet with Kanoni. The best spot to photograph and marvel at Panagia Vlahernon monastery is from Kanoni area, right behind it!
Spianada square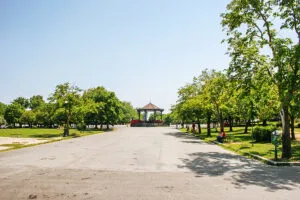 Did you know that Spianada Square is the biggest square not only in Corfu, but also in the Balkans? Being one of the main attractions in Corfu, Spianada Square is 84,000 square meters big!
It is ideally located between Corfu town and Corfu Old Fortress, boasting a fantastic sea view! The best part about Spianada square is that there are often bands or one of the island's philharmonics performing at the square!
All in all, cheap holidays in Corfu aren't hard at all!
From free sightseeing in Corfu, to exploring beaches and villages, Corfu offers many free experiences. Besides, the best things in life are free!
So, don't lose any time! Book your stay at a Corfu hotel and ferry tickets to Corfu and let the adventure begin!