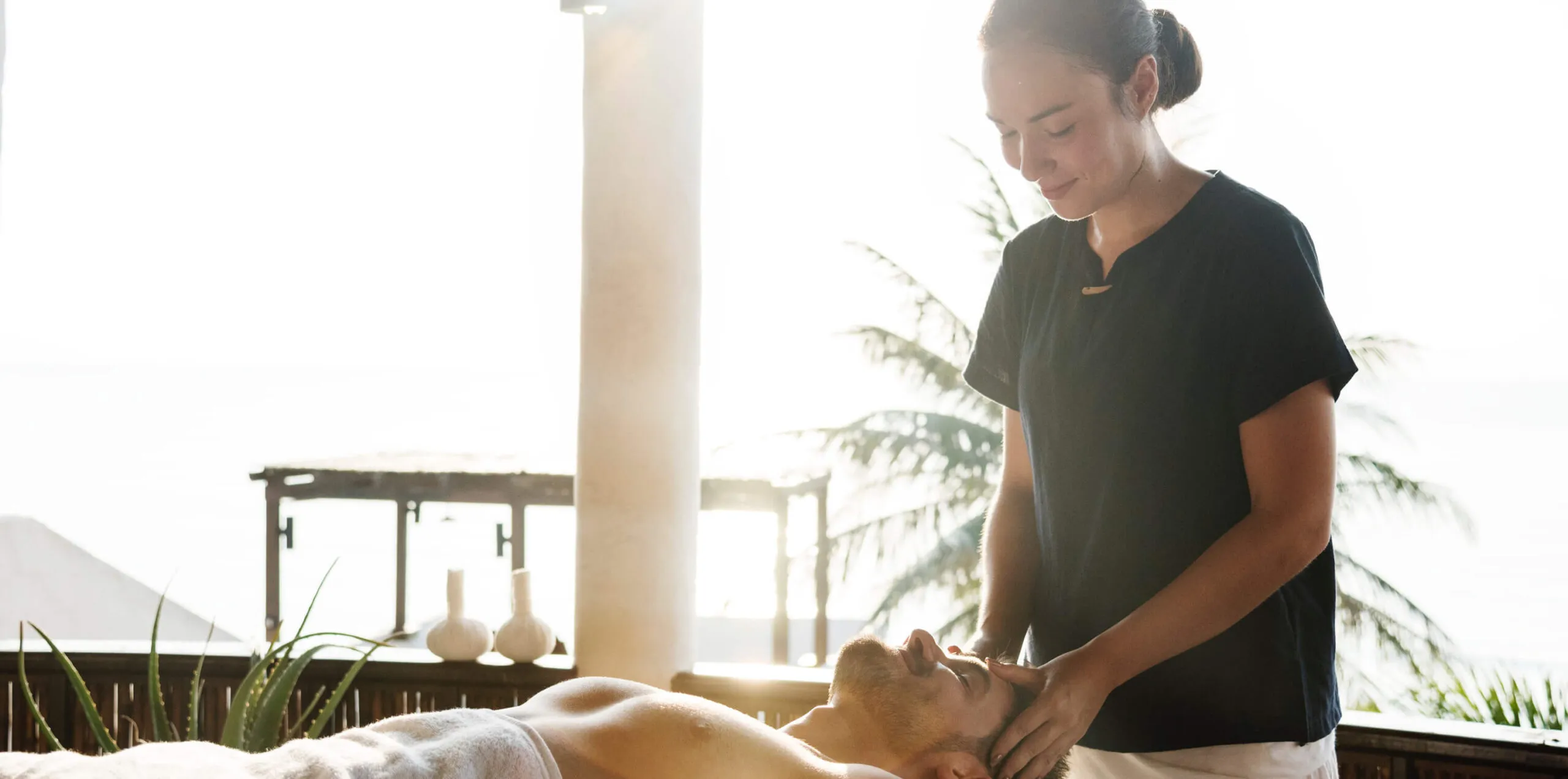 Top 5 Greece spa therapies you need to try out
There's no denying it! Greece spa therapies are the best way to relax and pamper yourself during your holidays.
Given that Greece has a long tradition in natural remedies and wellness practices, it's not surprising that it has a wide selection of spa therapies to offer. So, apart from having lazy days at the beach and tasting the local delicacies, treating yourself with a spa day is one of the best things to do in Greece!
But what are the best Greece spa therapies?
Don't worry, we did the hard work for you and we have put together a list of the top 5 spa therapies to do in Greece!
Rhassoulbath spa therapy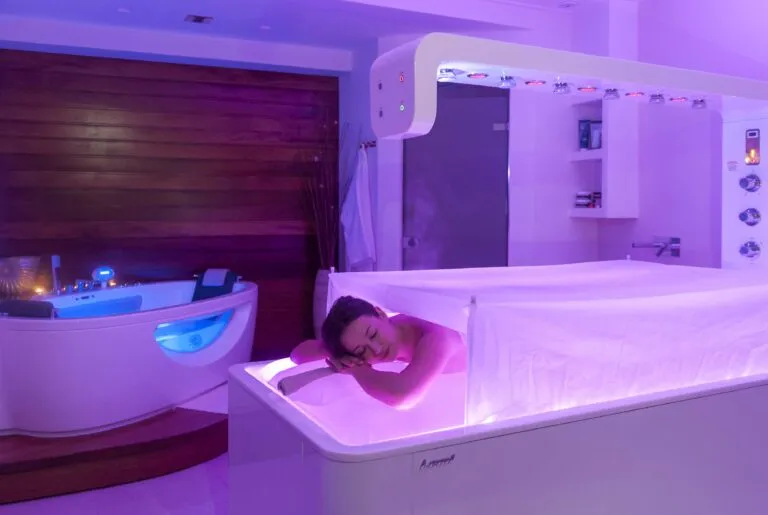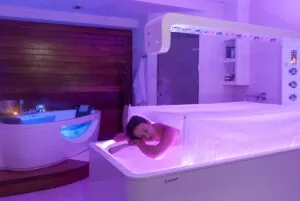 Rhassoulbath therapy is a traditional Arabian body treatment which involves steam and mud rich in minerals. Rhassoul is basically a mineral clay that has been used as a soap for many years, thanks to its healing properties.
Rhassoulbath therapy takes place in a special room, which is equipped with a private heated bed. On this bed, you can try wellness therapies, such as peeling and mud therapies with thermal or sea clay. Peeling exfoliates the skin, removes dead shells, and drastically improves blood circulation. At the same time, the mud accelerates cells' renewal and slows aging.
The result?
Smooth skin, less cellulite, detoxed body, and young-looking figure!
Footbath spa therapy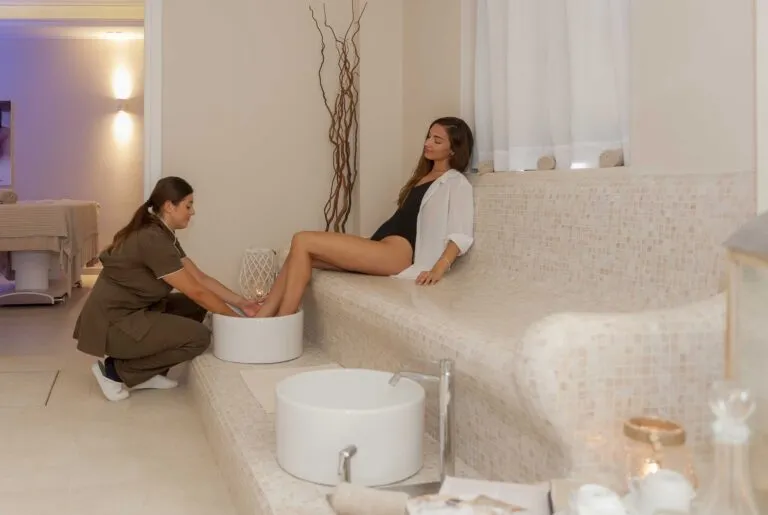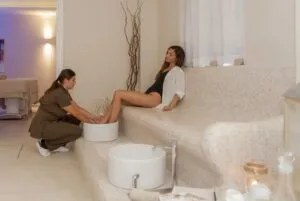 To quote Leοnardo Da Vinci, "The human foot is a masterpiece of engineering and a work of art!".
If you think about it, our feet walk us everywhere and hold our body weight, so they deserve our love and attention!
The foot spa bath therapy releases tension from the feet and relaxes the whole body! Some of the benefits of the footbath, one of the most popular spa therapies, are that it relaxes the muscles, alleviates pain, enhances blood circulation, relieves stress, treats insomnia, and reduces headaches.
How could you ask for more?
A foot bath therapy is a relaxing practice that includes soaking the feet in warm water with essential oils or salts, massaging, kneading, applying moisturizer, and cleaning.
Your feet will thank you!
Massages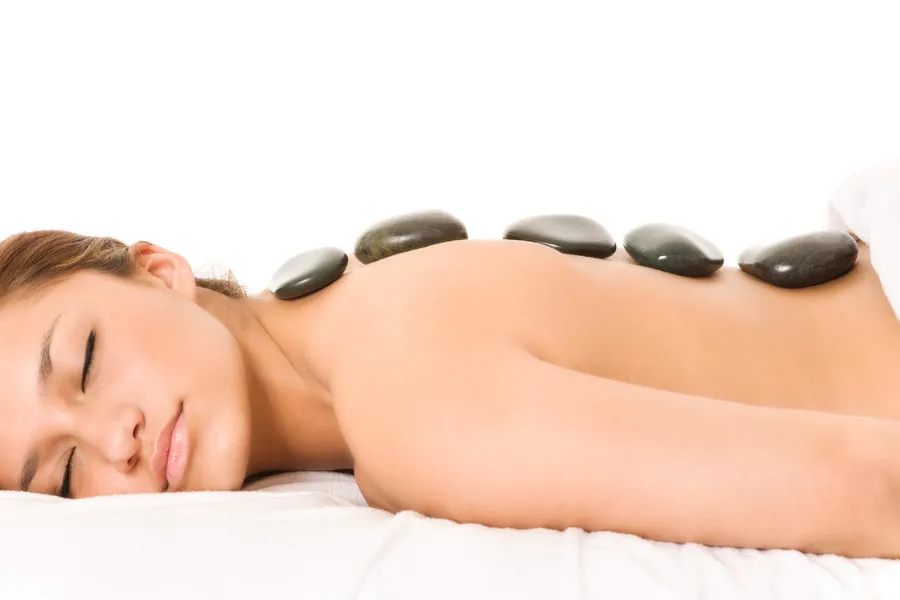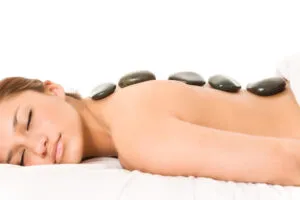 Well, this is a classic!
There's a wide variety of massage treatments offered in every spa in Greece. Some popular massage treatments are the aromatherapy massage, the warm stone massage, and the relaxation massage.
The aromatherapy massage is a full body Swedish massage with a special blend of essential oils, such as lavender, geranium, rosemary, and rose oils. Some of the benefits of the aromatherapy massages are that they relieve anxiety, menstrual pain, depression, and dementia symptoms.
The warm stone massage is a popular type of massage therapy. During this therapy, the therapist places smooth, flat, hot stones along the spine, on the stomach, on the face, on the chest, on the palms, on the feet, and toes. He then massages your body with these stones, using several Swedish techniques.
The relaxation massage is a common type of massage. During a relaxation massage, the therapist massages your body using several levels of pressure. Some of the benefits of this type of massage are that it calms the nervous system, it relieves muscle cramps, it reduces blood pressure, it boosts immunity, and releases tension.
Natural clay spa treatment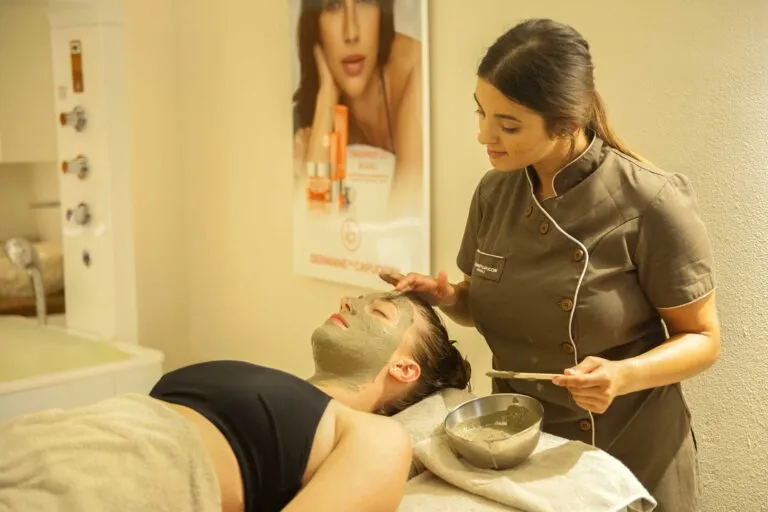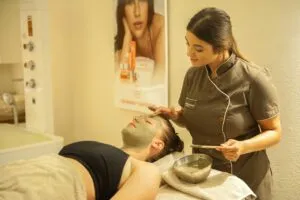 Clay has been known since antiquity for its healing and anti-inflammatory properties. Usually incorporated in masks and cleansers, clay has emerged as a miracle ingredient during the last years. When applied on the skin and let dry, clay has the ability to remove toxins, bacteria, and excessive oils.
Rich in magnesium and iron, clay cleanses the skin from sebum, speckles, and pollutants, accelerates the renewal of cells, prevents aging, heals wounds…
We could go on and on, but it's better to stop here!
The clay used in such treatments is usually organic, natural, and sun-dried so it is fully effective!
Tip: To make sure that'll you have the authentic natural clay spa treatment, we recommend that you choose a seaside hotel spa that uses only natural clay straight from the beach!
Spa shower treatment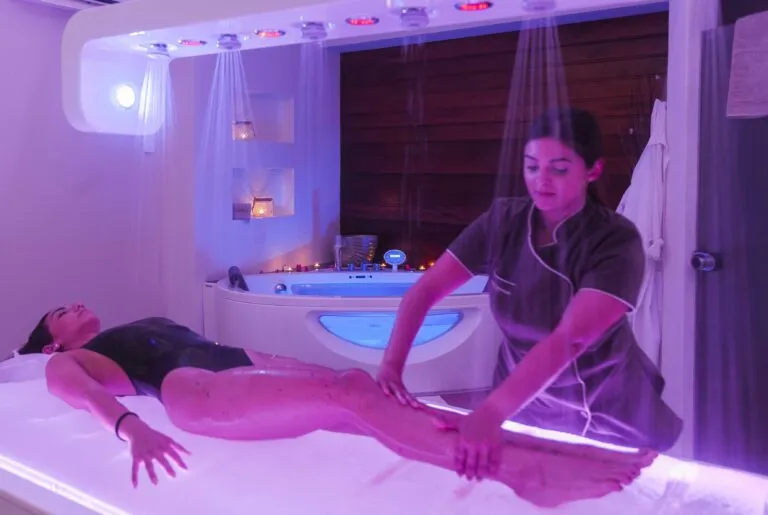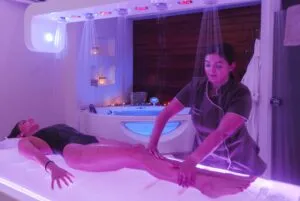 The spa shower treatment is one of the most delightful Greece spa therapies!
During the spa shower treatment, you lay comfortably on a bed under an artificial waterfall that showers you with water. Spa shower treatments have several water programs that can be adjusted by therapists according to the client. One program emits smooth tropical rain with a fruity scent that will make you feel as if you are in the heart of Amazon. Another program emits cold water with a minty scent, that will make you feel refreshed and energized. All programs offer a gentle massage through water jets.
We're talking about the ultimate relaxing experience!
Some of the benefits of spa shower treatment are that it increases blood circulation, it relaxes the muscles, soothes the nerves, reduces toxins, boosts the immune system, and reduces stress.
How could you ask for more?
So, have we inspired you to treat yourself with a spa treatment?
If so, there's no need to wait!
Book your favorite Greece spa therapies and immerse yourself in total relaxation!