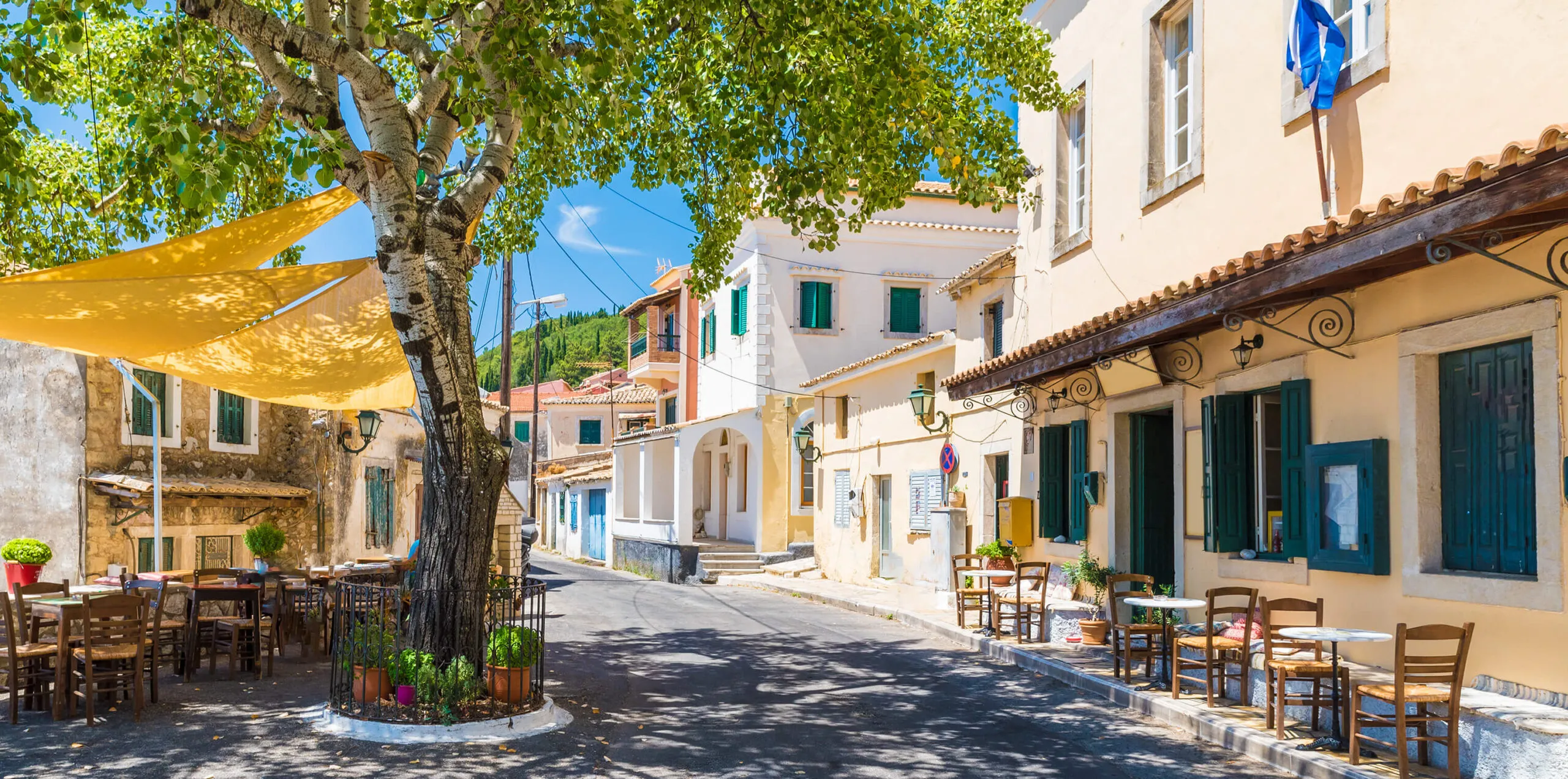 What are the top 6 best Corfu villages?
Did you know that Corfu villages are the island's gems?
From seaside cosmopolitan resorts to quaint traditional settlements, the 21 in total Corfu villages cover a wide spectrum of landscapes!
No matter if you're planning to stay at Corfu Town or at some seaside resort, a trip to Corfu villages is a total must! Because no visit to Corfu is complete without some village exploration.
Are you ready to discover the best Corfu villages and introduce yourself to the island's tradition?
Pelekas village Corfu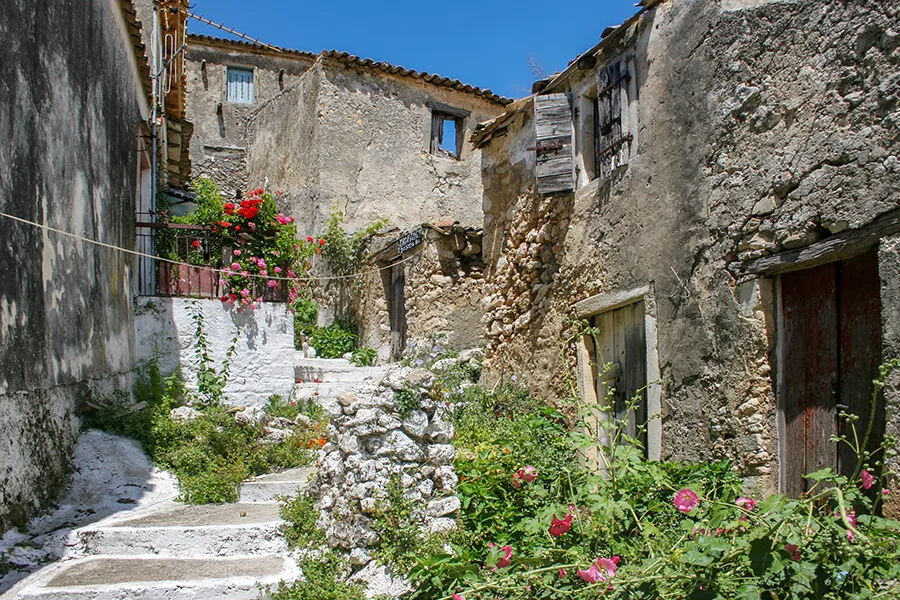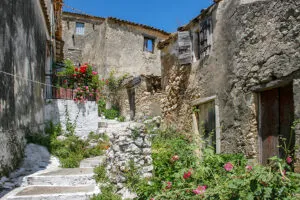 Located 13 km from Corfu Town, Pelekas is one of the most picturesque mountainous villages in Corfu. Pelekas sits on a hill, at an altitude of 270 meters and has a panoramic view of the natural surroundings. Its ideal position makes it a perfect base for visiting beautiful nearby beaches, such as Glyfada, Pelekas, Myrtiotissa and Gialiskari.
Pelekas has a lot to offer in terms of natural beauty! The main attraction of Pelekas village Corfu is Kaiser's Throne, a hill with a breathtaking view to the island. Kaiser's Throne is also the ultimate spot to watch the sun go down!
Kassiopi village Corfu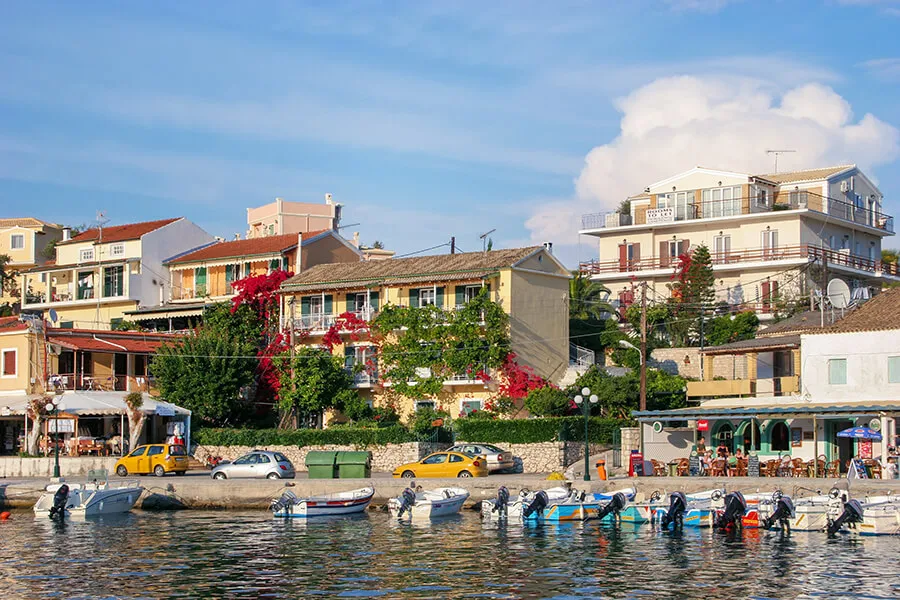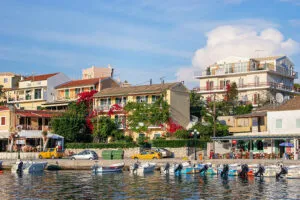 Kassiopi is an intimate fishing village located 38 km from Corfu Town, overlooking the Albanian coasts. Even though Kassiopi has become popular to tourists during the last few years, it hasn't lost its traditional charm!
Backed by Mount Pantokrator (900 m. high) and insulated by olive groves and verdant hills, Kassiopi village boasts a beautiful natural landscape. The Byzantine castle of Kassiopi, Panagia Kassiopitra church and the picturesque harbor are some of the main attractions of Kassiopi. As for beaches, Pipitos, Avlaki and Bataria are the best options for a plunge near this picture-perfect fishing village.
Agios Stefanos Avliotes village Corfu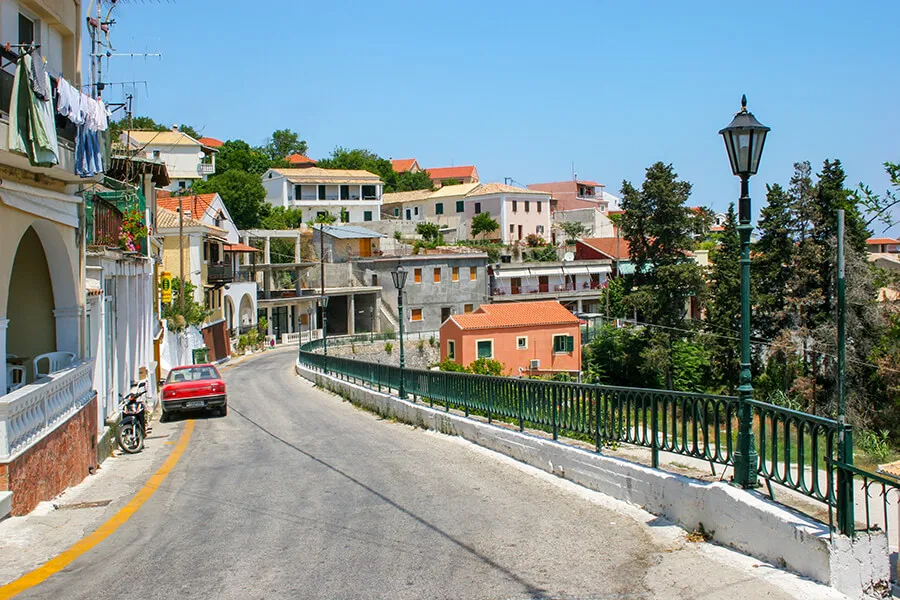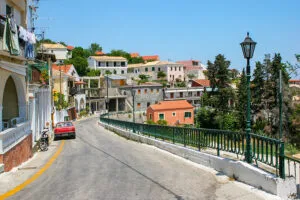 Agios Stefanos Avliotes is one of the most popular seaside resorts in Corfu! Located 40 km from Corfu Town, Agios Stefanos Avliotes stretches around the beautiful sandy Agios Stefanos beach.
Agios Stefanos used to be a quiet fishing village, but it has been touristically developed during the last few years. Today, it has a great selection of Corfu hotels, restaurants, beach bars, cafes and shops. It's the perfect destination for relaxing seaside holidays, without being far from amenities! Close to Agios Stefanos Avliotes, lie the popular Sidari and Acharavi villages, while an exploration around Agios Stefanos will lead you to some traditional settlements.
Benitses village Corfu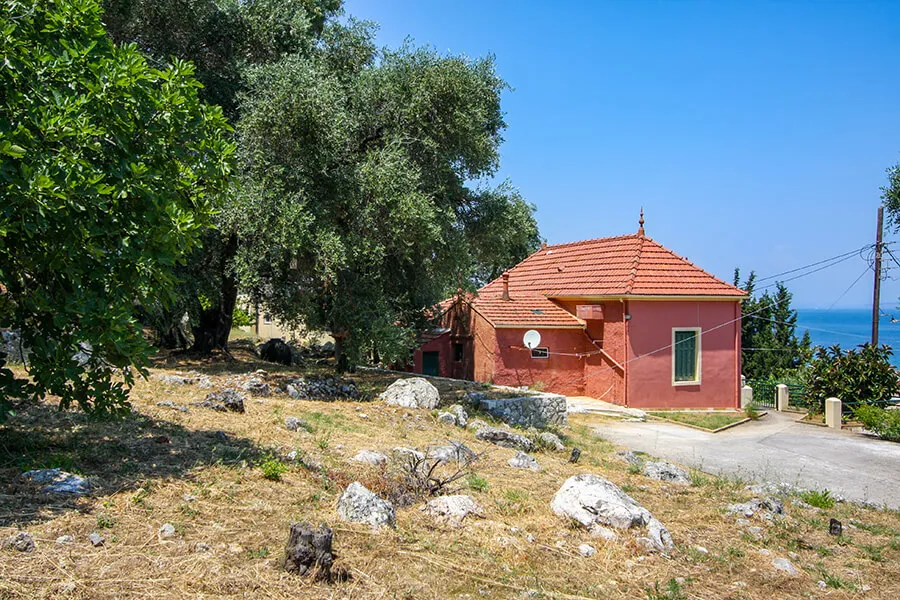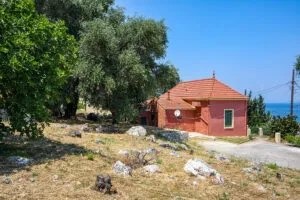 Benitses is one of the most popular villages in Corfu!
Located 14 km from Corfu Town, it is an ideal place to stay if you want to enjoy holidays by the sea near the island center. Benitses is also a quaint fishing village that has turned into a cosmopolitan resort, without losing its traditional identity. A stroll around the narrow streets of Benitses and a traditional meal at the local fish taverns will make you feel like a local!
In Benitses Corfu you'll find a great selection of Corfu accommodation options, restaurants, taverns and shops. As for Benitses beaches, they are wonderful! Carpeted either with sand or with pebbles and having crystal clear waters, they boast a unique ambiance.
Tip: If you are a keen museum hound, don't miss to visit Corfu Sea Shell Museum, where you'll find a large collection of seashells and fish fossils.
Lakones village Corfu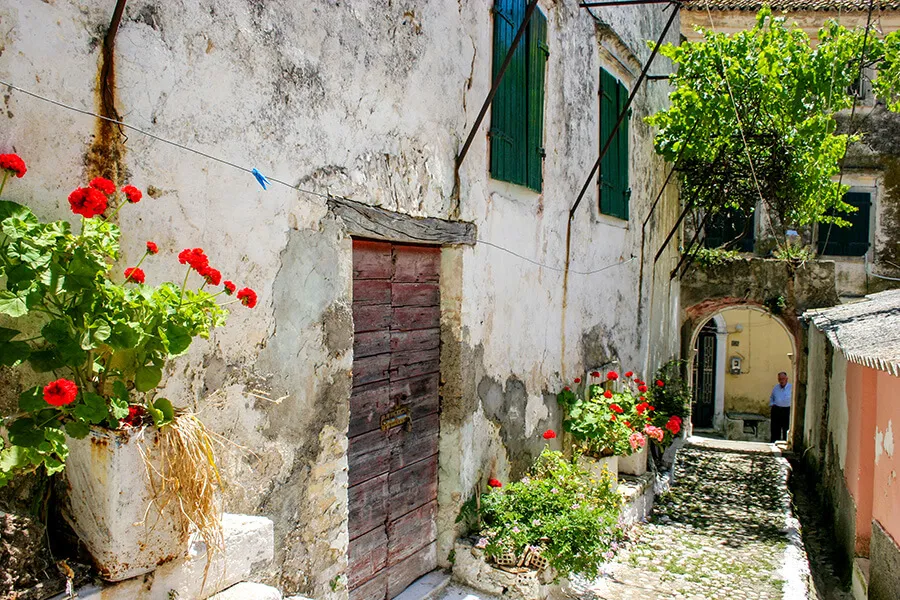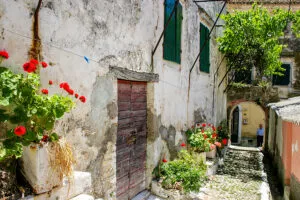 Perched on the slopes of a verdant hill above Paleokastritsa, Lakones village is one of the most picturesque Corfu villages. Time seems to have stopped in this little traditional settlement: Many houses date back in 18th and 19th century, while some women wear traditional costumes in their everyday life. A visit to Lakones village is arguably one of the best ways to introduce yourself to the island's tradition and partake in the culture of Corfu.
The perfect position of Lakones village on the slopes of a hill offers a breathtaking view to Paleokastritsa bay and the natural surroundings!
Vatos village Corfu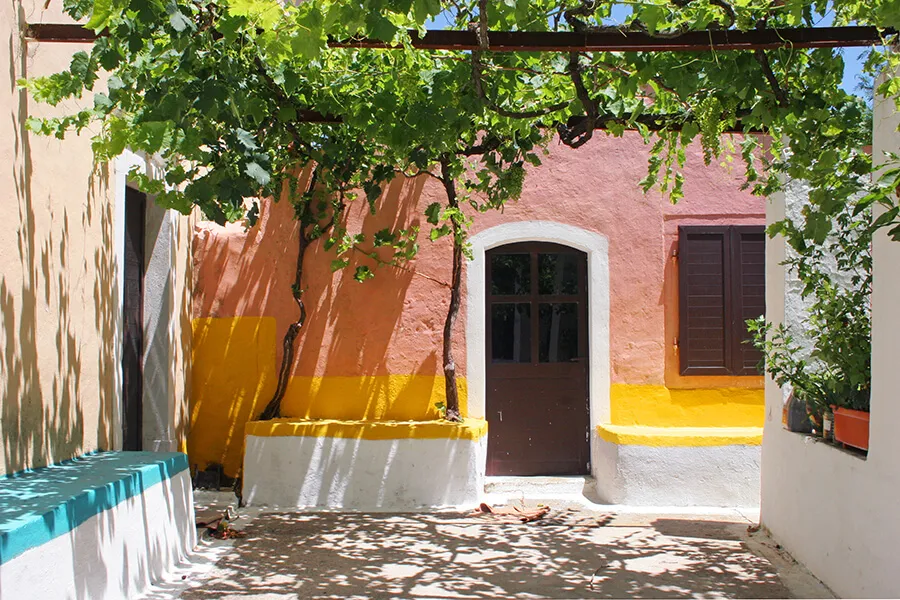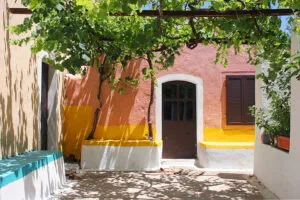 Vatos is a little village located in the center of Corfu island, 12 km from Corfu Town. Its location is ideal, as it is close to some of the most famous Corfu beaches, such as Myrtiotissa, Glyfada, Ermones and Pelekas.
Nestled in the heart of the verdant Ropa valley, Vatos village boasts a wonderful natural setting, full of vineyards and olive groves. Ermones river crosses Ropa valley, creating an idyllic scenery, while the whole area is an important nature reserve, as it provides shelter to many animal species. The natural landscape of Vatos village will steal your breath!
So, it goes without saying that Corfu villages are the hidden gems of Corfu! Either you love exploration and want to put miles under your shoes, or you dream of relaxing holidays by the sea, there is a Corfu village that will make your dreams come true!
Don't lose any time! Book your holidays to Corfu and get ready to be bewitched by the rustic charm of Corfu villages!