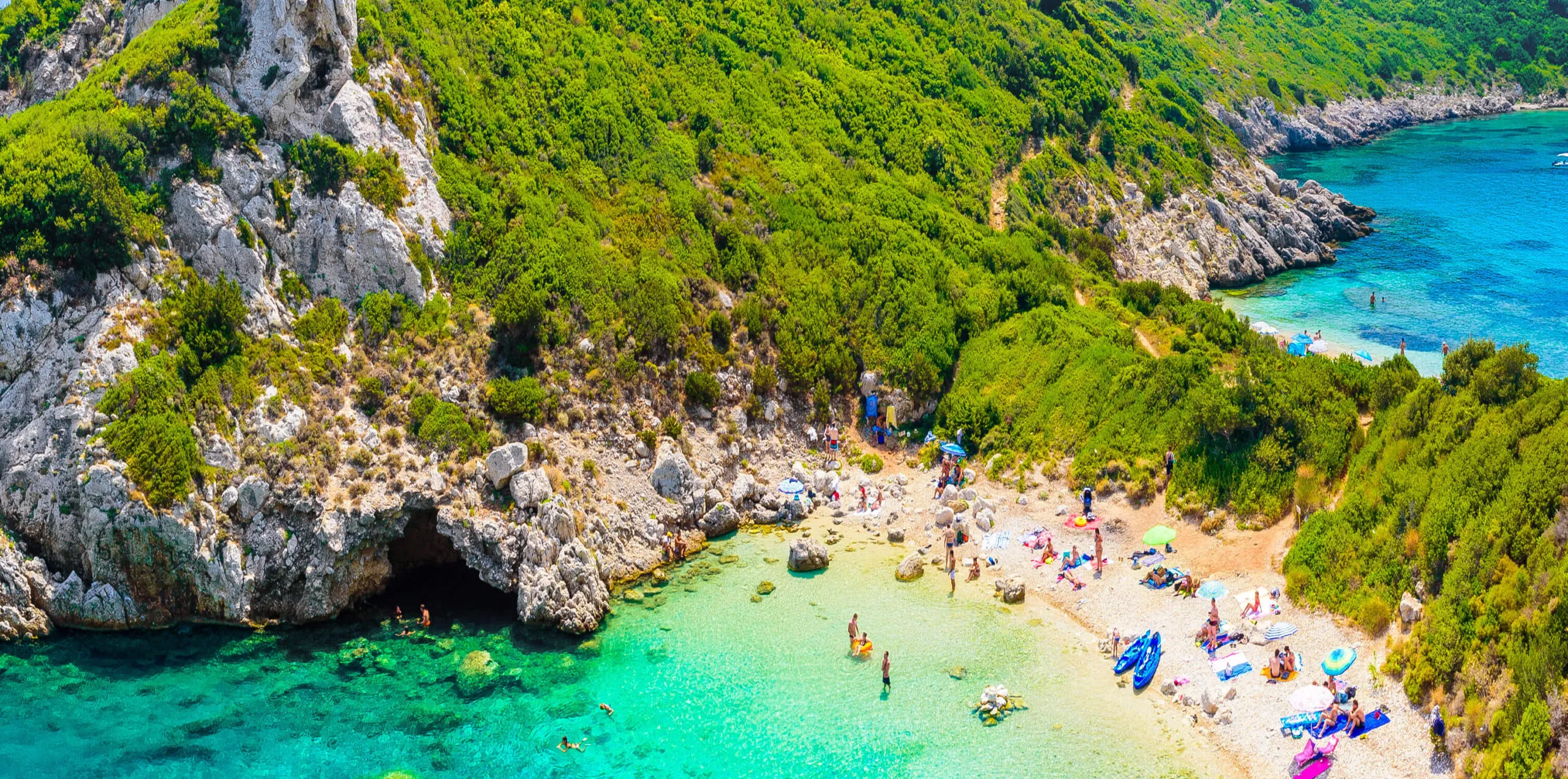 5 awesome Greek islands for relaxing holidays
Come on, admit it!
The Greek islands are one of the first things that come in mind when you think of relaxing holidays. Just imagine laying under the hot sun, while the water is gently lapping at your feet… Eating fresh fish and seafood at traditional seaside taverns… Swimming in crystal clear emerald waters… Watching the sun dipping in the horizon from an infinity pool…
It sounds like heaven, right?
Well, this is what a relaxing holiday experience on the Greek islands is all about!
While most of the Greek islands are usually overcrowded during the high season, they are more laid-back during the shoulder season. So, our tip is to plan your holidays either in June or in September.
But, no matter what time of the year you plan to go on holidays, some Greek islands are ideal for relaxing holidays.
Keep reading to find out what they are!
Kimolos island Greece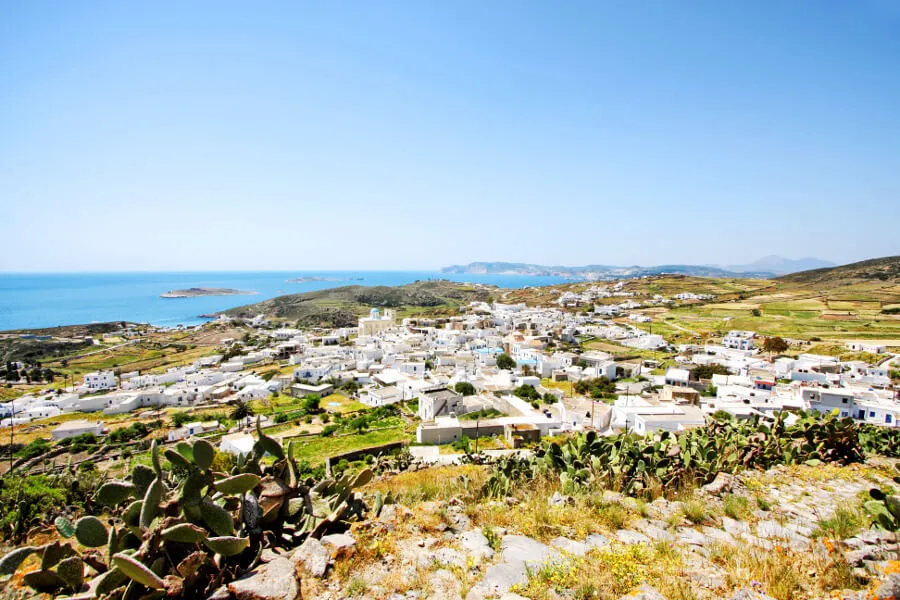 Kimolos island is arguably one of the hidden gems of Greece!
This volcanic Greek island sits next to Milos and belongs to the Cyclades group of islands. In spite of being so close to one of the most crowded Greek islands, Kimolos manages to keep its unspoiled charm. Standing out for its peaceful ambiance and laid-back style, Kimolos has emerged as a top destination for relaxing holidays, away from the hustle and bustle.
Time seems to slow down in Kimolos and you won't help but adapting to the slow rhythm of the island.
Chorio, the island's capital, is a quaint settlement that stretches around the island's picturesque port. In Chorio, you'll find many amenities, such as restaurants, bars, and shops. This little village might be touristically developed, but it hasn't lost its traditional essence. From the Cycladic architecture to the warm smile of the locals, everything is simple and delightful.
Paxi island Greece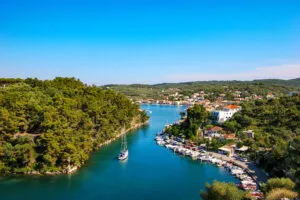 If you're searching for a peaceful destination off the beaten tourist trail, Paxi is a great option!
This little island sits south of Corfu, on the northern side of the Ionian Sea and belongs to the Ionian group of islands. Just like the rest of the Ionian islands, Paxi boasts exotic beaches and incredibly photogenic verdant landscapes. But, immediately upon arriving in Paxi, you'll realize that this island is very different from its Ionian counterparts.
While Ionian super star islands such as Corfu, Kefalonia, and Zante are wildly popular, thus crowded, Paxi has a laid-back atmosphere. Probably thanks to its size, the tiny Paxi island doesn't get crowded, not even in the high season.
The trademark of Paxi is hands down Gaios, the island's port. This port, which has the shape of a Scandinavian fjord, is one of the first things you notice as you reach Paxi by ferry. Behind the port sits Gaios village, the island's colorful capital. This peaceful village is perfect for a relaxing stay!
Symi island Greece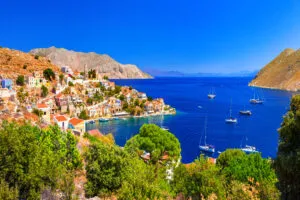 Symi is probably the most picturesque island of the Dodecanese group of islands!
Crayon-like mansions, a cosmopolitan atmosphere, a laid-back feeling, and natural beauty make Symi a great Greek island destination for relaxing holidays. The first thing that will catch your eye as you approach the island's harbor is the colorful mansions that dot the hill behind the port. Frankly, the scenery seems to have popped out of a painting!
Symi is hands down one of the most laid-back Greek islands. Not because it never gets crowded, but because it manages to keep its peaceful vibe in spite of this! A walk at the romantic port, a dip in the mesmerizing waters of Symi's beaches, a visit at elegant mansions will make you feel transported to another era!
If you search for a cosmopolitan yet relaxing destination for family holidays or romantic holidays your best bet lies in Symi!
Corfu island Greece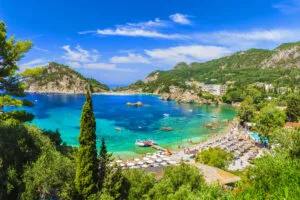 There's no denying it: Corfu is the most elegant and cosmopolitan island of the Ionian!
Enduring history…Venetian architecture…A stunning natural landscape…Quaint villages… Beautiful beaches… What's not to love about Corfu! Even though Corfu is popular, much of the island has yet to be discovered by international tourists. So, there are many seaside Corfu resorts that tend to your every desire, where you can immerse yourself in serenity! Add some spa treatments, yoga by the beach and sunset meditation to the mix and it becomes obvious that Corfu is a great destination for relaxing holidays in Greece!
As for Corfu Old Town, it looks like an Ionian postcard. Full of Venetian mansions, colorful squares, museums, and monuments, Corfu Town is perfect for delightful strolls.
Koufonisia islands Greece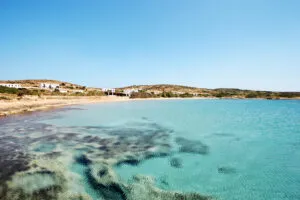 Koufonisia islands have long been famed for their peaceful atmosphere and paradise-like ambiance. Being off the beaten tourist trail, Koufonisia islands have emerged as a great alternative destination, especially for the Greeks.
Seriously, Koufonisia is an ideal place for relaxing holidays! Exotic beaches, enticingly clean turquoise waters, sea caves, glittery sand, seductive views, and traditional whitewashed houses create stunning scenery that never fails to captivate visitors.
Either you want to get away from it all for a few days or you need a long break from your hectic everyday routine, Koufonisia is the place to go!
Let's recap!
There are many Greek islands for relaxing holidays, without the hustle and bustle of tourism. Greece might be a popular destination for international tourists, but it has many places that are still untouched by mass visitors!
Are you ready to chill out in the Greek islands?